Fruit Ninja [Apple App Store] detailed review
The greatest of games are the simplest of games. And thus was Fruit Ninja blessed.
Available now on the Apple App Store for $0.99 (or about Rs 45), Fruit Ninja is the best dollar you will spend today. The premise is simple: fruit murder! Slice and dice flying fruits and watch their guts spray all over a wall. It's strangely satisfying and we are a little disappointed that the fruit blood juice isn't persistent - painting a story of your fruiticide - but instead, fades away with time. Boo. We hope this is the first thing Halfbrick (the developers) would correct in an update.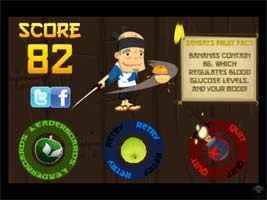 The game's premise is simple: fruits will fly, you need to use your finger to slice, and kill them all. But beware! Often, the flying fruits will be accompanied by a bomb, slicing this bomb leads to immediate defeat. The non-immediate route to failure is if you miss slicing off three fruits. The game starts off slow but quickly ramps up in difficulty and challenge -- which is a lot of fun, as you will find yourself slicing every-which-way while looking out for those pesky bombs: sometimes taking a surgical approach to your kills, other times you will take out 5 fruits from different families at once; the game even has critical hits. Scoring works on how many you slice at once, or on crits (which add a 10 bonus). The game is OpenFeint enabled, which means access to leaderboards. It also offers achievements to unlock and features which let you post your highest score to your Twitter and Facebook account, for to brag or to challenge with. Our favourite feature though is the sagely fruits of wisdom offered by the Sensei to our fruit-murdering Ninja: No, we didn't know strawberries belonged to the rose family, or that bananas regulate our mood. We have never met a banana which we didn't like though; they are a tasty people.
Fruit Ninja is a great package for $0.99 and Halfbrick have promised future updates to come. It's an excellent title that bends to your needs - whether a quick sixty second game, or an hour-long marathon to better a score.
Download it from the App Store today
!
If you've enjoyed Fruit Ninja, then don't forget to check out other
great games
from Halfbrick, including our favourite PSP Mini game
Age of Zombies
.