Facebook app detailed review
Most people, we are sure, install Facebook as the very first app on their smartphones. If it doesn't come pre-loaded, that is!
Interface
The way this app looks is vastly different, from phone to phone. On a bigger display touchscreen, the extra space allows for a better layout. However, on the smaller displays (most are non touchscreen ones) it does look very different. But the blue and white colour combination theme is standard across all versions of the app.
On the top is the bar that is divided into two distinct sections. One lets you access stuff like Newsfeed, Profile, Search, Messages, Chat, Photos and Places. The second part of the blue coloured bar gives you notifications about messages, posts and friend requests.
Just below the navigation bar is the text box to update your status, with two separate boxes pointing to uploading photos and tagging location.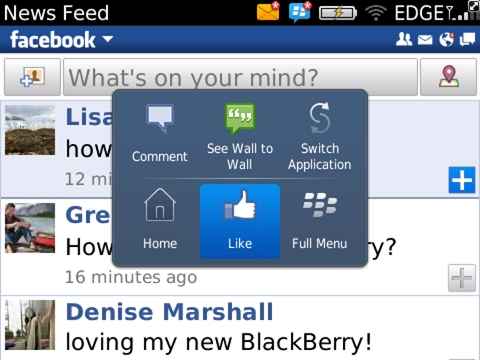 Features
Well, this Facebook app includes all features within itself, reducing the need to install any third party app. Which is why we were pretty bewildered to find that the HTC ChaCha gave this app preloaded along with a third party app for Facebook Chat.
Primarily, the FB Chat feature is built-in, and so is Places.
Performance
Well, the performance is absolutely fantastic. In the sense that we did not feel the need to download any third party app,because some features may have been missing. Because there were none! Updates came in seamlessly on 3G and Wi-Fi. Even on the smaller display sizes of the Blackberry phones, we were quite impressed by the text size.
The only little niggle we had with this app was the amount of time it took to open photographs, even on a sufficiently quick 3G connection.
Our Take
Download it, now! This is one app that needs no introduction, for a service that is more popular than any other social networking service out there. After all, some of us need to post every single detail on FB, all day long!
Price: Free to download
Specs: Available for iOS, Android, Symbian, Blackberry, INQ, Windows Phone, SideKick and Palm; FB Chat built-in
Overall Rating: 7.5