Delight Circle for Android, iOS detailed review
When it comes to apps that help in one's shopping experience, paucity is certainly not an issue. There are several apps that will tell you where you get a particular commodity or about shopping areas in your immediate vicinity. And of course, if you are the type that prefers shopping in the digital world rather than the real one, almost every e-shop has its own app and there are a few that help you get the best deal among them as well. But an app that tells you the best deals available in real shops in your vicinity - in simple terms, using a slice of the virtual world to bring you the best deals and new arrivals in the real one? Well, that would be something special. Which is why DelightCircle caught our eye.
Available for Android, BB and iOS, DelightCircle is a free app which specialises in telling you about the best shopping deals as well as new product arrivals available in your vicinity. We tried out the iOS and Android apps in a number of areas of Delhi and came back impressed. At 3-4 MB, the app is not a stiff download, and one can log in by either registering (it is free) or using your Facebook ID. You will have to give the app permission to access location information as that is essential for its functioning. Once all that is done, you can get set to check the best discounts and new products in town.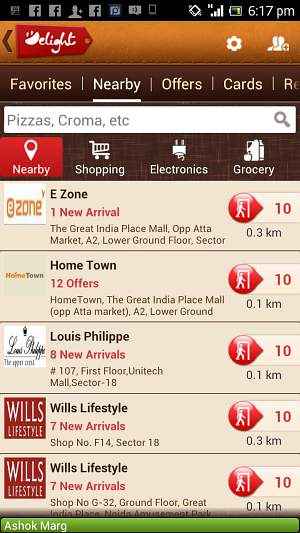 You start off by searching either for deals in your vicinity or just browsing for offers in general. In the latter case, the app will also show you how far you are from the outlet which is providing the offer. There are a number of product categories in which you can check out offers - home decor, groceries, footwear, restaurants, electronics, apparel, etc. Selecting an offer will show you the details (what discount, what products, et al) under each one, and in the case of a store, will also give you details of the new products that have arrived there. In best networking tradition, you can share these if you wish, with your friends on social networks or via mail. A neat touch is the concept of Delight Points, which you can accumulate by just walking into certain stores (nope, no purchases needed) and in some cases, by scanning the barcodes on the displays accompanying some products. Accumulating Delight Points gets you special prizes and discounts. Incidentally, you can also check offers and new products in other cities and areas - just change the location manually. So you can even offer shopping advice to those in other locations.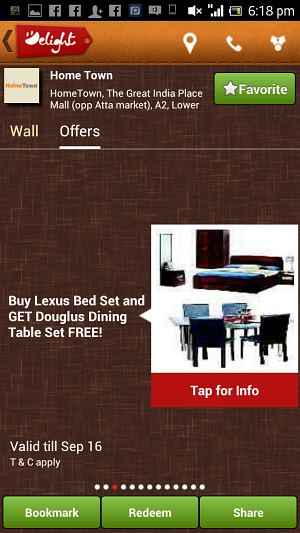 All of which sounds pretty good on paper. Well, it works pretty well in execution too. We used the application in Connaught Place and a few malls in NOIDA, and it turned in some very accurate results, particularly with regard to gadget outlets (well, we would check those out) like Croma and Reliance Digital. In fact, the coverage of the malls seemed to be very good in particular, at least in and around Delhi, with details of deals and arrivals on most of the shops. And yes, the Delight Points seemed to work just fine, with them getting added to our balance whenever we entered a store on which they were valid - you do need to keep the app running though. The interface of the app is a mix of Path (the social networking app) and Pulse (the legendary news reader), so you get lots of images and can scroll between items and stores without too much hassle. Round that off with the option to save outlet specific cards on the app and a help system that just involves shaking the phone to access it, and we must admit to being very impressed with DelightCircle.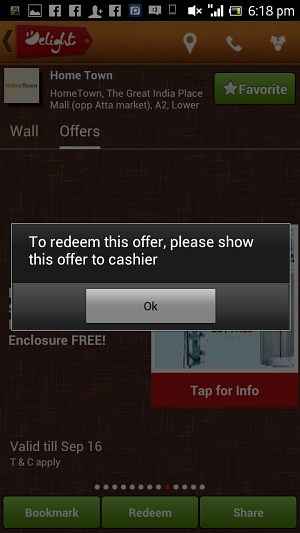 Which is not to say that it is perfect. While DelightCircle is an awesome app for those who believe in following and spending on the big brands and outlets, it does tend to come up short when one looks at smaller shops and relatively non-descript brands, which have not signed up for the service. And for obvious reasons, one cannot add the names of these shops on one's own (the proprietors would have no motivation to sign up with the app developers otherwise). It also needs to be pointed out that the app works best on a 3G connection - yes, it can get by on EDGE/GPRS but only if you have the patience of a saint who is trying to please a God who comes with a really long penance requirement. And of course, for some ghastly reason, most salespersons at some of the retail centers we visited just refused to let us scan the bar codes near the devices on display - and honestly, that option does not really work when you are in a crowded store.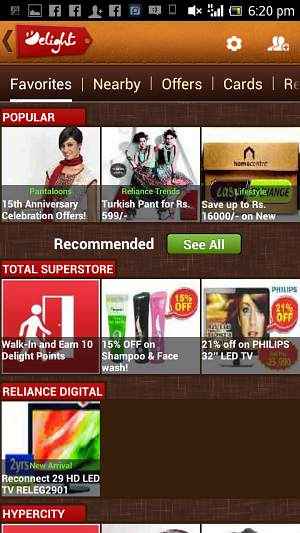 That said, we cannot really argue with the fact that DelightCircle does deliver a dollop of shopping delight for those who are always on the look out for deals. If you are one of those who can seldom resist the call of the mall or the high-profile market, this is the app for you. If you would rather saunter through the local bazaar, try it out anyway - you might get surprised.
Get it from: Google Play, iTunes App Store
Price: Free