Honeywell Air Touch i9 detailed review
Honeywell is a well-known air purifier brand in the Indian market that offers a range of devices, which cater to almost every price point. In its mid-upper range price bracket, it has placed the Honeywell Air Touch i9 air purifier, which we have reviewed. While most air purifier manufacturers are trying to cram as many features as they can into their air cleaners, Honeywell has tried to keep it simple by including only the necessary features. So much so that the Air Touch i9 doesn't even ship with IoT compatibility or app support. However, it features a 'Smart technology' that the company claims can more than makeup for the lacking IoT smarts. Does the air purifier actually make any considerable difference in the air quality of our homes while testing? Let's take a look.
Build and Design
The first thing that you will notice with the Honeywell Air Touch i9 is how lightweight it is. While some of the air purifiers we previously tested were bulky, the Air Touch i9 is fairly lightweight, which makes it easier to carry and set-up. While this would generally mean compromising on the device's sturdiness and build quality, Honeywell was able to strike a balance between the two with this air purifier. It doesn't exude premium quality but it is not too shabby either. The device sports a boxed design, similar to the one we observed on the Blueair Classic 280i.
The Honeywell Air Touch i9 sucks in air from the two meshed vents at its sides and from the bottom and expels purified air out from the top. While this is not a very innovative design, it is one that usually works well, as long as proper air circulation is maintained by the air purifier. There is a slight angle on which the clean air from the outlet vent on the top is directed, which makes sure that air is projected away from the device. This is to ensure that there is no pure air bubble being formed around the air purifier and the company suggests keeping the device 30 cm away from the wall to maintain good airflow.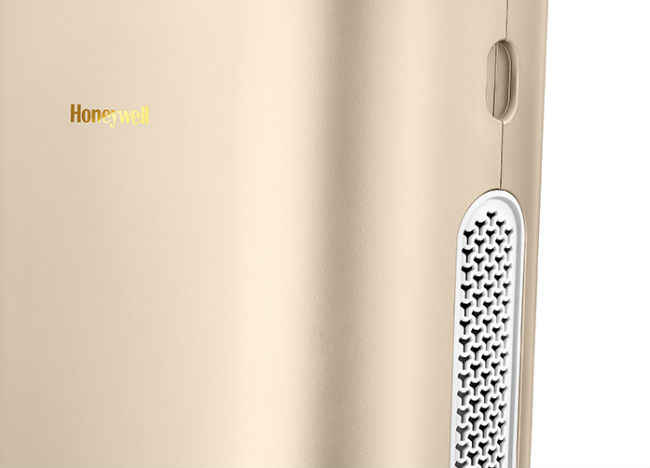 Side mesh on Honeywell Air Touch i9 for air intake
There is a black panel on the top, on which the device's controls are placed. As the outlet vent is white in colour, this makes for good contrasting colours. Additionally, the small display on the middle of the top panel is also placed where one would naturally look to when changing the settings. Overall, in terms of design, there is no irksome factor or problem that we observed on the Honeywell Air Touch i9. It sports a simple, minimalistic design, which won't stand out too much in your home but will surely be noticed.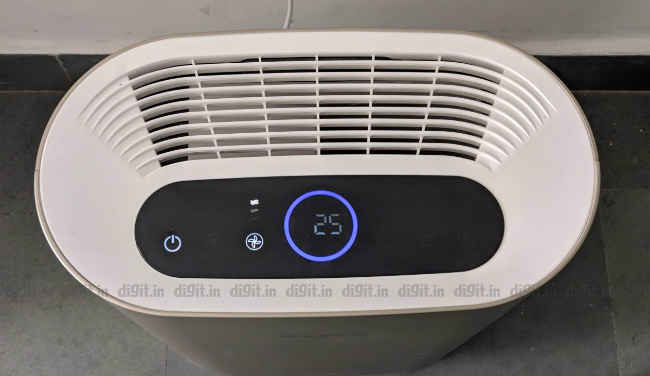 Air outlet for filtered air on top
Filters
Filter assembly on most air purifiers is kept simple so that users themselves can change them when required. Honeywell equipped the Air Touch i9 with a pre-filter and combined the standard HEPA filter with a carbon filter, the latter one it calls a HiSiv filter. This is the same kind of HEPA + Carbon filter combination we have seen on the Samsung AX5000 (review) and after testing some other air purifiers with similar two-filter combination, it's safe to say that depending on the implementation, a combined filter can deliver the same level of efficiency as when there are two separate filters. Additionally, one single filter makes it simpler for a consumer to replace it when needed.
The pre-filter on the Honeywell Air Touch i9 is made of fiber. Its primary function is to stop larger particles from entering the device and choking the subsequent filters. This basically ensures an extended filter life of the HEPA filter. The prefilter catches particles larger than PM10, which you can spot from the naked eye. This includes large dust particles that are prominently visible when they start accumulating, fibers, hairs and pet dander.
Next up is the two-in-one filter assembly that combines the regular HEPA filter with a HiSiv (carbon) filter. The filter used here is of H-12 grade, which is lower than the H-13 grade of filters that you would find on most home air purifiers. There is not a very large difference in the efficiency of air filtration of an H-12 and an H-13 grade filters as H-12 HEPA filters are certified to capture 99.5 percent of particles from the air passing through it, while an H-13 can capture 99.95 percent of particulates. However, by virtue of design, an H-12 filter is less dense than an H-13 filter and thus will capture fewer particles over time, meaning shorter life span, and will need to be replaced comparatively faster.
So, there is a tradeoff between filter life, filter grade and hence, replacement costs. If you buy an air purifier with an H-14 filter, it might last longer and while it will definitely purify the air better, its replacement will be more expensive in comparison to an H-13 filter. Buying replacement filters for Honeywell Air Touch i9 will cost Rs 4,290, which we believe is slightly higher than ideal. This is because we also reviewed the Samsung AX5500 replacement filters on it cost around Rs 5,000. The Samsung air purifier filters are touted to last for more than 8500 hours but based on the time we ran it for, we think the filters could easily outlast 5000 hours.
Honeywell says that the HEPA + HiSiv filter should last for about 3000 hours under 'normal pollution levels', which is around four months of continuous usage. However, the filter life is heavily influenced by the level of pollutants around where it's operated. For example, if you are in some areas of Delhi or Chennai or Bengaluru where air quality is generally in the Very Poor or Severe category, the filter will capture more particulates and will deplete faster.
Performance
Our standard testing procedure consists of placing the air purifier in three different areas that exhibit varying degrees of pollution concentration. We tested the device in three rooms and for simplicity, we state the most heavily polluted room as room no. 1, moderately polluted room as room no. 2 and the least polluted room as room no. 3. Room no. 1 is situated in an area where pollution levels are usually high and the air quality outside ranges from poor to severe range. Some construction work is always going on nearby, so elevated PM10 levels are to be expected.
Room no. 2 is a high rise apartment where the outside air quality level keeps varying between moderately polluted to very poor. However, since the past few months, the air quality has constantly forayed into the Severe range as well. One of the conference rooms in our office is Room no. 3 where we have usually observed quite low particulate levels. However, when we tested the Honeywell Air Touch i9, the air quality was in the very poor range. We run the air purifier in all the three rooms at full speed for 45 minutes, without switching on any fans or an AC. This helps in understanding how well an air purifier works when no external entity is affecting air circulation because not everyone will have AC or fan switched on while the air purifier is working. Do note that we recorded the concentration and not weight of PM2.5, PM10 pollutants, and these are listed in µg/m3.
Additionally, the device is left undisturbed but standard activities keep happening like doors opening and people entering or walking out of a room. We believe this is also important since it simulates normal household conditions where such things happen and let's face it, no average person lives in a hermetically sealed home. Thus, an air purifier needs to compensate for polluted air that leaks in from window and door gaps. We also use an air quality monitor to ascertain how the air quality is affected before and after an air purifier is being run in a room so that we can independently verify that the device is working as advertised.
Coming to the tests, in room no. 1, before we ran the Honeywell Air Touch air, pollution levels were in the moderate range. Note that this room has an area of 120 sq ft with a ceiling height of 12 ft. While room no. 1 is usually the most polluted room, this time, pollution levels were somewhat low as the PM2.5 particle count was 174 µg/m3, while PM10 was at 201, with the overall Air Quality Index (AQI) at 224. After 45 minutes, the air purifier brought these levels down to 19, 21 and 86 respectively. We tested the air purifier a couple of more times over a period of a few days and in a consistent manner, it brought the particulate levels down to the same levels as the above mentioned metrics.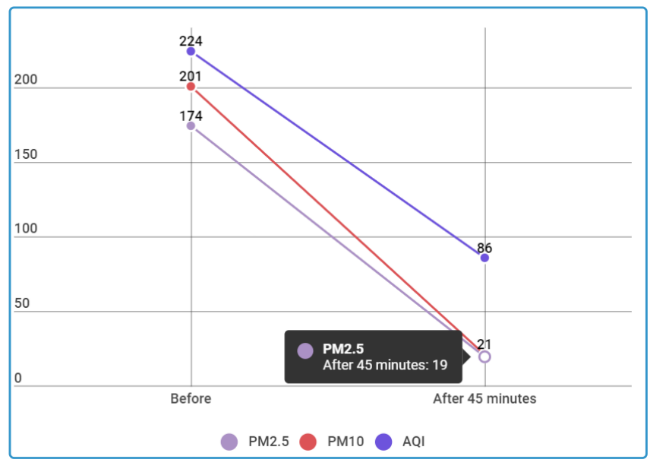 Particulate levels and AQI Graph for Room no 1
Moving on to room no. 2, which has a ceiling height and area of 12 ft and 140 sq ft respectively, the commonly moderately polluted room was showing considerably high air pollution levels. PM2.5 and PM10 levels were at 239 and 290 respectively, while the AQI was at 289. This level of air pollution can cause health complications for even a healthy individual when one is exposed to high pollution levels for an extended period of time. After we let the air purifier run for about 45 minutes, the PM2.5 and PM10 particulate levels were down to 34 and 39 respectively, while the AQI improved to 97. Again, the air purifier performs well and manages to lower the fine pollutants in the air by a considerable degree.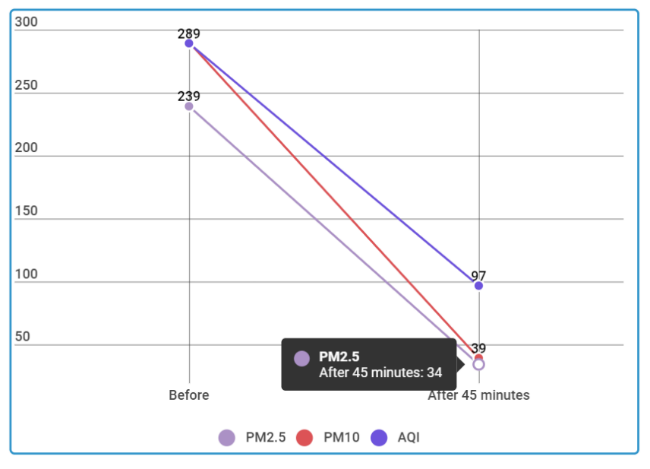 Particulate levels and AQI Graph for Room no 2
The room number 3 has an area of 350 sq ft with a ceiling height of 12 ft. While this room usually features the lowest amount of air pollution, this time, the air quality conditions this time were quite converse. PM2.5 and PM10 levels were at 302 and 360 respectively, with the AQI being in the very poor range at 352. After 45 minutes of runtime, the air purifier was able to bring the levels down to 32 for PM2.5 and 39 for PM10, and improve the AQI to 93. As we mentioned earlier, the Air Touch i9 performs consistently and as established by our tests, is quite capable of tackling even high levels of air pollution.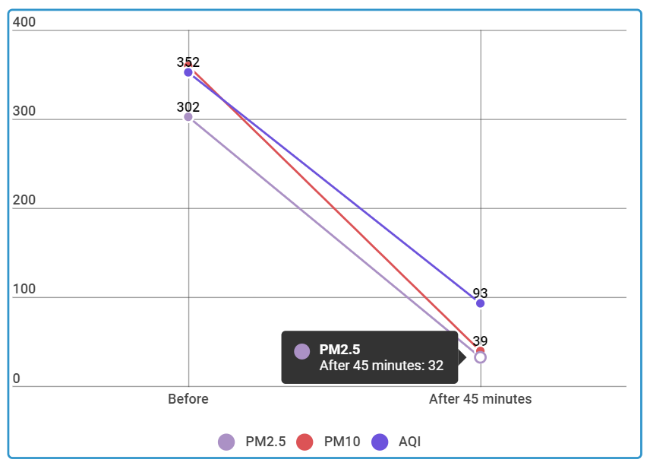 Particulate levels and AQI Graph for Room no 3
Controls
Coming to the air purifier's controls, the glass panel on the top section of the device features touch-enabled controls. There are a total of six buttons to toggle and take control of the air purifier but only five of them are usable since the one on the far right is the filter indicator. There's the standard on/off button, along with the one to control the device's speed. The speed can be adjusted between three levels - low, mid and high. While the Honeywell Air Touch i9 is fairly silent on low speeds and slightly audible when operated at medium speeds, it is slightly noisy when operating at maximum speed setting. However, one wouldn't need to operate it for long at highest speeds, seeing how it performs rather well and can clean the air in a room that is about 350 sq ft in size, with a ceiling height of 12 ft, in under an hour.
The Honeywell Air Touch i9 misses out on IoT features, which is a bit surprising for an air purifier in this day and age of connected living. However, the company has incorporated a 'smart mode' that is similar to how auto mode on most air purifier works but there are some additional features as well. When the smart mode is switched on, the air purifier senses adjusts its speed based on the level of pollution in the air. While this might seem the same as auto mode, what Honeywell air purifier does differently is that it turns off when the PM2.5 levels dip below 25 µg/cubic meters and scans particulate levels at regular intervals. As soon as it senses that the PM2.5 level has reached above 75 µg/cubic m, it again turns on and starts purifying the air.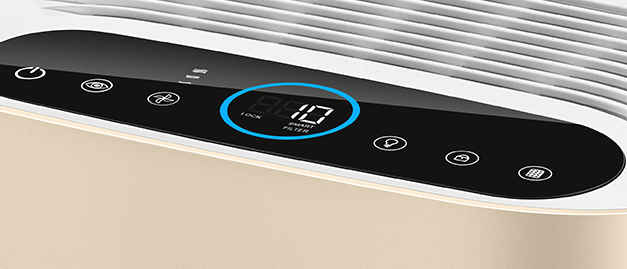 Smart mode is on the immediate right of the display
Honeywell tries to replace IoT capabilities with the smart mode on its Air Touch i9. We did test the mode that basically requires plugging in the device in a power socket, put it in smart mode and forget about it like most household appliances. While this is a good idea, the problem is that other home appliances like a fridge or an AC shut off after some time as they are operated in a controlled environment. The Air Touch I9 air purifier will need to keep working when the pollutants levels rise above a certain point, which is quite often since no standard room can be completely sealed off. While the electricity consumption of the device is not considerably high, running in a home where the doors and windows are open can have a considerable impact on its filter life. We think that while the smart mode is a good option, supplementing it with IoT capabilities like remote operation would've been more convenient.
The controls on the Honeywell Air Touch I9 are back-lit, and there's a button to dim them in case it hinders your sleep. The control also turns off the display, which shows real-time PM2.5 levels. There's also a button, which when pressed down upon for three seconds, lock down the controls. While the touch-based controls work perfectly fine, they are too sensitive and we unwittingly meddled with it, without actually meaning to.
Bottomline
We recommend the Honeywell Air Touch i9 if you are looking for an air purifier that can perform consistently, doesn't burn a hole in your pockets and also sports a good design. In the short amount of time we were able to test it out, the air cleaner performed consistently well, which is quite an important aspect for something that is improving your environment to ensure your longevity. While you will have to make do without any IoT capabilities, the Smart Mode is something that could work well in peak pollution season when one needs to be wary of keeping the doors and windows shut tight for best indoor air purification.
In case IoT functionalities are an indispensable requirement, you can go for the Blueair Classic 280i (review). It is priced slightly higher but as we said in our review, is a commendable air purifier with great air purification capabilities. If you can extend your budget by about Rs 10,000, we suggest you check out our 2018 Zero1 Award winning air purifier, the Sharp FP-J60M (review), which will not disappoint you when it comes to a well-rounded air purifier package.
In case you want something that is lighter on your wallet and could work for you depending upon the level of pollution in your area, you can go for the Kent Alps (review). For those who want the best possible air purification solution for their home, check out the IQAir HealthPro 250 (review) that manages to justify its hefty price tag of over Rs 1 lakh with excellent performance.