Portronics has announced the launch of a new projector, called the iLume. The device is available for Rs. 39,900.
The new Portronics iLume projector comes with built-in speakers and is based on DLP technology by Texas Instruments. The iLume weighs just around 650gm, which makes it easy to carry.
The brightness of the projector is about 400 Lumens. According to Portronics, the device can project an image of more than 120-inches on the wall with a projection distance ranging from 0.5 m to 5 m. It has a resolution is 1280 X 800 and can support 1080p/720p formats.
For connectivity, the iLume has VGA, HDMI, HDMI connector, USB and a microSD card slot. The life of iLume LED Engine is rated to be over 20,000 hrs.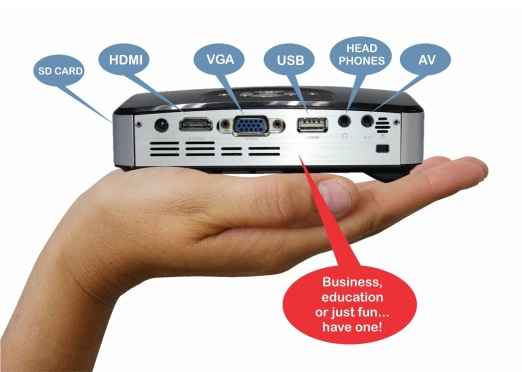 Features of the Portronics iLume are as follows:
Dimensions: 4.3'' x 5.9'' x 1.4'' (108 x 150 x 35mm)and weighs 22.9oz (650g)
• Projector technology: Texas Instruments DLP and Brilliant Color technology
• Lamp: RGB LED
• Brightness: 400 ANSI lumens, Conformity: 80 percent and Displayable colors: 110 percent NTSC color gamut
• Image size (diagonal): 15''-120'' with Projection distance of 0.5 to 5m
• Resolution: Native 1280 X 800
• Keystone: Manual/auto
• Contrast ratio: 2000:1 and Aspect ratio: 16:9 / 4:3 with Manual Focus
• I/O connector: Audio out, microSD card, HDMI in, VGA, AV in, USB, DC
• Audio: One 3-watt speaker, headphone-out
• Remote control: Yes
• Power consumption: 32w and Power supply: 19V/4.2A (transformer AC 100~240V, 50/60Hz)
• Standard Accessories: Power Adaptor, remote control, AV cable, VGA cable and user manual
• Certificate: CE, FCC, RoHS, UL