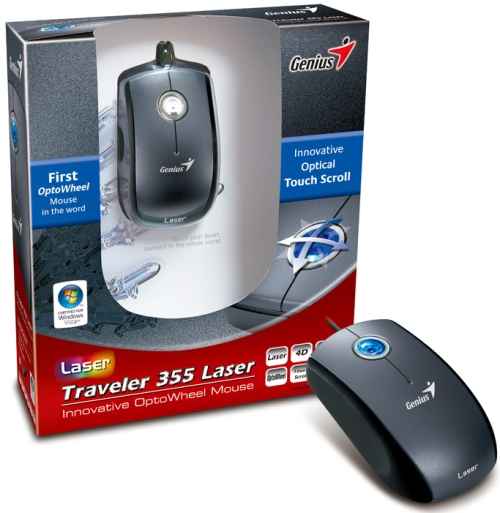 Inspan Infotech, one of the largest IT distribution companies for motherboards and hardware has reportedly announced the launch of the world's first 4D mouse – Genius's Traveler 355 Laser, optimised with OptoWheel technology, which is supposedly the latest in optical sensor technology, where turbo-scroll replaces the traditional mechanical wheel scrolling. This enables the user the power of four-way scrolling, which includes forward and backward webpage scrolling and up/down document scrolling.
[RELATED_ARTICLE]The presence of advanced laser technology at the bottom of the mouse, allows its operation on any type of surface with superior tracking & higher precision than the regular optical mice. With a single click of the OptoWheel known as "the Blue eye", one can easily scan through the documents or skip webpages at the wink of an eye. At the same time, one can stop the scrolling function with the second click of the OptoWheel.
With such unique and innovative features, which are well complemented by a stylish design, the Traveler 355 Laser makes a strong selling statement for a normal PC user, as well as a hard-core gamer - who looks for something sophisticated for that killer edge in the modern FPS games! If you were wondering about the most important factor - price, that could seal your buying decision, then you would be overwhelmed to know that it is rather affordably priced at Rs. 645. We would love to get one here for a test drive to ourselves!