If you thought photos weren't meant for Digital Screens but only for prints, think again. Enter Transcend's PF830 Digital Photo Frame. Transcend recently unveiled its new photo frame with a storage space of upto 2GB (read: it can store upto 9,000 digital pictures, without the need of external storage) and accepts most of the memory cards available in the market.
The Transcend Digital Photo Frame has an 8-inch LCD panel with 800x600 resolution and a aspect ratio of 4:3. The Transcend's LCD screen is equipped with so-called NaturaTone modes which offers intelligent skin color processing and keeps alive the natural skin tones. The Transcend Digital Photo Frame works with a large variety of USB Flash drives and memory cards - the formats supported - SD, SDHC, MMC, CF, microSD, M2, MS, MS PRO, MS Duo, MS PRO Duo and MS PRO-HG Duo cards. The Transcend Digital Frame also allows you to just plug in any of your camera device to your photo frame and start browsing through your snaps and videos right there.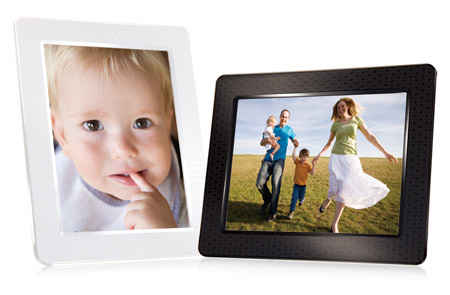 The Transcend Digital Photo Frame also comes with an Automatic Orientation Sensor (AOS) which allows you to tilt the frame in either portrait or landscape orientation and the device adjusts the pictures and videos automatically to the screen's orientation.
The Device has got a Sleek Design which would go very well with your interiors and has got Alarm, Clock and Calender too. The Device is available at a price of Rs 8,000 with a 2 year product warranty.