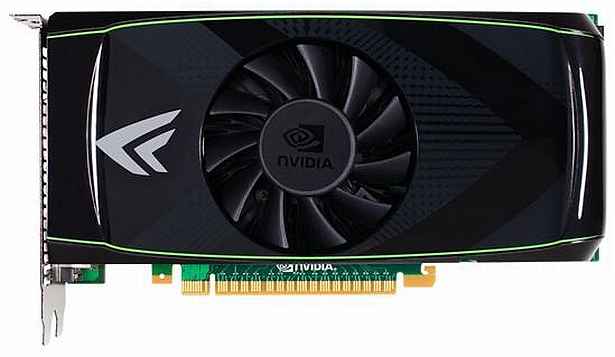 Nvidia is on a roll, and it seems chopping up and rearranging their original FermiGF100 architecture is really paying off for them – first with the price vs. performance vs. power efficiency hero, the GF104-based GeForce GTX 460, and now, with the GF106-based GeForce GTS 450, a GPU that's the perfect choice for those looking for solid performance at near-entry level prices - $129. It's available now.
While the GTX 460 gloriously outgunned its nearest competitor, the HD 5830, the GTS 450 looks set to take on the HD 5750. It is leagues away from the GTX 460 in performance, with the GF106 core described as a "little more than half of the GF104 implementation", and features 192 CUDA cores compared to 336, 128-bit memory bandwidth compared to 256-bit, and 16 ROPs compared to 32. However, it boasts of faster clock speeds, faster than every other Fermi card in fact, with a 783MHz graphics clock compared to the GTX 460's 675MHz, and 1566MHz processor clock compared to 1350MHz. Another advantage is the reduced power consumption, at 106W compared to 160W, and the need of only a single 6-pin PCIe connector for power supply, meaning you probably won't have to upgrade you power supply to run it.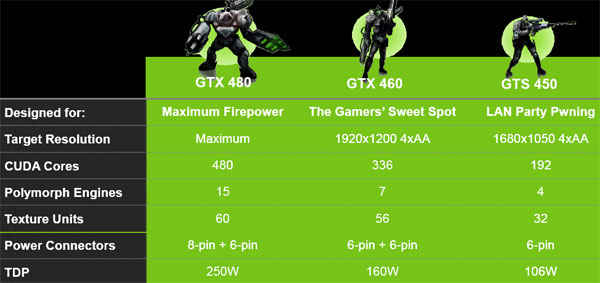 The GTS 450 will apparently give gamers "awesome" overclocking headroom, and Nvidia says it can stably overclocked to achieve 900MHz on the graphics clock. According to Nvidia, the card is perfect for those with a tight budget and a 17 or 22-inch monitor, as it performs exceptionally well up to resolutions of 1680x1050 pixels. It's also the perfect upgrade for those with aging DX10 or DX9 Nvidia graphics cards, supposedly providing nearly 2x the performance over the 9600GT. Apart from good DX11 performance, gamers can expect support for Nvidia proprietary technology as well, such as SLI, PhysX, 3D Vision, CUDA, and Surround. It has two DVI slots and one mini-HDMI, which will of course vary depending on the partner brand you buy.
Check out the short video showcasing the GPU and the specs below, and look at some benchmarks on the next page... The benchmarks really seem to show the GTS 450 is competing with the HD 5770 instead of the HD 5750, once again proving Nvidia's (new?) bang for your buck philosophy, reminiscent of the GTX 460 competing with the HD 5850 instead of the HD 5830. In fact, Nvidia says the GTS 450 is between 65% to 92% faster than the HD 5750, depending on the benchmark.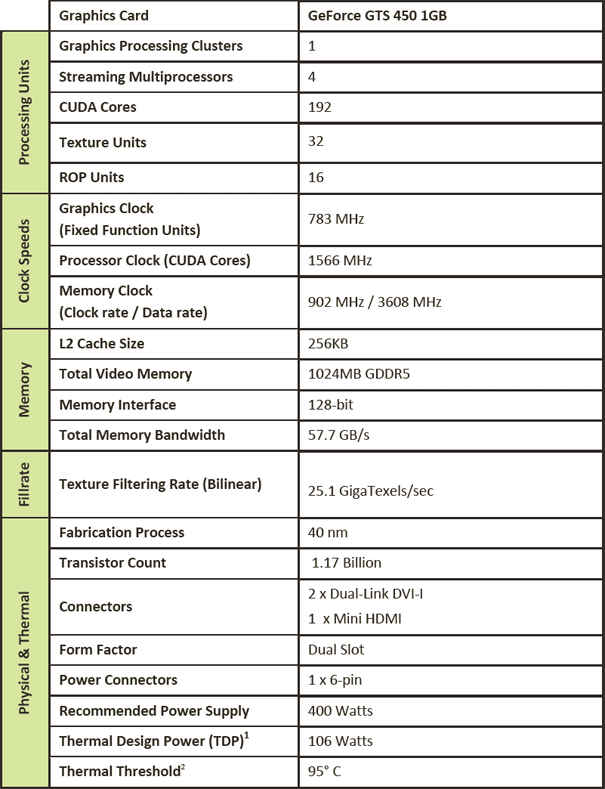 Look at some benchmarks on the next page
The below benchmarks are courtesy PC Perspective and Tech Report...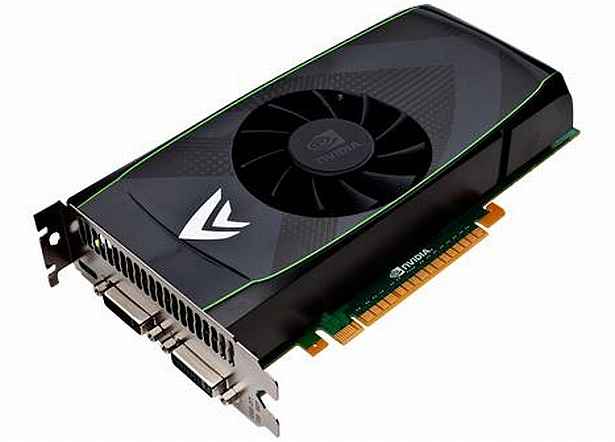 Click to enlarge in new window




| | |
| --- | --- |
| | |
| | |
| | |
| | |