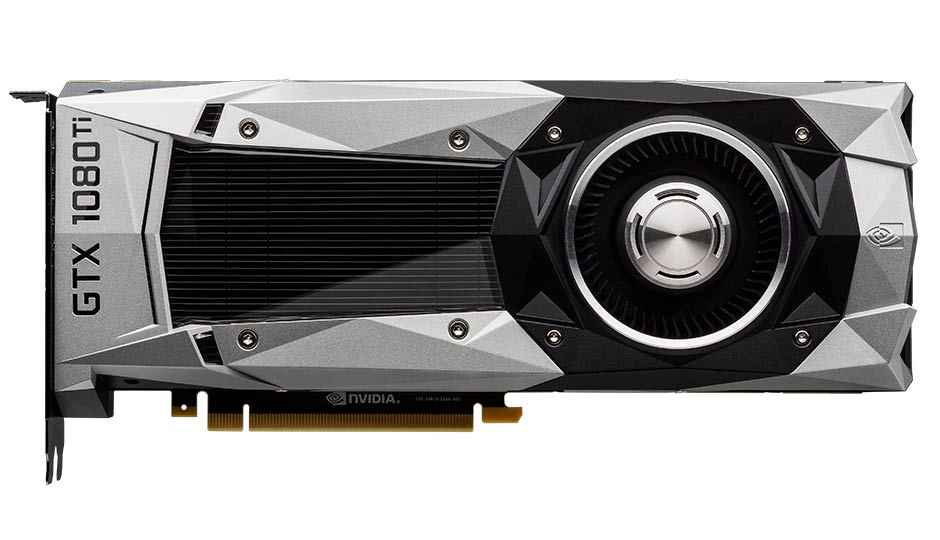 The NVIDIA GeForce GTX 1080 Ti effectively renders the GTX 1080 and GTX TITAN X worthless for Rs.62,999
NVIDIA GeForce GTX 1080 Ti Rating

90

100
Our Verdict
NVIDIA has had a great year in 2016 and by the looks of it, it seems that 2017 is going to the same. Pascal's successor, NVIDIA Volta, has already started rearing its head here and there. If you want to snoop around a little, then search for Device ID 1D81 or the GPU code GV100. The GTX 1080 Ti provides great value to the consumer, especially since it's nearly a TITAN X Pascal (even better in certain benchmarks) for a lot lower price tag. This card has effectively rendered the GTX 1080 and the GTX TITAN X useless thanks to the improved memory clocks. And with the same memory set to appear on new versions of the GTX 1080 and GTX 1060, it would be best that you hold off on those cards if you were thinking of getting either(though we wonder why you'd even want a GTX 1080 at this point).
One that stands out is that in all of our 4K benchmarks at Ultra settings, the GTX 1080 scored above the bare minimum of 60 FPS which means that you can now have the best 4K no-compromises experience with the NVIDIA GeForce GTX 1080 Ti. All you need is Rs.62,999.
PROS
Faster memory clocks
Best graphics card for gaming
Value for money
CONS
Stock cooler needs to go
Indian pricing is still a letdown
NVIDIA GeForce GTX 1080 Ti: Detailed Review
Announced at GDC 2017, the NVIDIA GeForce GTX 1080 Ti falls in line as yet another successful launch for NVIDIA. The company has been on a roll ever since Maxwell cards came out more than two years ago. The 980 Ti ended up providing a significant performance increment over the 780 Ti and that was followed by the Pascal series GTX 1080 which was not only powerful but was also a lot more power efficient thanks to the smaller transistor size. And the lack of competition in this high-end segment has been working out really well for NVIDIA which has enjoyed the lion's share of the enthusiast GPU market and their stock prices attest the same. However, the GTX 1080 Ti launch was a bit abrupt. Some of the card partners that we spoke to were caught off guard by the GTX 1080 Ti announcement at GDC and had expected it to be announced a little later. But we understand the secrecy after all AMD announced its enthusiast graphics card – RX VEGA – earlier on the very same day. The NVIDIA GeForce GTX 1080 Ti Founders Edition is the first to hit retail for $699 with partner cards slated to come in later in the month.
What about partner cards?
We believe one of the reasons why none of the partners had any SKU ready aside from the stock Founders Edition cards. Usually, when new graphics cards are announced we find render images of all partner cards which are to be released. In case of the GTX 1080 Ti, we saw none of those and even some of the local partners that we spoke to were completely caught off guard with the GTX 1080 Ti announcement. However, things are turning up, partner cards from ZOTAC, ASUS, MSI and GIGABYTE are going to hit retail later this week so keep your eyes peeled.
NVIDIA GeForce GTX 1080 Ti, a TITAN X with one less limb
The GTX 1080 Ti is based off the same GP102 that the NVIDIA TITAN X is based on except for a few minor changes. The GP102 is a scaled down version of the GP100, with 30 SMs of which only 28 are functional. Even the TITAN X had 28 functional SMs which means that both cards have the same number of CUDA cores – 3584. And they GTX 1080 Ti is clocked at 1480 MHz which is 63 MHz higher than the Pascal-based GTX TITAN. With GPU Boost, the clock speed goes up to 1582 MHz which is 51 MHz greater than the GTX TITAN.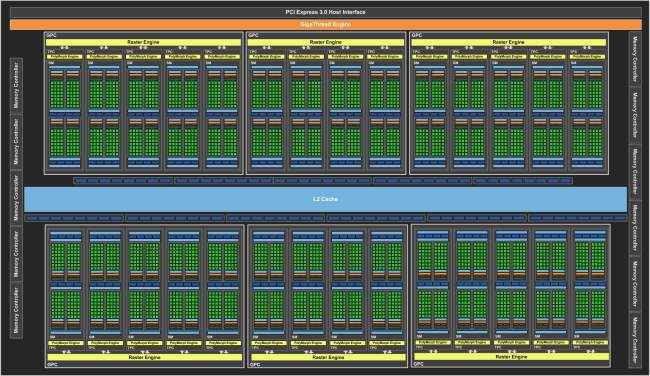 The TITAN X had 12 GB of GDDR5X RAM clocked at 1251 MHz and the GTX 1080 Ti retains the use of GDDR5X but the clock speed has been increased to 1376 MHz which effectively takes the bandwidth from 10 Gbps to 11 Gbps. This is a significant increase in memory clock and when clubbed with the GPU clock, the overall processing power is more than the TITAN X. Yep, this little beast is more powerful than the TITAN X when it comes to gaming. To add perspective, the TITAN X had a single precision processing power of 10157 GFLOPs and the for GTX 1080 Ti that number is 10609 GFLOPS. Also, since NVIDIA has done away with 1 GDDR5X RAM chip it does away with a few ROPs as well. The TITAN X had 96 ROPs in the GPU so with 1 less chip, the ROP count goes down to 88. Subsequently, bus-width also takes a hit. The GTX 1080 Ti has a 352-bit memory bus width compared to the 384-bit bus width on the TITAN X.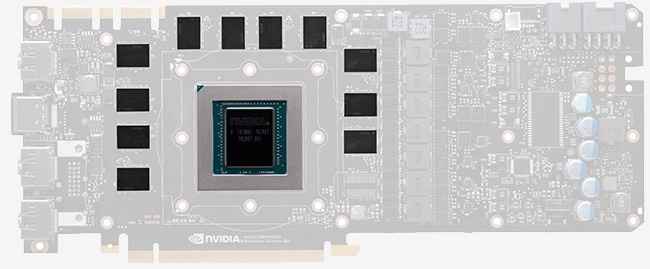 Ever since NVIDIA started coming out with the flagship Ti cards after the TITAN cards, they've followed a certain pattern wherein the memory would be half and the CUDA core count would be either lower or equal. Hence, each graphics card in a series, be it the 700 or the 900 were different from one another. The exception to this pattern being the 700 series which had three TITAN variants. So with the GTX 1080 Ti, the amount of compromises they've made to the GPU is significantly fewer. Hence, providing a value proposition unlike the previous generation of cards. Every GTX 1080 and GTX TITAN owner is probably hitting their head on the wall for not waiting for the 1080 Ti launch. It almost feels like NVIDIA is feeling the pressure of the upcoming RX VEGA launch from AMD or perhaps they're feeling exceedingly altruistic.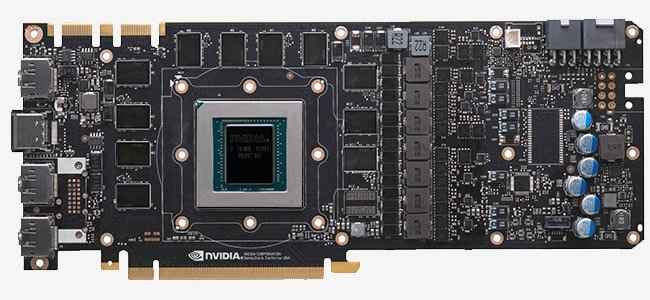 That's about it for all the changes with the GPU, let's take a look at the specifications of the GTX 1080 Ti compared to the previous generation flagships.
GeForce, now with improved DirectX 12 performance (...finally)
NVIDIA's graphics cards have had DirectX12 support since the 600 series but it was limited to a few APIs. And even with the Windows 10 announcement and its subsequent launch, NVIDIA did not bring native support for DirectX 12 to their graphics cards. Something always felt off. When games were set to use DirectX 11 APIs, the GTX 980 Ti would race ahead compared to the R9 Fury X but when you switched to DirectX 12, that performance gap would shrink to barely a few FPS and the 980 Ti would perform worse that itself on Dx11. One of the main features of DirectX 12 was that it was a low-overhead API and this was supposed to bring a huge increase in performance but the exact opposite was happening with NVIDIA cards. It should be noted that just implementing DX12 doesn't help, the game developers have to put in more effort to ensure that they make the most of it. Now that DirectX 12 has become really widespread thanks to Microsoft forcing it down everyone's throats, it only makes sense that NVIDIA should start devoting more resources to it. And this is exactly what they've done with the new driver update.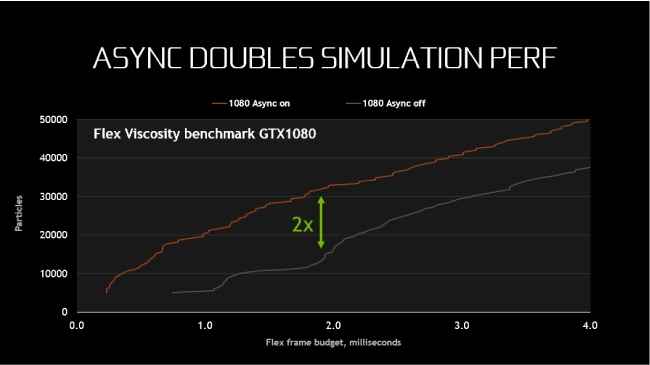 NVIDIA Gameworks, which is basically a library of software tools optimised for NVIDIA hardware have been updated to add DirectX 12 support. Two of the most popularly used tools (according to NVIDIA) are FleX and FLOW which are used to improving simulation of graphics effects in real time are now optimised for DirectX 12.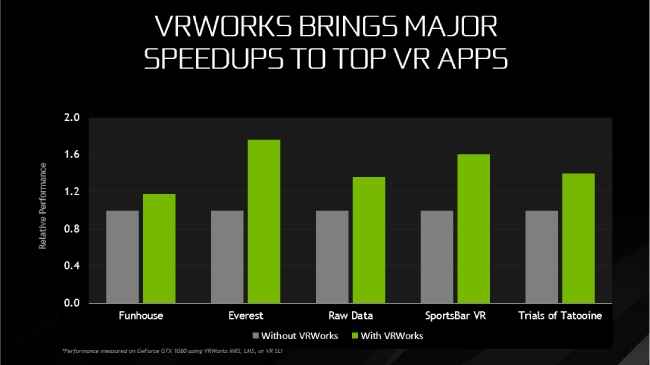 And it's not just that, even VRWORKS, which is a similar set of tools for VR applications has received the DirectX 12 treatment. That's about it for all the changes with the GPU and the software, let's take a look at the specifications of the GTX 1080 Ti compared to the previous generation flagships.
NVIDIA GeForce GTX 1080 Ti Specifications
GTX 1080
GTX 1080 Ti
TITAN X P
GTX 980 Ti
GTX 780 Ti
CUDA Cores
2560
3584
3584
2816
2880
Texture Units
160
224
224
176
240
ROPs
64
88
96
96
48
Core Clock
1607 MHz
1480 MHz
1417 MHz
1000 MHz
876 MHz
Boost Clock
1733 MHz
1582 MHz
1531 MHz
1076 MHz
928 MHz
TFLOPs (FMA) (Core)
8.2 TFLOPs
11.3 TFLOPs
10 TFLOPs
5.6 TFLOPs
5 TFLOPs
Memory Data Rate
10 Gbps
GDDR5X
11 Gbps
GDDR5X
10 Gbps
GDDR5X
7 Gbps
GDDR5X
7 Gbps
GDDR5X
Memory Bus Width
256-bit
352-bit
384-bit
384-bit
384-bit
VRAM
8GB
11GB
12GB
6GB
3GB
TDP
180W
250W
250W
250W
250W
GPU
GP104
GP102
GP102
GM200
GK110
Transistor Count
7.2B
12B
12B
8B
7.1B
Die Size (mm2)
314
471
471
601
561
Manufacturing Process
TSMC 16nm
TSMC 16nm
TSMC 16nm
TSMC 28nm
TSMC 28nm
Launch Price
$699
$699
$1200
$649
$699
If you're hearing a repetitive thud somewhere around you then it's probably a GTX 1080 or GTX TITAN owner venting his or her frustration by banging their head on the wall. And their frustration is going to hit a new high once they read the next section.
Faster GTX 1060 and GTX 1080
Yeah, NVIDIA has announced that they'll be coming out with newer variants of the GTX 1080 and the GTX 1060. The GTX 1080 will feature VRAM clocked at 11 Gbps and the GTX 1060 will have its memory clocked at 9 Gbps. Don't be surprised if these launch around the same time as AMD launches the RX VEGA and the RX580 from the upcoming RX 500 series. This should give you an idea as to how fast both the cards from AMD are going to be, what remains to be seen are how AMD's going to price them.
Build
The NVIDIA GeForce GTX 1080 Ti doesn't vary much from the previous Founders Edition cards released. It's the same old die cast body except we see no mention of the magnesium alloy that all previous Founders Edition cards would boast about. The cooling assembly consists of a vapour chamber over the GPU which is hooked up to the aluminium heatsink that you see through the transparent plastic window. The rest of the PCB is covered by a base plate which acts as a heatsink. It's a single fan design which has a noticeable whirr noise at fan kicks into high gear at around 58-60 degrees celsius.
On the back, we have the protective backplate with a debossed GTX 1080 Ti branding right in the centre.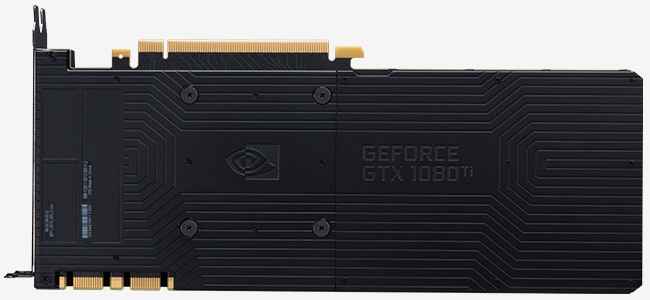 Moving on to the connectors, there's going to be no physical change with the SLI connectors, obviously.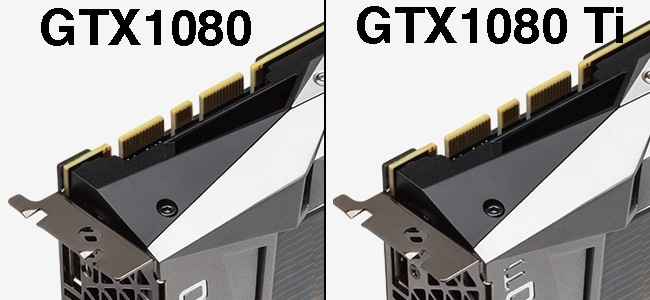 Given that there are five billion more transistors in the GP102 that powers the GTX 1080 Ti, so you're obviously going to need a lot more power. For this, the GTX 1080 Ti makes use of 1x 6-PIN + 1x 8-PIN power connectors.

Flipping the card around to it's I/O plate shows a missing port! NVIDIA has done away with the DVI-D connector. Instead, they're shipping a DisplayPort++ to DVI-D adapter in the package. NVIDIA says this design decision allows for 2x the area for improved airflow.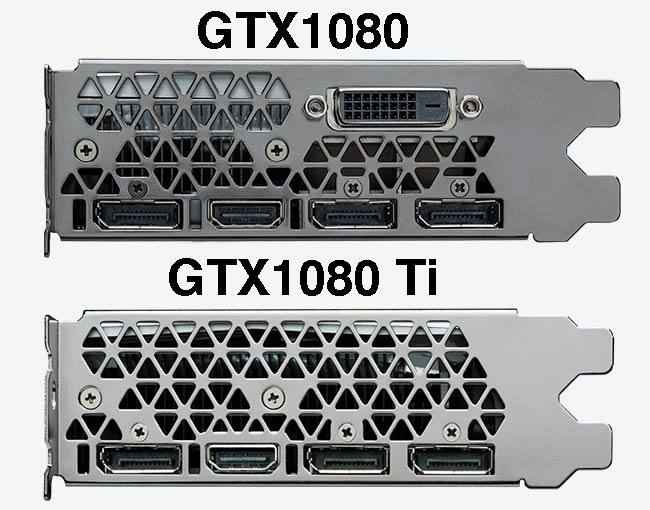 The impact of such a design change is easy to measure since all it takes is a piece of tape. So in order to test this, we let the card idle normally and it settled down to a temperature of 35 before running a benchmark. Once the benchmark ended we charted temperature milestones from the peak temperature it hit down to 40 degrees celsius.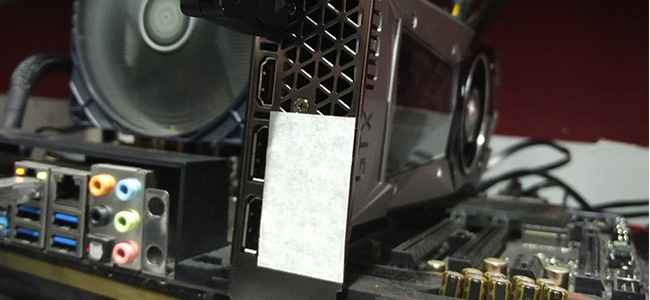 That's how we taped up the vents which are generally covered by the DVI-D port. Do note that the DVI-D port extends internally to cover most of the vents beside it so we covered 'em all up.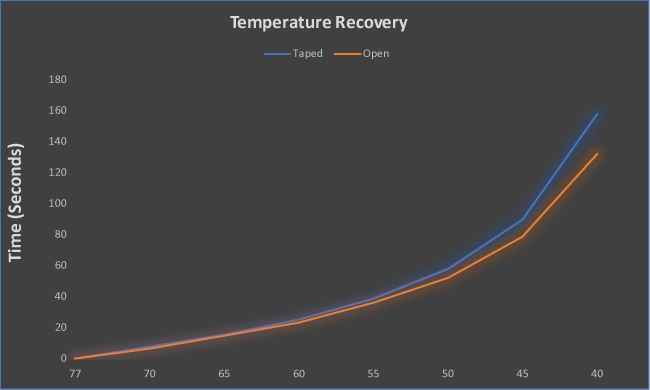 Turns out, the new design does, in fact, result in better air flow as the temperature recovers faster than the previous design. With the seal, the GTX 1080 Ti takes 2 mins 37.85 sec to go from 77 to 40 degrees. Without the seal, the card takes 2 mins 12.50 sec to cover the same temperature range. With a difference is 25.35 seconds, the cooling is 16.06 percent faster with the new design.
Performance
We have scored all the way from the 700 series cards but the games we used back then are run way too fast on the GTX 1080 Ti, so we're not going to focus much on those. These old benchmarks have been kept under the legacy section and all we're doing at this point is waiting for the FPS figures to hit 4 digits. Anyways, it's an interesting chart to look at. Our test rig has been upgraded, but we scaled the processor down for the legacy benchmarks so that physics scores wouldn't be affected in any significant manner. This is what we're running our benchmarks on.
Processor - Intel Core i7 6700K
CPU-Cooler - Noctua NH-D15
Motherboard - ASRock Z170 Extreme7+
RAM - 4x 8 GB Corsair Vengeance @ 2667 MHz
SSD - Sandisk Extreme II 240 GB
PSU - Corsair HX1050
Graphics cards:
GTX 1080 Ti
GTX 980 Ti
GTX 780 Ti
GTX TITAN X (Not Pascal, unfortunately, NVIDIA never sent that out.)
AMD R9 295X2
Synthetic Benchmarks
First up is the trusty old 3DMark which shows a remarkable increase in graphics score compared to the 980 Ti. Physics score is more or less constant as that's dependent upon the CPU and not the GPU.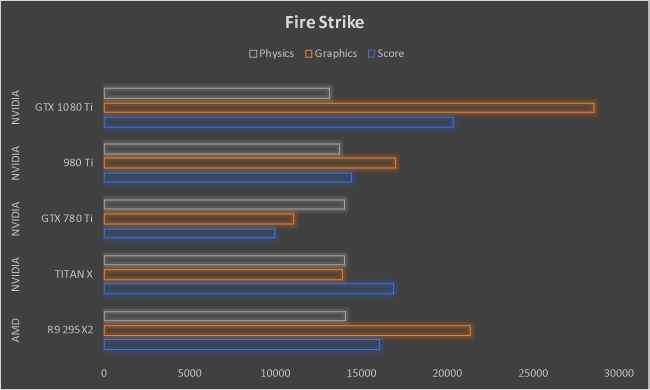 Gaming Benchmarks
We squeezed together all the legacy game benchmarks since they're old and just here for reference. Our legacy games include Bioshock Infinite, Tomb Raider, Sleeping Dogs and Hitman Absolution.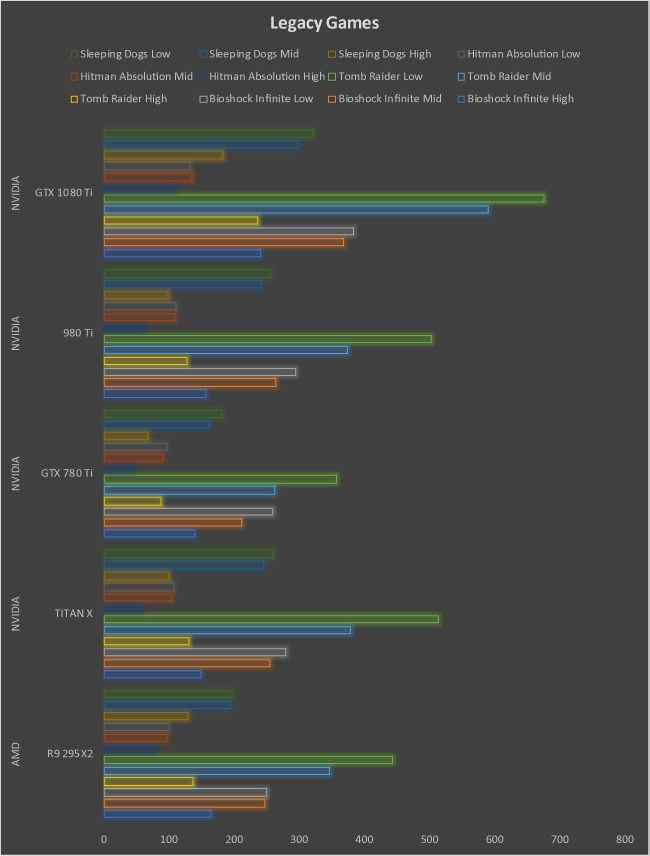 It should be noted that in none of the games are the 1080p FPS scores worth mentioning since they are all above 150. Rise of the Tomb Raider run really well on 1440p and every FPS score was above 100. On Ultra we managed to get 114.68 FPS and then we see the 4K benchmarks which finally brought the FPS scores down to double digits. On Ultra, we scored 63.8 FPS which is above the magical 60 FPS figure.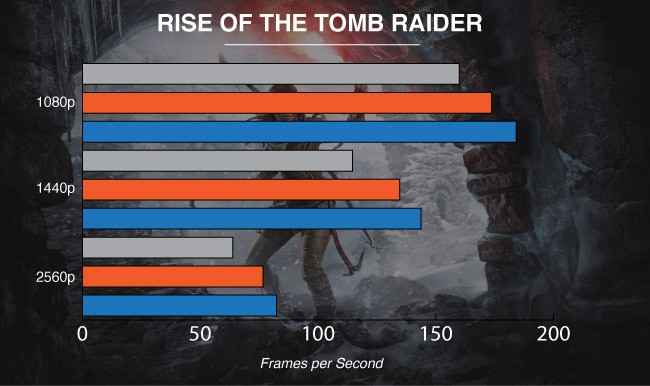 Here's the frametime graph for the 4K run on Ultra settings. We can see a lot of microstutters happening in the first and third sequences of the benchmarks while the second sequence was remarkably smooth running. There is a lot of improvement in the third run towards the second half of the sequence but on average we don't see this as a great result. When we re-ran the benchmark multiple times over, the results were very similar. Be it an NVIDIA card or an AMD card, Rise of the Tomb Raider sure does a number of everyone.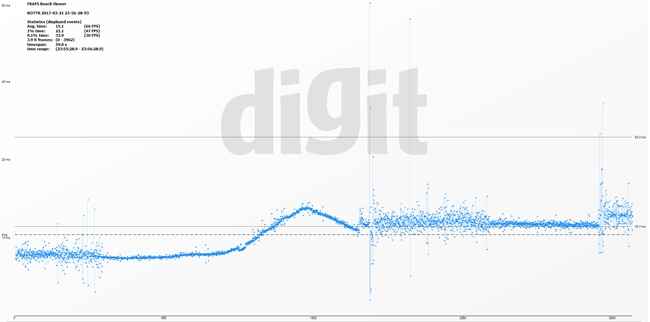 Next up, we have a new entrant in our benchmarks – Total War: Warhammer. The darn thing was supposed to tax systems with it's heavily populated scenarios but that doesn't seem to be the case here. Total War: Warhammer performed better than Rise of the Tomb Raider even if it was by a narrow margin. At 4K resolution, the game scored 70.1 FPS at max settings. Toning it down to high resulted in the average FPS value going up to 89.9 which isn't bad considering the fact that there isn't much of a visual difference between the two settings.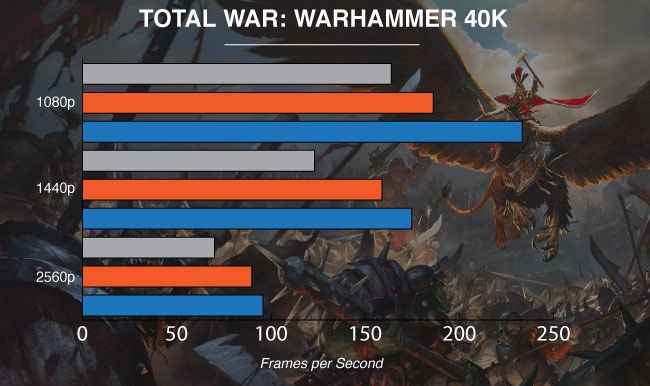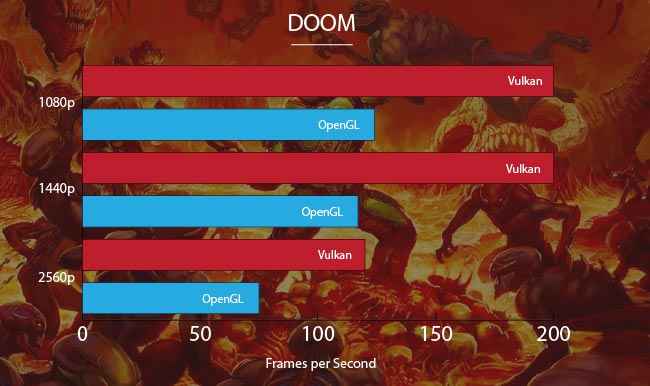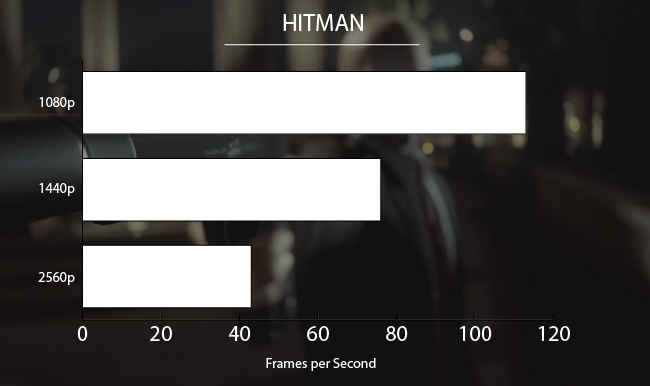 We'll be adding more games here as we finish benchmarking them.
Compute Benchmarks
Furmark is what we use for our OpenGL tests and the GTX 1080 Ti certainly had a field day running past every competing flagship card.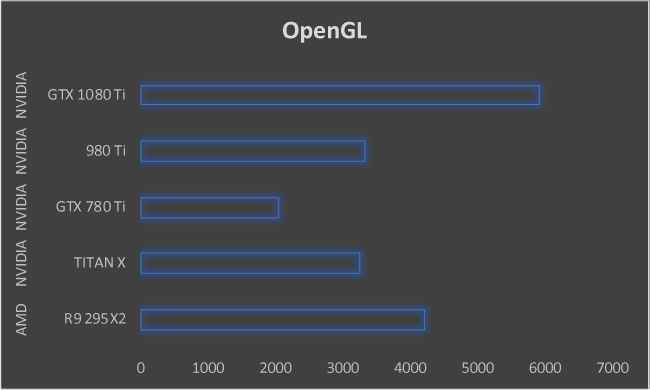 Our OpenCL benchmark involves rendering a 3D scene using just the GPU. The test runs for a couple of minutes and we get the score as the average number of samples that the graphics card was able to churn out in the given time. What we see is a pretty interesting increment with each generation of Ti flagship cards. Between the GTX 980 Ti and the GTX 1080 Ti, we recorded a 65% increment.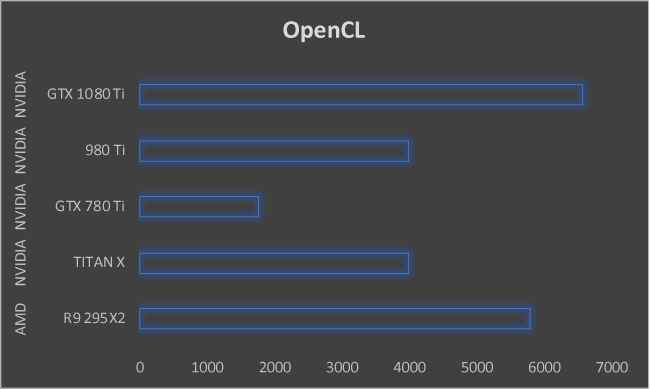 Temperatures
Like we mentioned earlier, the design of the Founders Edition has remained the same for quite a while and hence temperatures aren't that impressive. We hit a peak of 76 degrees celsius with the ambient temperature being in the vicinity of 25 degrees. Idle temperatures were around 42 degrees celsius. Partner cards with aftermarket coolers perform way better with temperatures in the higher 60s or lower 70s. The key benefit with partner cards is that the temperature recovers much faster than the founders edition.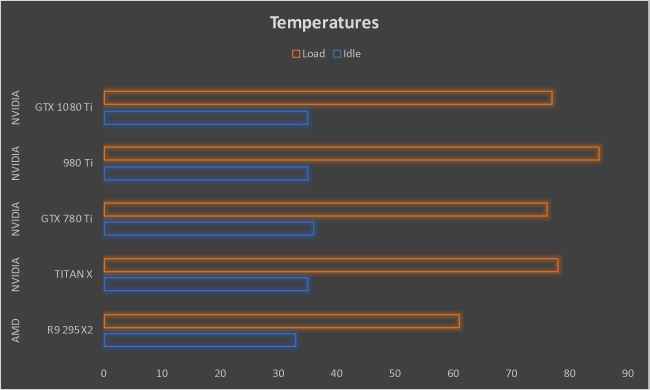 Power Consumption
We used a power meter to check power consumption of the card. The entire system idled at 65 W and at peak load, we saw the power draw rise to 343 W which is an increase of 278 W between idle and peak state. This should only be taken as an approximate value since power supply efficiency plays a huge part in getting the proper power metrics. GPU-Z reported that we'd hit around 101.5% of the TDP which would mean the correct value is closer to 252.5 W.
Update: Here's everything we know about the upcoming Volta/Turing based GTX 1180, 1170, 1160 graphics cards.
Other Popular Deals
Honor 7X (Black, 4GB RAM, 32GB...

Rs. 11999

Buy Now

Redmi 5 (Black, 3GB RAM, 32GB...

Rs. 9990

Buy Now

Honor 8 Lite 64 GB (Black)

Rs. 12253 *

Buy Now
*Includes Cashback