NVIDIA had the usual set of sessions at GDC but before all of that, Jen-Sun Huang took to the stage to unveil the NVIDIA GeForce GTX 1080 Ti. And tomorrow i.e. March 10th, the GTX 1080 Ti will be available for sale. The GTX 1080 Ti announcement has been awaited for quite some time but AMD's recent announcement of RX VEGA seems to have caused NVIDIA to act faster. Both the GTX 1080 Ti and AMD RX VEGA were announced at GDC, and we still don't have pricing information for the RX VEGA but the GTX 1080 Ti will be selling at $599 which was what the GTX 1080 retailed for at launch. This would mean that the price in India for the GTX 1080 Ti will be around Rs. 63,250 which is the same as what the GTX 1080 initially was priced at. There will be a GTX 1080 Ti Founders Edition card as well.
NVIDIA GeForce GTX 1080 Ti
Unlike previous flagship 'Ti' launches, the 1080 Ti doesn't make that big of a compromise in terms of specs compared to the TITAN X Pascal. We believe this maybe due to the fact that AMD is coming out with the RX VEGA in a couple of months and given how their Polaris and Ryzen launches have turned out, NVIDIA might have to take a few precautionary measures. The minimal compromise and early launch of the GTX 1080 Ti might be for this very reason. However, all of this is just conjecture and we can only be sure about these things once AMD's GPU is out.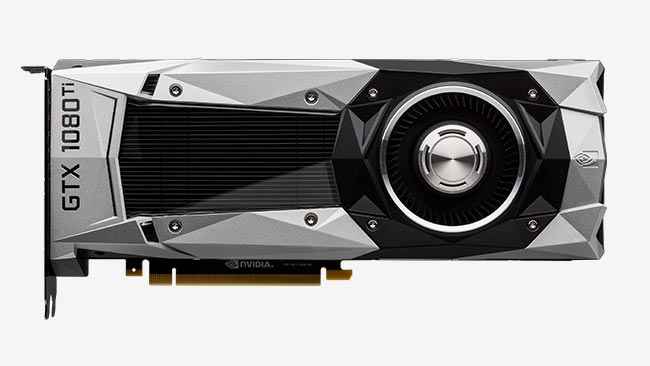 NVIDIA GeForce GTX 1080 Ti Specifications
The GTX 1080 Ti is based off the same GP102 GPU that the GTX TITAN X Pascal card has except for a few changes. The GTX 1080 Ti has 11 GB of VRAM which is 1 GB fewer than the TITAN XP, the memory clock is greater by 1GHz and the core clock is greater by 63 MHz. Here's the GTX 1080 Ti at a glance.
GTX 1080 Ti Specifications

GTX 1080 Ti Specifications

GTX 1080

GTX 1080 Ti

TITAN X P

GTX 980

GTX 780

CUDA Cores

2560

3584

3584

2048

2304

Texture Units

NA

224

224

128

192

ROPs

64

88

96

64

48

Core Clock

1607 MHz

1480 MHz

1417 MHz

1126 MHz

863 MHz

Boost Clock

1733MHz

1582 MHz

1531 MHz

1216MHz

900Mhz

TFLOPs (FMA)

9 TFLOPs

11.3 TFLOPs

11 TFLOPs

5 TFLOPs

4.1 TFLOPs

Memory Clock

10Gbps GDDR5X

11 Gbps GDDR5X

10Gbps GDDR5X

7Gbps GDDR5

6Gbps GDDR5

Memory Bus Width

256-bit

352-bit

384-bit

256-bit

256-bit

VRAM

8GB

11 GB

12GB

4GB

3GB

TDP

180W

250 W

250W

165W

250W

GPU

GP104

GP102

GP102

GM204

GK110

Transistor Count

7.2B

12B

12B

5.2B

7.1B

Manufacturing Process

TSMC 16nm

TSMC 16nm

TSMC 28nm

TSMC 28nm

TSMC 28nm

Launch Price

$599

$699

$999

$549

$649
NVIDIA GeForce GTX 1080 Ti Features
Like the GTX 1080, the GTX 1080 Ti also features GDDR5X memory. Except, now NVIDIA claims to use improved modules. The improvement is in the silicon which suffers from reduced signal jitter and noise. This improvement allows for a higher IO speed, 11 GBps to be precise. Compression algorithms which were improved with Maxwell and the initial launch of Pascal get another shot in the arm with the improved GP102.

On top of that, NVIDIA is using a different approach to rendering called tiled rendering. This allows them to make better use of the memory bandwidth. Since the rendering now breaks the entire frame into tiles, the memory allocation for each tile also undergoes a similar fragmentation which is called Tiled Caching. NVIDIA hasn't done away with the previous approach of immediate rendering, the newer tiled rendering is a minor modification to help reduce bandwidth used for geometry and subsequently save on latency as well.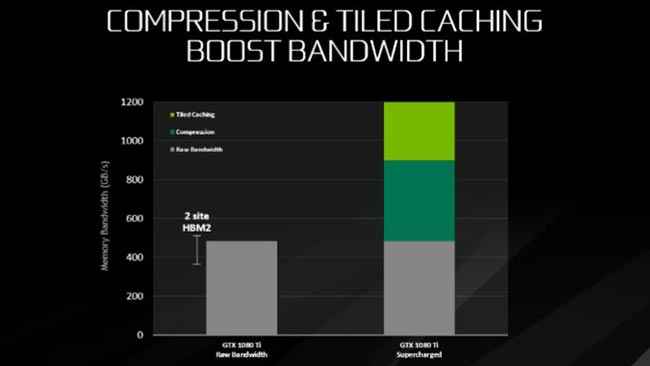 The benefits of these compression algorithms and newer approach vary across games since a lot has to do with how the developer make use of these features.
NVIDIA GeForce GTX 1080 Ti vs 1080
At the reveal, Jen-Sun Huang claimed that the GTX 1080 Ti is about 35% better than the GTX 1080. This is quite a lot and given how previous generations have claimed high increments, we don't expect the overall gains to be more than 25-30%. It's likely that there will be driver updates in the future that will actually hit the magical 35% figure but at launch this seems like wishful thinking.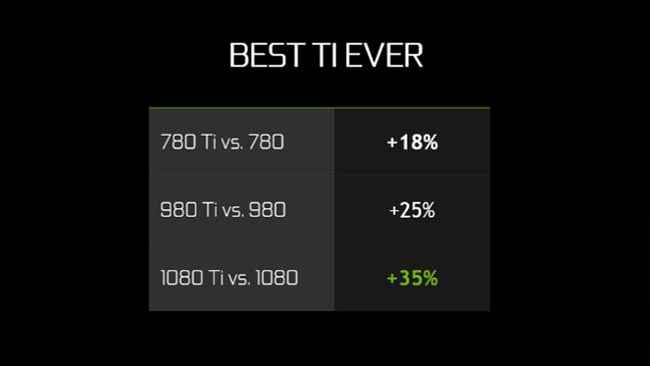 NVIDIA GeForce GTX 1080 Ti Founders Edition
Here's how the new GeForce GTX 1080 Ti Founders Edition Looks like.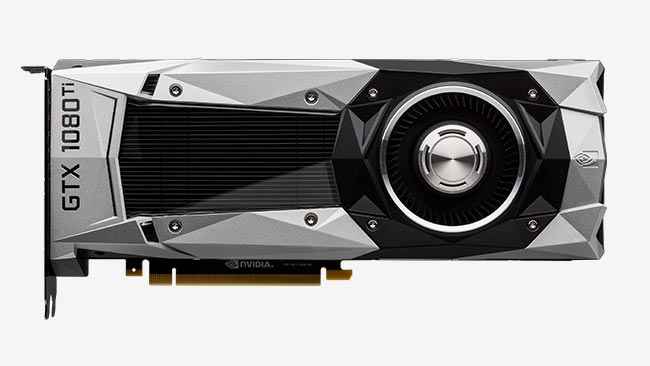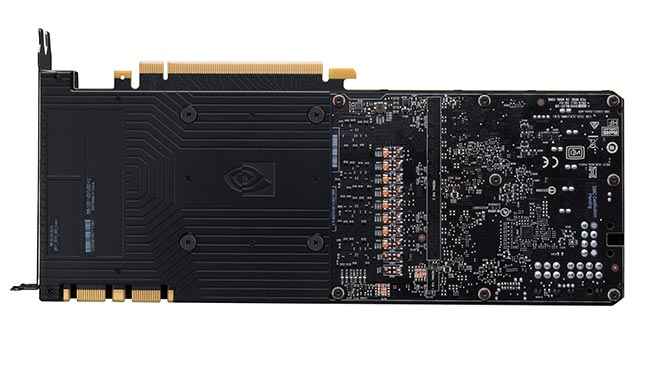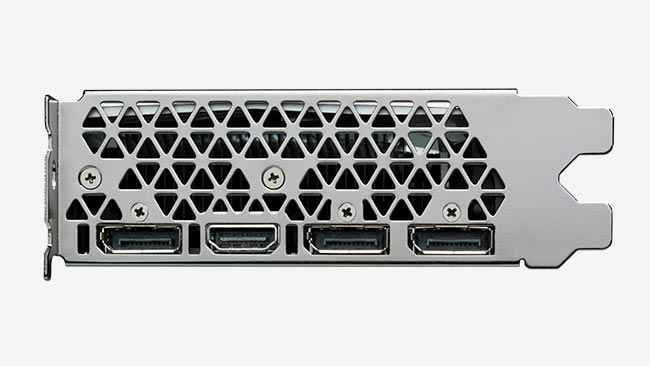 NVIDIA GeForce GTX 1080 Ti Price in India
We have no official word from NVIDIA regarding the price as of yet. We will update this section as soon as we get the same. However, given that the launch price is the same as the GTX 1080, we expect the GTX 1080 Ti to be priced around Rs.63,250 as well.
Other Popular Deals
Samsung A7 2016 Edition Golden

Rs. 18990 *

Buy Now

Redmi Note 5 Pro (Gold, 4GB...

Rs. 12998

Buy Now

Redmi 6 Pro (Black, 3GB RAM,...

Rs. 8999

Buy Now
*Includes Cashback
​