LG has announced the launch of its EA93 UltraWide Monitor, the world's first monitor to boast a 21:9 aspect ratio. The 29-inch screen gives plenty of visibility and space with 2560x1080 resolution, a 4-way Split-Screen feature and 100% sRGB colour space expression to provide better multitasking and multimedia capabilities.
The monitor looks to be designed to maximize productivity, with an IPS display that attempts to deliver lifelike colours, and a massive screen-size that allows for multiple documents and windows to be opened simultaneously, as well as higher viewing space within documents, such as more columns in a spreadsheet, multiple pages side-by-side in a document, etc.
The unique 4-way Split-Screen feature is designed to be able to split the screen into two to four segments as per requirements, each with its own individual customizability, making multitasking and running parallel programs easier.
The monitor also supports connectivity to two external devices via Dual Link-up, giving consistent colour and shading schemes across all monitors/screens, and preventing the occurrence of inconsistencies that are usually seen in traditional dual-monitor setups.
Lastly, the monitor's 21:9 aspect ratio is a very close scale resemblance to the aspect ratio of most high definition movie theatres. This allows the monitor to play movies with ease, even at high definition, without distorting the picture and/or sacrificing on quality of the image. The usage of IPS technology is also seen as an attempt to circumvent problems of viewing the screens from varying angles, which can lead to the viewer losing the image on the monitor.
Additional features include 400 nits brightness rating, a response time of 5ms GTG, an MHL connection to allow direct smartphone connectivity to the monitor, Picture-In-Picture (PIP) and Picture-By-Picture (PBP) support, Auto Ratio Control, etc., amongst many others.
There has been no official word on pricing yet from the company. The monitor is first being introduced in Korea this month, and will be rolled out across the world in the coming weeks.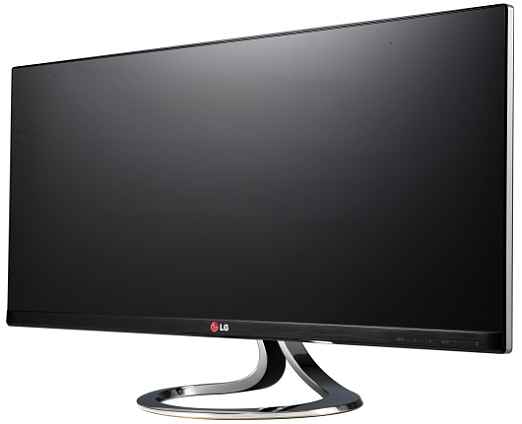 Source: Akhibara News