Today at CeBIT, Kingston demonstrated its latest upcoming super fast Memory Module from the HyperX series, naming the KHX2400C9D3T1K2/4GX. It runs at a whooping 2400MHz to stun you.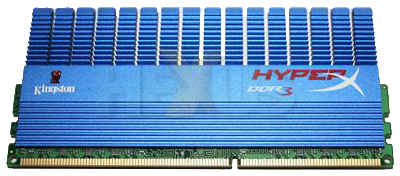 While not only clock speed-wise it just touches Corsair's fastest, Dominator GTX series' CMGTX1 model but significantly plays at par same timing of 9-11-9-27-2 too. So it sounds a bit odd to be labeled 'fastest' initially. Actually what happened is that, this product has got an Intel's XMP certification while its Corsair counterparts lags just at 2000MHz at max in this field. That gives this a huge hype for PC-gaming enthusiasts, who are planning to use memory profiling features introduced by Intel's XMP technology. So that's why Kingston is claiming it to be the industry's fastest XMP RAM to date, to clear the confusions.
Where there's no word of pricing & avoiding any kind of power consumption & heating detail, they have only announced that this monster is to be unchained on Q2 2010 (probably midst of June) along with the release of a new drool maal: water cooling solution for Kingston Memory Modules, just showing a development prototype.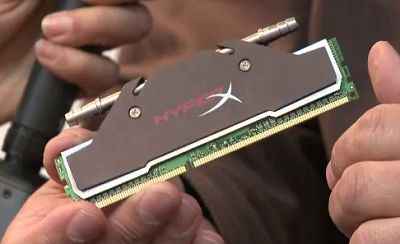 Upcoming Memory Module Water Cooling Solution for Enthusiasts
For more updates from the memory market, catch up with the discussion going on here at ThinkDigit Forum.