Kingston today announced HyperX red memory as a permanent addition to the entry-level, high performance HyperX blu product line. The HyperX red lineup starts at Rs. 1,500, for a single 4GB DDR3 1333MHz module, and extends up to a kit of two 8GB DDR3 1600MHz modules.
HyperX red is for entry-level gamers, system builders, PC modders and mainstream consumers looking for stylish, high-performance memory upgrades at reasonable prices. Kingston HyperX memory is backed by a lifetime warranty and free live technical support.
The Kingston HyperX series features red heatspreaders, which allow for greater heat dissipation to help maintain optimal system performance. HyperX red's Part Number ends with X, is Intel XMP ready, and is available in up to 8GB (single) and 4GB–16GB (kits) at 1600MHz and 1333MHz, in both 1.65v and 1.5v.
"HyperX red was a tremendous success when it was launched earlier this year as a limited edition product," said Ann Bai, DRAM Sales Director, APAC region, Kingston. "We decided to make it a permanent part of the HyperX family because demand was so great. The vivid color, fast speeds and excellent value make it perfect for any system, especially red, gray and black schemed motherboards."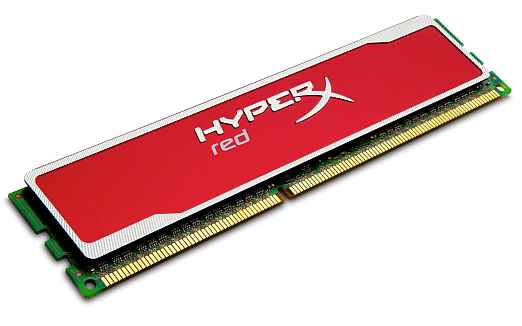 HyperX red features and benefits:
Unique: Features HyperX red heat spreader for greater heat dissipation
Robust: Intel XMP-ready
Reliable: 100-percent factory tested
Guaranteed: Lifetime warranty, free technical support
Capacities: Up to 8GB (single) and 4GB–16GB (kits)
Frequency (speed): 1333MHz and 1600MHz
CAS Latency: 9-9-9-27 and 10-10-10-27
Voltage: 1.5v and 1.65v
XMP Ready*: Higher-performing frequencies, timings and voltage are attainable by simply enabling Intel's Extreme Memory Profile
Compatible: With P55, H67, P67, Z68, Z77 and H61 Intel chipsets; as well as A75, A87, A88, A89, A78 and E35 AMD chipsets
Kingston HyperX red Specifications

Part Number

Capacity and Features

KHX13C9B1R/4

4GB 1333MHz DDR3 Non-ECC CL9 DIMM HyperX red

KHX13C9B1RK2/8

8GB 1333MHz DDR3 Non-ECC CL9 DIMM (Kit of 2) HyperX red

KHX16C9B1R/2

2GB 1600MHz DDR3 Non-ECC CL9 DIMM HyperX red

KHX16C9B1R/4

4GB 1600MHz DDR3 Non-ECC CL9 DIMM HyperX red

KHX16C9B1RK2/4X*

4GB 1600MHz DDR3 Non-ECC CL9 DIMM (Kit of 2) XMP HyperX red

KHX16C9B1RK2/4

4GB 1600MHz DDR3 Non-ECC CL9 DIMM (Kit of 2) HyperX red

KHX16C10B1R/8

8GB 1600MHz DDR3 Non-ECC CL10 DIMM HyperX red

KHX16C9B1RK2/8

8GB 1600MHz DDR3 Non-ECC CL9 DIMM (Kit of 2) HyperX red

KHX16C9B1RK2/8X*

8GB 1600MHz DDR3 Non-ECC CL9 DIMM (Kit of 2) XMP HyperX red

KHX16C10B1RK2/16

16GB 1600MHz DDR3 Non-ECC CL10 DIMM (Kit of 2) HyperX red

KHX16C10B1RK2/16X*

16GB 1600MHz DDR3 Non-ECC CL10 DIMM (Kit of 2) XMP HyperX red