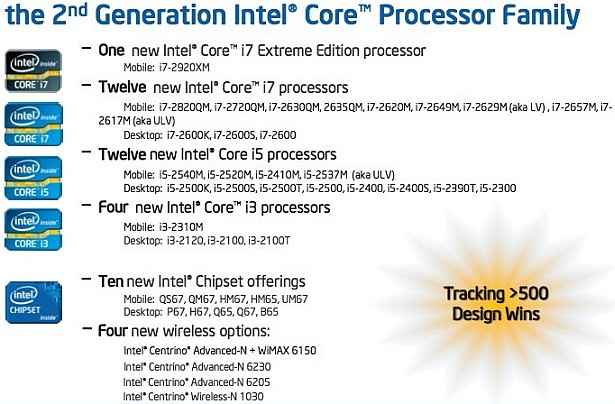 Count 'em – 29 new processors! Yes, Intel has brought in its second generation of Core processors with a big bang, exactly the sort of start that will make OEMs across the world rush to squeeze Intel's latest greatest - Sandy Bridge - into their machines. Of course, AMD also has its Fusion APU offerings, so for now, the future marketplace still looks like a lively place. While yes, you can expect some serious computing performance improvements, Intel seems to be aiming at a completely different target with this generation, hoping to provide users with 'eye candy' – in other words, a distinctly better visual experience and "visibly smarter performance" with the new processors' "built-in visual capabilities."
What's new?
Behind the stage, the Sandy Bridge microarchitecture is chief amongst their changes that make the second generation of Core family processors different from their predecessors (Nehalem and Westmere). Even if you haven't been following the hype surrounding Sandy Bridge ever since the architecture was showcased at Computex in June, you probably know that it is based on 32nm fabrication process, and incorporates the memory controller and graphics on the same die as the processor itself (see below). All this translates to better power efficiency and performance, allows for dedicated media processing without chipset or discrete graphics, and enables the production of laptops/motherboards with lighter/thinner form factors.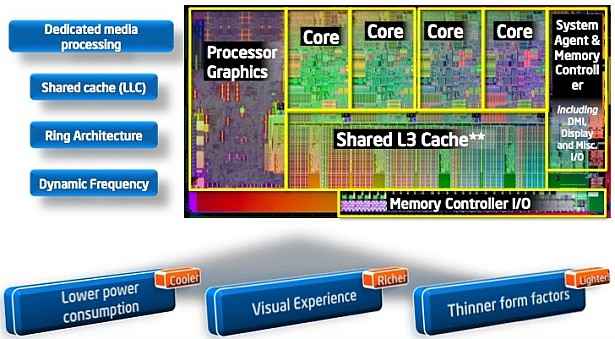 [RELATED_ARTICLE]Now, with Sandy Bridge architecture, both graphics and CPU cores share a portion of the on-die cache (up to 1MB of last level cache – L3 in the current generation). If you are cynical about it providing some serious graphics power, you'd be right, but while the on-die graphics solution would never be able to replace the performance of discrete GPUs for hardcore gamers and graphics professionals, it will replace the rather dismal integrated graphics offerings from Intel (such as GMA), and apparently offer nearly 2X the performance.
Along with improved Turbo Boost (now 2.0), Intel has also built-in the new Graphics Dynamic Frequency technology into its monolithic Sandy Bridge processors, where GPU cores and CPU core frequencies are dynamically adjusted to provide optimal performance and power sharing.
Also notable is the special "K" series of overclocking-inspired processors, with which users will be able to set the clockspeed ratios for individual cores using P67 motherboards.
Other graphical improvements include:
Quick Sync Video – Promises to transcode HD video 17 times faster than before, and by the name, you can tell it was meant to help users synchronise heavy HD video content from their desktops/laptops onto smaller form factor devices like phones and tablets.
Wi-Di 2.0 – While the previous generation of Wireless Display technology from Intel was quite exciting (though limited to those laptops with it built-in), it couldn't support 1080p HD video streaming, something that's been rectified.
InTru 3D – Intel now provides support for stereoscopic 3D right-on-die, enabling seamless output of Blu-ray quality 1080p HD 3D content over HDMI 1.4.
Clear Video HD – Improved HD and non-HD video playback, including streaming content, with better colour fidelity and visual quality.
Advanced Vector Extensions – Allows for much better video/ image editing performance.
When will it arrive?
The first quad-core processors will be released on January 9th, with dual-core processors arriving in February, and ULV processors arriving for laptops arriving only by Q3 of 2011.
How do you know you are getting a Sandy Bridge processor and not an older one?
For now, unless you know all the Sandy Bridge processor model names by heart (found below), you could use this simple rule of thumb: all Sandy Bridge processors have four digits in their model name, which can also be followed by a letter signifying the platform and other special features (i.e., M, S, K).
Official specifications for desktop, mobile and low-power CPUs, as well as new chipsets

| | | | | | |
| --- | --- | --- | --- | --- | --- |
| | | | | | |
Is this all?
Well, while we are pretty sure you will not actually be asking this question, we are happy to tell you there IS more! Look out below for a complete list of Intel's slides introducing Sandy Bridge processors, as well as new chipsets (including wireless). You should also know that Intel's new aim of making users get the most immersive visual experiences from their laptops stretches far beyond hardware, and in fact, it has been inking deals with major digital content providers left right and center (including Bollywood). So, stay tuned for our coverage on what the chip giant is calling Intel Insider.
Official Intel Sandy Bridge microarchitecture details, as well as new features

| | | | | |
| --- | --- | --- | --- | --- |
| | | | | |
| | | | | |
| | | | | |
| | | | | |
| | | | | |