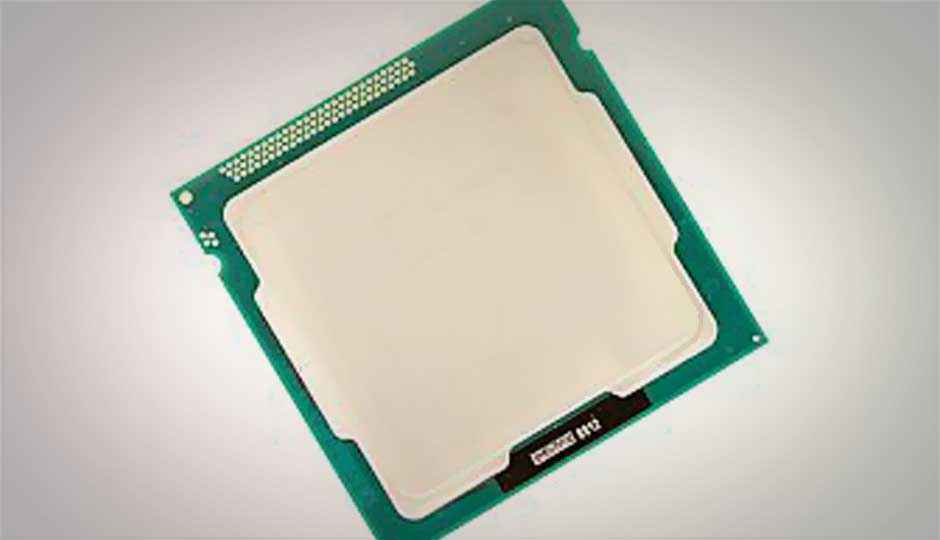 Intel has launched its 3rd Generation Core processors (Ivy Bridge), based on 22nm 3-D tri-gate fabrication technology, making it the first time Intel has offered a both a new process and a new architecture in a single iteration - the 'Tick-Plus' or Integrated Device Manufacturing, in their regular, alternating 'Tick-Tock' cadence.
Initially offering quad-core processors for high-end desktops, laptops and all-in-ones (AIOs), the first systems based on the 3rd generation Intel Core processors will be available from April itself, with boxed versions also available from the usual online, retail and channel sources. Ivy Bridge is backwards compatible with existing LGA-1155 sockets. The new lineup effectively replaces the 32nm Sandy Bridge offerings.
More versions of the 3rd Generation Intel Core processors will be available later this year, bringing in offerings for servers and intelligent retail systems, Ultrabooks and laptops, as well as for healthcare and other industries.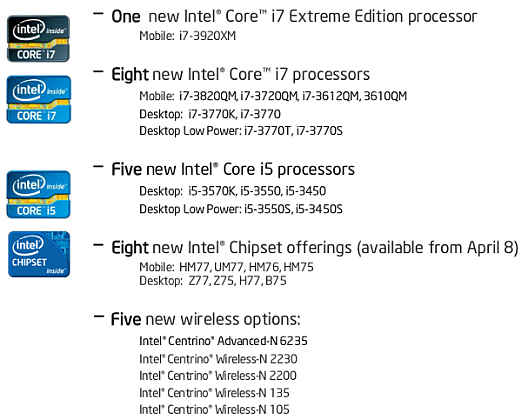 So, what's new with the 3rd Generation of Intel's Core processors? With the faster and more efficient new 22nm process, and 3-D tri-gate transistor technology's extra-dense three dimensional circuits, Intel is promising up to twice the 3D graphics and HD media processing performance compared to its previous generation, up to 10 percent improvement in sheer microprocessor performance, and a much improved power consumption with the tri-gate design's negligible leakage, and the more efficient 22nm process. TDPs fall as low as 77W with standard power models.
The new high-end Intel Core processors will bear Intel HD Graphics 4000 as the on-die GPU (replacing Sandy Bridge's HD 3000), with built-in support for DirectX11, OpenGL 3.1 and OpenCL 1.1, GPU-specific on-die L3 cache, and much improved shader performance. Lower-end Ivy Bridge offerings will come with Intel HD 2500 GPU on-die. Also onboard, is Intel Quick Sync Video 2.0 technology, which the company says will help users decode videos two times faster than the previous generation, and 23 times faster than a PC "just three years old."
Data transfer has also been improved, with support for USB3.0 built-in to the Series 7 Platform Controller Hub, and PCIe 3.0 integrated with the processor. Also onboard, with the usual Intel Identity Protection Technology (IPT) and Intel Anti-Theft technology, is the new Intel Secure Key and Intel OS Guard, where the former generates truly random numbers to strengthen encryption algorithms, and the latter defends against privilege escalation attacks. These, combined with the Intel Series 7 Chipset, can also make a portion of the screen unreadable to spyware with the "protected transaction display" feature.
Check out the specifications of the 14 new Ivy Bridge processors below, and as noted above, only quad-core offerings are available right now. Dual-core Core i3 offerings, as well as ultra-low voltage and power offerings, will only make their way to the market from June onwards. K-series SKUs, like with the Sandy Bridge processors, with have their multipliers fully unlocked, up to 63x. The processors being launched today without the K series suffix, support turbo, and in essence, can be overclocked, however, future, non-turbo Ivy Bridge processors will be fully locked.
With the quad-core Ivy Bridge processors, only Intel Core i7 processors will get Hyper Threading, Core i5 chips will not. Dual-core Core i3 processors will not come with turbo boost.
Stay tuned for more coverage on the 3rd Generation of Intel Core processors, where we'll compare the new stock with previous generations, apart from our detailed review of the processors.