Intel announced the latest in its Xeon lineup with the 4th generation E7-8800/4800 Broadwell-EX Xeon E7v4 processors. Version 4 of the E7 lineup is focussed towards solving real-time analytics and in-memory computing along with the usual job of handling mission-critical workloads reliably in an always-on environment. In total, Intel announced four quad-core and eight octa-core Xeon E7v4 CPUs.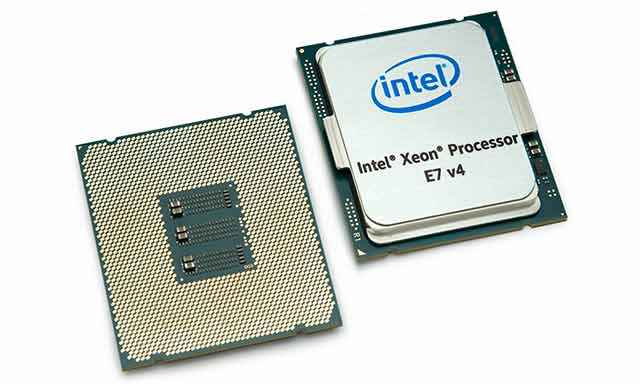 Like the previous v2 and v3 series, the v4 also uses the Brickland platform so the socket is still LGA 2011-1. Aside from having moved to the 14nm manufacturing process, the Broadwell-EX adds an extra QPI link which allows for 4 and 8 socket configurations instead of just 2 sockets. Each CPU can handle 1536 GB of memory with a bandwidth of 102 GB/s over 24 DIMMs.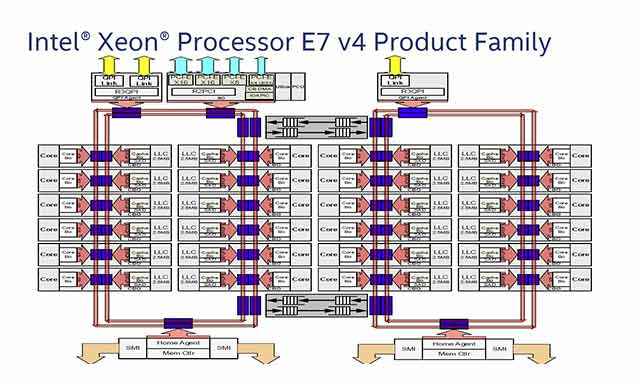 Intel Broadwell-EX Xeon E7v4 lineup
Model Number
Cores
Frequency (GHz)
Turbo (GHz)
L3 cache (MB)
TDP (W)
I/O bus (QPI)
Price
Octacore SKUs
Xeon E7-8855 v4
14
2.1
2.8
35
140
3 × 8.0 GT/s
$3,003
Xeon E7-8860 v4
18
2.2
3.2
45
140
3 × 9.6 GT/s
$4,061
Xeon E7-8867 v4
18
2.4
3.3
45
165
3 × 9.6 GT/s
$4,672
Xeon E7-8870 v4
20
2.1
3.0
50
140
3 × 9.6 GT/s
$4,672
Xeon E7-8880 v4
22
2.2
3.3
55
150
3 × 9.6 GT/s
$5,895
Xeon E7-8890 v4
24
2.2
3.4
60
165
3 × 9.6 GT/s
$7,174
Xeon E7-8891 v4
10
2.8
3.5
60
165
3 × 9.6 GT/s
$6,841
Xeon E7-8893 v4
4
3.2
3.5
60
140
3 × 9.6 GT/s
$6,841
Quadcore SKUs
Xeon E7-4809 v4
8
2.1
N/A
20
115
3 × 6.4 GT/s
$1,223
Xeon E7-4820 v4
10
2
N/A
25
115
3 × 6.4 GT/s
$1,502
Xeon E7-4830 v4
14
2
2.8
35
115
3 × 8.0 GT/s
$2,170
Xeon E7-4850 v4
16
2.1
2.8
40
115
3 × 8.0 GT/s
$3,003
If you haven't noticed already, then the flagship Xeon E7-8890 v4 is a 24-core behemoth running at 2.2 GHz with a Turbo Boost that goes all the way to 3.4 GHz and supports AVX. It does all this with a TDP of 165 W and costs a meagre $7174 (Rs. 4,81,375 @ Rs.67.1/USD). That's enterprise for ya!
And we couldn't leave out the little one now, could we? The Xeon E7-4809 v4 has 8 cores running at 2 GHz with no Turbo Mode and has a TDP of 115 W. Cost? $1223. (Rs.82,630)
What's new with the Broadwell-EX Xeon E7v4?
Compared to the Haswell-based E7v3 architecture, the E7v4 offers quite a few new features which have been summarized in the image below. The biggest changes include much higher Last Level Cache and the obvious jump to 24 cores. If you're wondering what COD under Snoop Modes means then here's a simple way of putting it. COD stands for Cluster On Die and it's a performance enhancing feature wherein the CPU and LLC are split into two parts and behave like two CPUs. This results in lower latency for the LLC. Haswell-EX had 2S COD support and with Broadwell-EX we now have 4S COD support.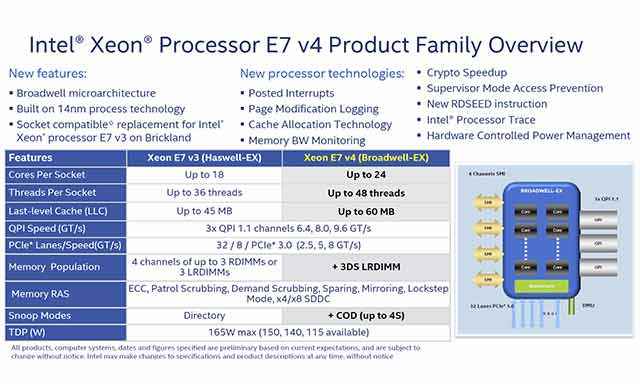 Since the Broadwell-EX E7v4 is on the same Brickland platform, it uses the LGA 2011-1 socket and your existing motherboards running E7v3 CPUs will be able to accommodate the E7v4 CPUs after a simple BIOS update.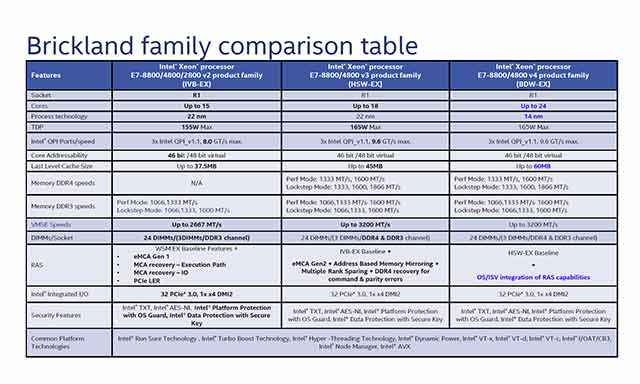 Scalability
The E7v4 family with support for eight-sockets can scale up to 256 sockets using third-party node controllers. Current custom setups go all the way towards handling 64 sockets so this is indeed a significant jump. And with 24 TB of memory support in an eight-socket configuration, machines built using the Broadwell-EX CPUs will be able to work on tremendously huge datasets without having to dump them onto non-volatile storage. Hence, the focus on real-time data analytics.
Reliability
The Broadwell-EX E7v4 boasts of over 70 RAS (Reliability, Availability and Serviceability) features including Run Sure Technology. Because of this, Intel claims high uptime (five nines) for systems based on these SKUs. For the uninitiated, this translates to 99.999% uptime.
Security
Intel claims that the newer security features included in the E7v4 series provides up to 70 percent more encryption performance per core. Additionally, Intel OS Guard now includes Supervisor Mode Access Protection which offers IT admins more control over demarcation of data access across users.
Virtualisation
Improved virtualization capabilities have led to lower latencies and interrupts while entering and exiting VMs (Virtual Machines) and lesser overhead in fault-tolerant environments with page modification logging.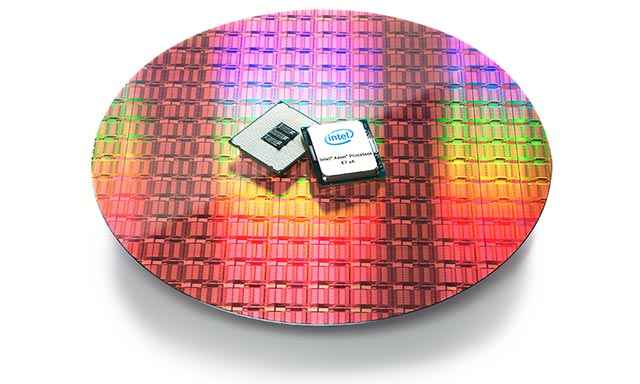 Performance increment
(We're listing Intel's performance increment claims verbatim here.)
Up to double the queries per hour answered enabling smarter decisions for businesses analyzing their sales and customer data:
up to 1.3x average performance across key industry-standard workloads
Up to 35% more virtual machines (VMs) and infrastructure applications throughput supported with same service-level agreement level to help IT grow line-of-business (LOB) heterogeneous needs.
Ad-hoc cost per query has dropped from $21 to just $0.38 in just the past six years – a 98% cost reduction, while queries per hour capability has increased by 19x
Use 1/3rd the servers for equivalent performance to lower operational expenses by replacing 4-5-year-old installed platforms, savings include lower:
Network and server maintenance costs by up to 92%
Utilities costs by up to 73%
Annual software licensing fees by up to 67%

Based on Intel internal analysis, compared to previous generation Intel Xeon processor E7-8890 v3 (45M Cache, 2.5 GHz, formerly codenamed "Haswell-EX") using the same platform delivers up to:
33% more benchmark users supported with SAP SD* 2-tier ERP workload
30% more On-Line Transaction Processing (OLTP) database transactions to support peak demands on supply chain
24% more query navigation steps using in-memory analytics with SAP HANA* through the new SAP Business Warehouse-Advanced Mixed Load (BW-AML) benchmark
Over the previous two generations Intel Xeon processor E7-4890 v2 (37.5M Cache, 2.8 GHz, formerly codenamed "Ivy Bridge-EX") using the same platform demonstrates, based on Intel internal analysis up to:
4.6x faster ad-hoc queries for more insight into supporting business decisions
2.9x financial risk insights generational speedup with STAC-M3 theoretical profit and loss
workload using 6TB of DDR4 memory
Double the number of VMs for higher rack density
Versus the broadest installed base of Intel Xeon processor E7 servers (formerly codenamed ("Westmere-EX") provides, based on Intel internal analysis, up to:
3.7x more VMs for improving utilization while maintaining SLAs
2.9x more benchmark users supported with SAP SD* 2-tier ERP using SQL Server
2.8x more OLTP database transactions to support peak demands on supply chain
Other Popular Deals
Samsung A7 2016 Edition Golden

Rs. 18990 *

Buy Now

Redmi Note 5 Pro (Gold, 4GB...

Rs. 12998

Buy Now

Redmi 6 Pro (Black, 3GB RAM,...

Rs. 8999

Buy Now
*Includes Cashback
​