Intel's Cedar Trail processors, 32nm Intel Atom chips, have finally been released. The first netbooks based on them, due from Acer, Asus, HP, Lenovo, Samsung and Toshiba, will be launched in early 2012. Apart from increased performance and improved battery life, the new Intel Atom processors will feature new graphics chipsets, with twice the graphical power.
The Cedar Trail processors will feature Intel GMA 3600/3650 integrated GPUs, which promise twice the graphical performance. The processors are quite power efficient as well, beating any other AMD Fusion APU in the market currently – with the new Intel Atom N2600 (1.6GHz) featuring a 3.5W TDP, the Intel Atom N2800 (1.86GHz) featuring a 6.5W TDP, and the Intel Atom D2700 (2.1GHz) featuring a 10W TDP.
While Intel's new Atom processors do beat AMD's Fusion APUs in terms of power consumption, we'll have to wait a bit till we see them compared in terms of performance.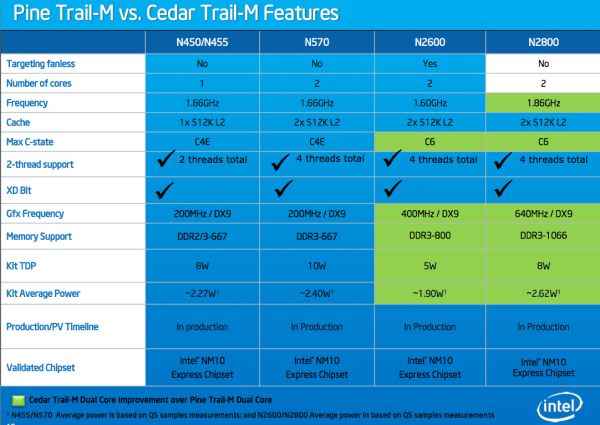 Source: Fudzilla