The Intel Haswell platform launch is scheduled to be held on June 3, but Intel went ahead and announced its latest graphics chip to be seen on high-end Haswell SKUs namely Iris and Iris Pro.
With the Ivy Bridge, we had seen three graphics configurations on the processors, namely HD 4000, HD 2500 and the lower-end Intel HD graphicsWhere to buy

18471.
But with the Haswell platform, we shall be looking at five graphics configurations - Intel Iris Pro 5200, Intel Iris 5100, Intel HD 5000, Intel HD 4600 / 4400 / 4200 and Intel HD graphicsWhere to buy

18471.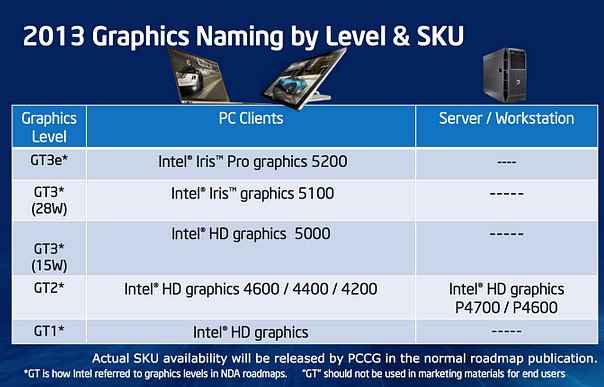 The graphics components, formerly codenamed GT3 (Iris) and GT3e (Iris Pro) will be seen only on the high end Haswell SKUs. The interesting part about the Iris Pro is that it will feature a 128MB embedded DRAM (eDRAM) on the CPU package which will allow the CPU and GPU to share the 128MB cache memory for speedier operations. Both these processing units will have read/write access to the eDRAM.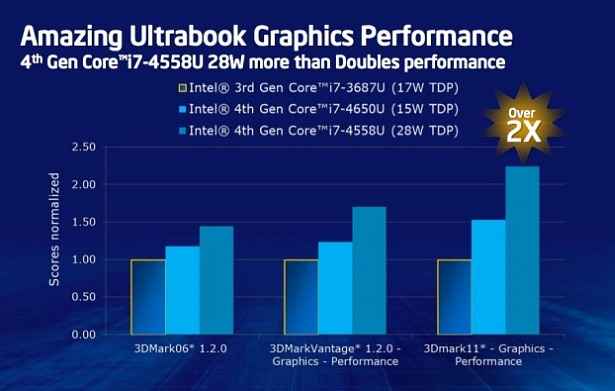 Intel also showcased some of the performance slides of its Iris and Iris Pro graphics components vis-a-vis their older HD 4000 counterparts. As seen in the slide above, the Iris 5100 sporting Core i7-4558U gives a performance improvement which is twice that of the HD 4000 seen on 3rd gen Ivy Bridge Core i7-3687U processor, in 3D Mark 11. The Iris 5100 graphics component will only be seen on the 28W SKU, whereas the 15W SKU seen above will sport the Intel HD 5000 graphics component which gives a 1.5x improvement over the HD 4000 in 3D Mark 11. These numbers are just indicators and real-life performance will have to be tested by us when the processors are out.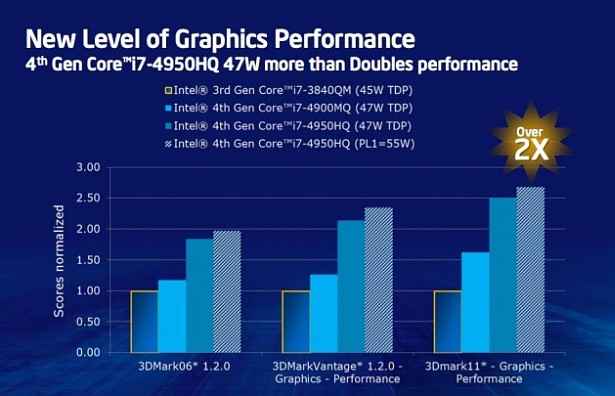 The Iris Pro graphics 5200 is similar to the Iris 5100 except for the fact that it includes a 128 MB eDRAM to the CPU package to improve performance. The Iris Pro graphics will be seen on quad-core Haswell SKUs. Seen in the slide above the H-series SKU namely Core i7-4950HQ has a TDP of 47W which is higher than the 28W SKU sporting an Iris graphics component. Performance wise, the Iris Pro 5200 delivers a 2.5x improvement over HD 4000 in 3D Mark 11. Intel claims that the Iris Pro 5200 is designed to give a performance similar to the NVIDIA GeForce GT 650M. We will have to wait till we run the Iris Pro 5200 graphics sporting Haswell SKUs to verify Intel's claim about real life performance vis-a-vis the NVIDIA GT 650M. If the Iris Pro 5200 graphics' real-life performance is as impressive as its 3D Mark 11 performance over the HD 4000, then we should be seeing laptops/ultrabooks with integrated mid-range GPU, rather than a discrete GPU which is shipped with current generation ultrabooks.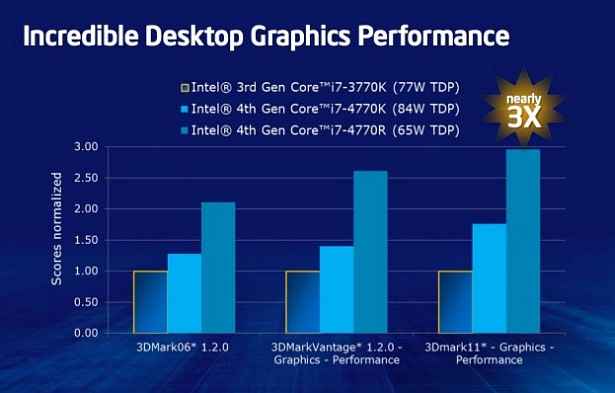 As far as desktop SKUs go, Intel will bundle the Iris Pro 5200 graphics in processors with an R suffix. Seen about the Intel Core i7-4770R gives an almost 3x performance improvement over the HD 4000 in 3D Mark 11. This can be attributed in part to the higher TDP as compared to the H-series SKU we saw above.
Intel also has the comparatively lower-end HD Graphics 4600 / 4400 / 4200 as well as the Intel HD graphicsWhere to buy

18471 which will be a basic GPU to ship with Celeron/Pentium SKUs.
Apart from the features discussed above, the new Haswell GPUs will also feature Direct 3D 11.1, OpenGL 4.1, OpenCL 1.2, a faster version of Intel QuickSync, DisplayPort 1.2, support for 2K and 4K resolutions and so on.
The number of devices (ultrabooks / laptops / other form factors) sporting Haswell parts is going to increase exponentially, as now we do not just have the various CPU configurations to work with, but more varied GPU offerings as well. It will be really interesting to see how the Iris and Iris Pro GPUs perform in real life against the entry and mid-range discrete GPUs. Keep checking our site for more updates as Haswell approaches the launch dates.