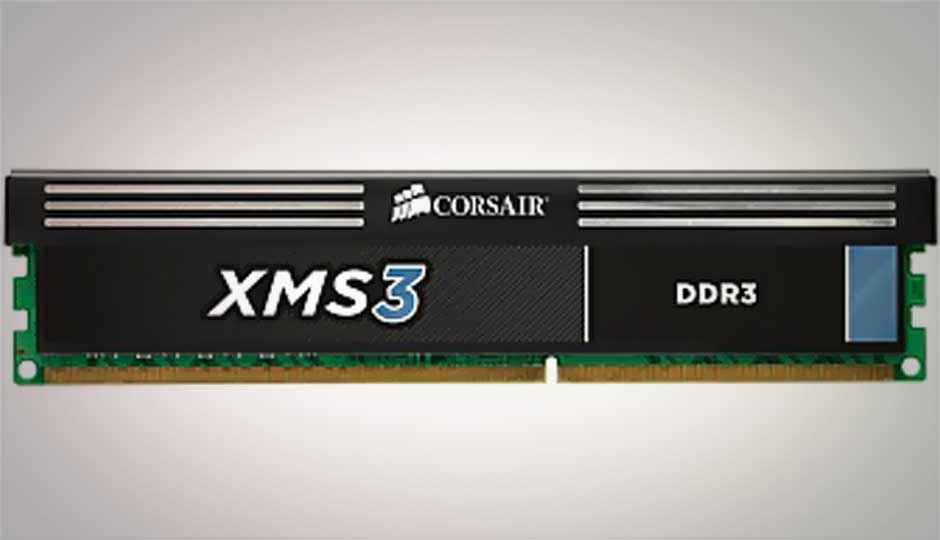 Corsair has announced the availability of its first India specific memory modules, in its XMS series. The 4GB DDR3 memory module is available for Rs. 1,800, and is said to be compatible with both Intel and AMD platforms, and DDR3 motherboards.
Corsair's long term plan to introduce India specific Corsair products at a competitive price has started with the launch of these XMS3 memory modules, specifically, the 4GB CMX4GX3M1A1600C11, which is DDR3 1600MHz RAM.
The 4GB XMS3 1600MHz DDR3 modules comes with the XMS heat spreader, which when combined with the price, according to Corsair, makes a dream brand that was unaffordable to most Indian users, affordable.
M A Mannan, Country Manager - India at Corsair Memory said "India has always been a price sensitive market and hence Corsair has had a slow growth due to its comparatively premium pricing. Now we have come up with a memory module especially for the Indian customers, XMS3. XMS3 has been designed without compromising the world wide quality standards of Corsair. Our partners will be very happy to offer quality product from Corsair to their customers at a far competitive rate."
| | |
| --- | --- |
| Performance Profile | XMP |
| Memory Pin | 240 |
| Tested Voltage | 1.65 |
| SPD Voltage | 1.5 |
| Speed Rating | PC3-12800 (1600MHz) |
| SPD Speed | 1333MHz |
| Tested Speed | 1600MHz |
| Tested Latency | 11-11-11-30 |
| SPD Latency | 9-9-9-24 |
| Part Number | CMX4GX3M1A1600C11 |
Price, Warranty and Availability
CMX4GX3M1A1600C11 (XMS3) is priced at Rs. 1,800 with a warranty of 10 years and is readily available with Corsair partners across the country.