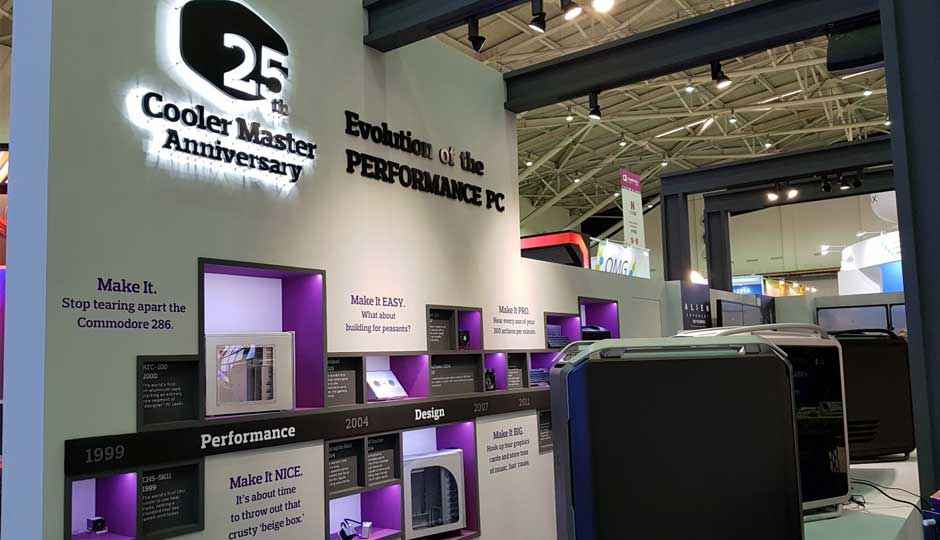 There is a lot of activity from Coolermaster at Computex 2017, it is their 25th anniversary this year after all. Well-crafted rigs are being displayed, some of its most popular products are being revived - they've even dedicated an entire section to building your PC live.
"People think that a desktop PC is either a plain black box or that it's too hard to build something nice yourself. I see first-time builders all the time put together a stunning rig in about a few hours. In 25 years, we've come a long way. Building your own PC is still the best way to get everything you want, and all you need nowadays is the right tools," said Charlie Wu, Brand Manager.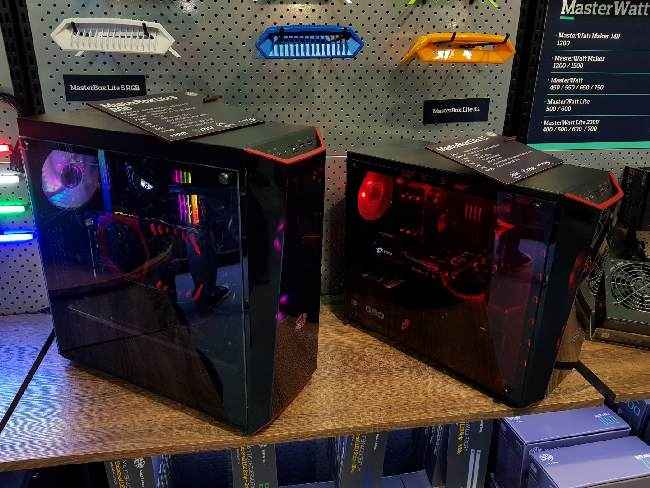 Build, Design and Performance
Cooler Master is essentially focusing on four key elements of modern PC performance – (1) design, (2) customizability, (3) software and (4) functionality, especially for gaming. And it is in these very areas that Cooler Master is announcing or launching quite a few products. All of the products highlighted will launch before the end of the year.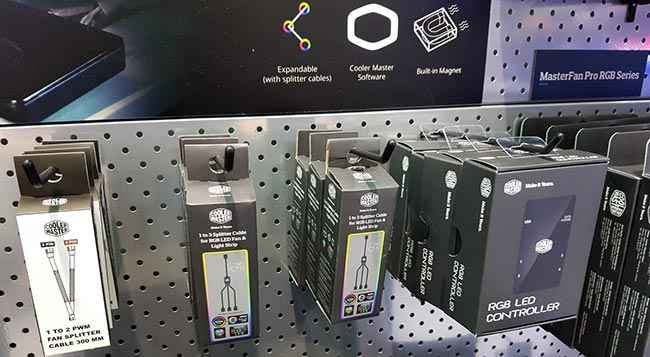 Design
Cooler Master has had quite a few iconic design elements in the past, like the world's first all-aluminum case (ATC-100), world's first CPU heat pipe cooler (CH5-SKII), or new spins on traditional air tower looks like the V8 GTS. And with the products on display, the latest trends are being harnessed. In PC cases, for example, glass, acrylic, aluminium, and RGB lighting are all being incorporated into its new releases, like the MasterCase H500P (formerly the HAF Series), COSMOS C700P, and the new Q Series.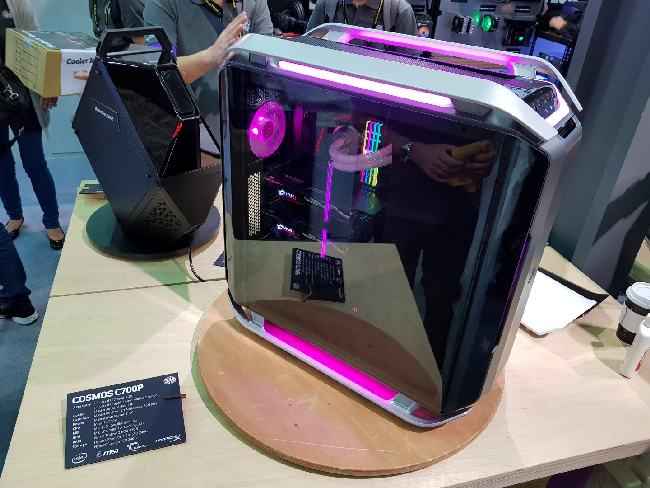 Those cases are the next offspring of the popular HAF and COSMOS lines. The COSMOS C700P keeps the classic elements of its predecessors – like four thick, brushed aluminium handlebars – and combines that with more technology from Cooler Master's modular concept case than any other to date. This means lots of room and options for internal layouts and even a rotatable, removable motherboard tray. Stay tuned for more in-depth coverage of these cases.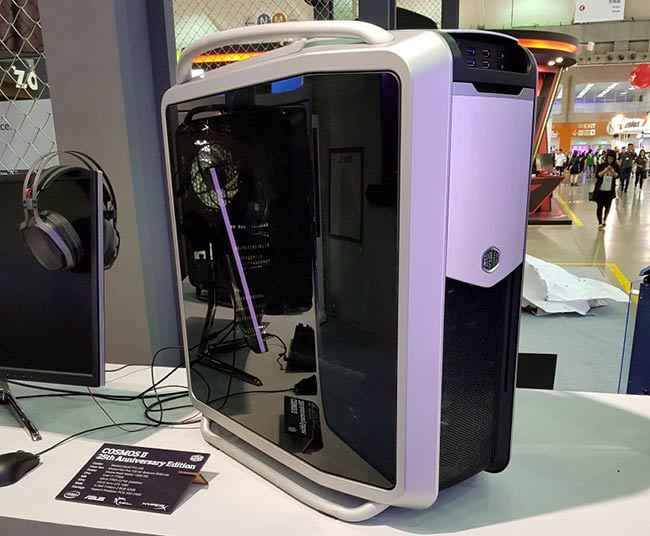 In terms of heating, Cooler Master is tweaking its latest heat pipe technology, called "3D Liquid Vapor Chamber," as the next in line after the flagship MasterAir Maker 8. Design developments have allowed them to not only extend the length of the piping into a loop but also add a dual tower with up to three fans for a sandwich type layout for the coolers.
One of Cooler Master's MasterWatt power supplies has been made fanless. According to their engineers, the Titanium-grade PSU is a "true" fanless in the sense that it runs at normal load percentages up to 40°C instead of using larger wattage supplies and capping the rails at half load.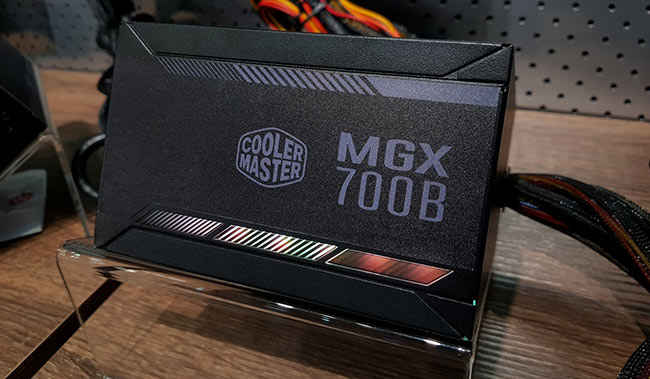 The RGB world
Going against their own previous attitude towards RGB, this year almost 15 new products are accented in RGB nodes, spanning across coolers, peripherals and MasterCase accessories - even power supplies.
Many of the new air coolers in the MasterAir Series come with RGB fans and lights built into the frame itself. Liquid AIO coolers in the MasterLiquid Series now sport eight nodes in the pump for a variety of effects. The case fan RGB line has expanded to all three blade designs and 120/140mm sizes. All of the fans come certified compatible with RGB applications from all four motherboard manufacturers.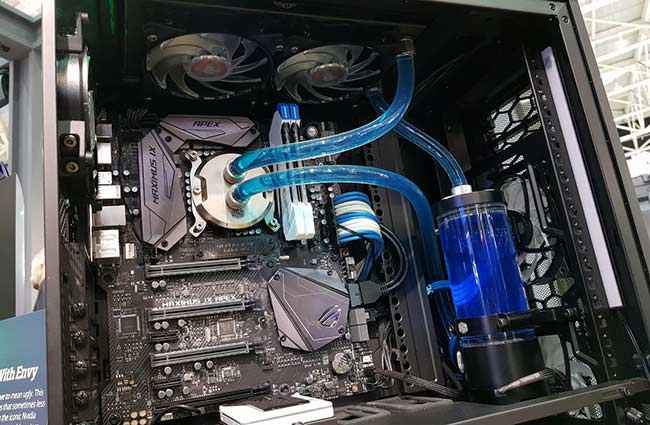 Additional functionality in RGB hardware is added in the form of a dedicated controller hub. If you don't have an RGB motherboard, you can still utilise one of the four 4-pin ports along with Cooler Master's newly released RGB software that was first successfully used on AMD Ryzen's Wraith Max stock coolers. One of the exclusives in the software is the "mirage" effect that replicates the illusion of spinning car rims.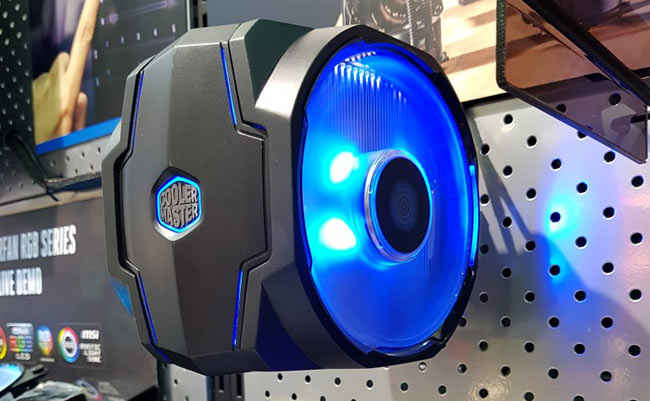 The Customization game
New options for easily customising products to your preferred look and functionality are being shown by Cooler Master. Most notable is Cooler Master's first foray into a DIY liquid cooling kit since the days of the Aquagate. The MasterLiquid Maker 240 lowers the installation curve by providing everything in the box, including less hassle soft tubing, magenta red stock coolant, copper fittings and a beautifully finished water block.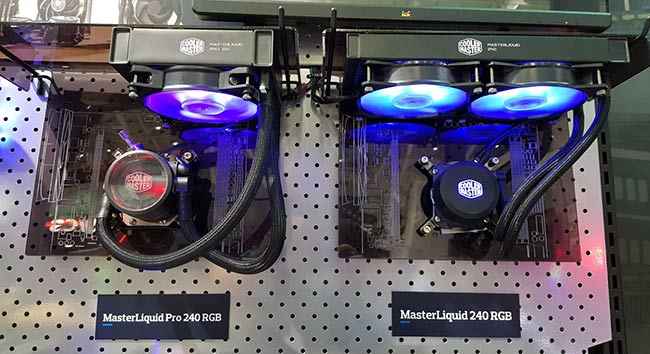 Although the modular concept of the MasterCase's FreeFormTM Modular System is still expanding to over 25 total accessories, there are new alternatives with the MasterBox Q Series. The "cube" design of the Micro-ATX cases is interesting: the frame can be rolled and reconfigured by swapping side panels, handlebars and the I/O. One of the models actually props the chassis up like a diamond, giving it an angular, crystal look gamers will appreciate.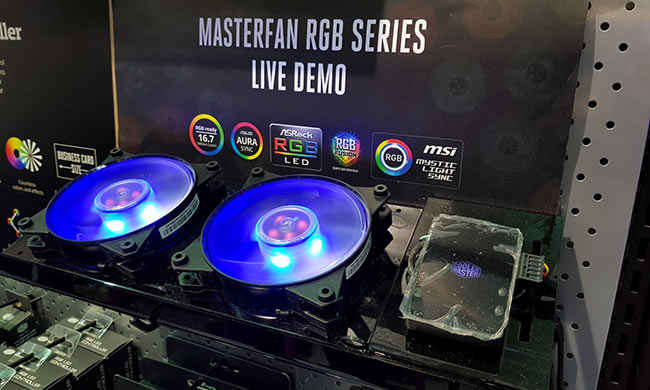 In further efforts to provide all parts of the internal layout, Cooler Master and modders are working together on its fully modular power supplies in the MasterWatt Series to provide pre-sleeved options in different colours. Each cable will be checked and certified by Cooler Master and sold on their own platform. They are also adding colours to their flat ribbon cables. Even the case itself gets a paint job with an experimental red finish identical to the MasterCase Maker 5t, and recessed RGB LEDs trimming its new MWE series of more affordable PSUs.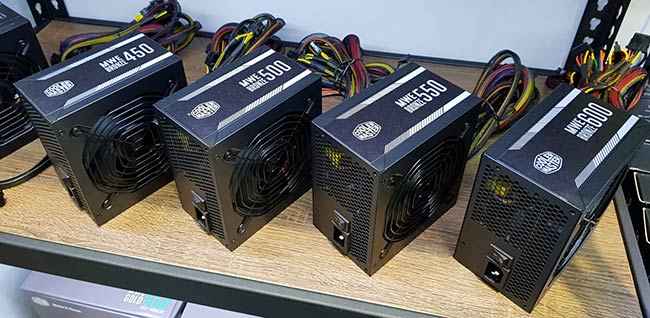 The Gaming Zone
The Cooler Master Computex booth has a lot to offer to gamers as well. Within, gamers can see the launch of five new peripherals, as well as support from new case designs like the MasterCase H500P (formerly the HAF) and the MasterBox Q Series.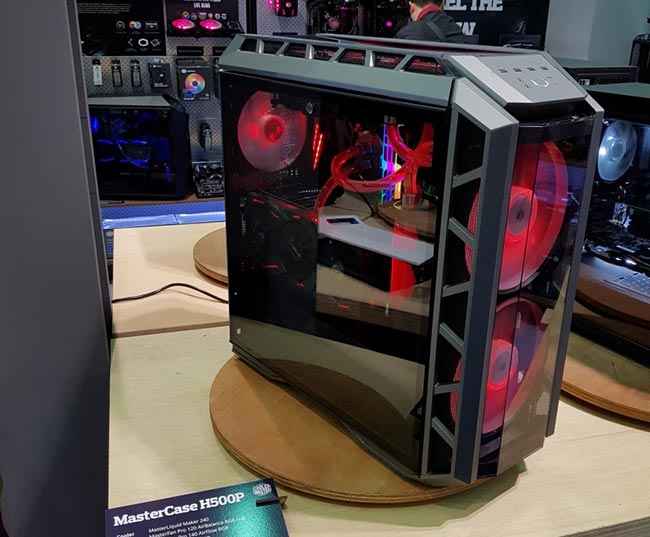 As mentioned earlier, the new peripheral are also subject to the new RGB treatment from Cooler Master – which include two mice, two keys, and a headset. Floating keycaps on both the flagship MK750 keyboard and the MS120 "clicky" membrane keyboard give a visible boost to illumination levels. Settings can be made and saved on the keyboard internals without having to fuss with external software. The two mice have gone the way of right-handed orientations, contoured specifically for the two main gaming grip styles of palm and claw.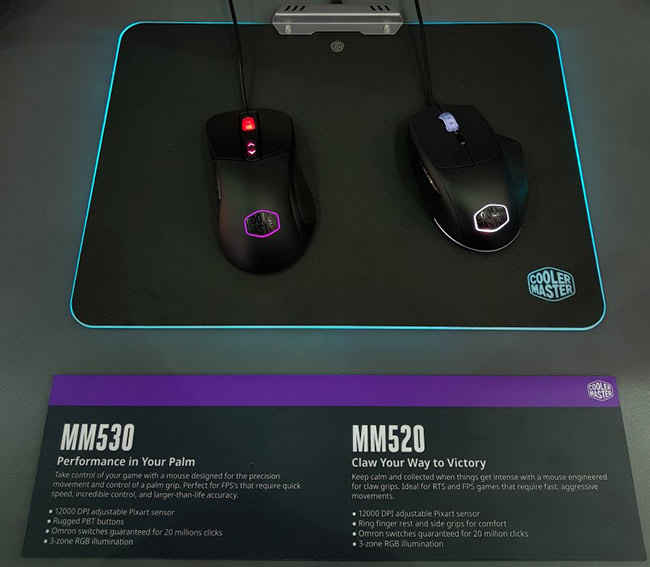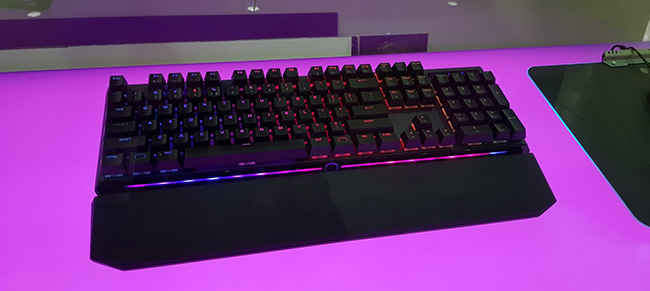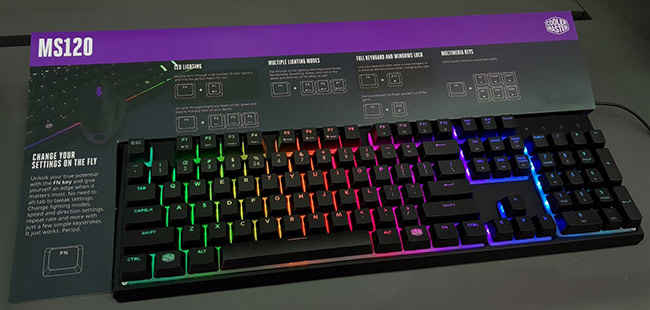 In cases, the reintroduction of high air-flow cases in the H500P should invoke images of large fans and sturdy cases, something Cooler Master has kept in the design. Different is the trimmer profile, polygonal frame for air flow, tempered glass and 200mm RGB fans.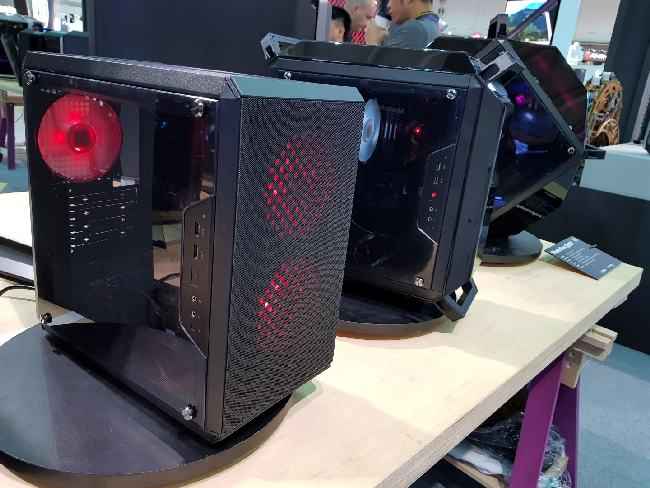 Other Popular Deals
Samsung A7 2016 Edition Golden

Rs. 18990 *

Buy Now

Redmi Y2 (Dark Grey, 4GB RAM,...

Rs. 10999

Buy Now

Redmi 6 Pro (Black, 3GB RAM,...

Rs. 8999

Buy Now
*Includes Cashback
​