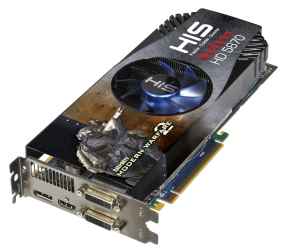 ATI's add-in-card partner, Hightech Information System, better known as HIS, has revealed knowledge of the ATI Radeon HD 6000 series (thought to be codenamed Southern Islands) launch, saying that the next-gen GPUs will be due out by Q4 2010, and that they would follow with their own partner cards in Q1 2011.
Still based on the 40nm fabrication process, the Southern Island lineup of GPUs are expected to be the stopgap solution between the 28nm Northern Island series and the HD 5000 series, refreshing the HD 5800 series and introducing the HD 6000 series. Expect cards with 1.5GB to 2GB of video RAM, and no radical change in GPU architecture. The much awaited ATI Radeon HD 5890 card is also expected to be part of the lineup.
In related news, ATI has dropped the prices of its HD 5830 card, in obvious response to the launch of the Nvidia GeForce GTX 460 card, which out performs the HD 5830 on several benchmarks. While the HD 5830 still has some advantages over the GTX 460, with faster memory (4.0GHz vs. 3.60GHz) and more raw power (1.792 TFLOPS vs. 0.961 TFLOPS), the GTX 460 has several refinements that more than balance the scale, such has faster rendering, more efficient tessellation, and CUDA technology, as well as Nvidia's PhysX and 3D Vision support.
The 1GB GDDR5 HD 5830's price has now fallen from $230 to $199 to compete with the 768MB GDDR5 GTX 460, instead of its 1GB counterpart, which is priced at $230.