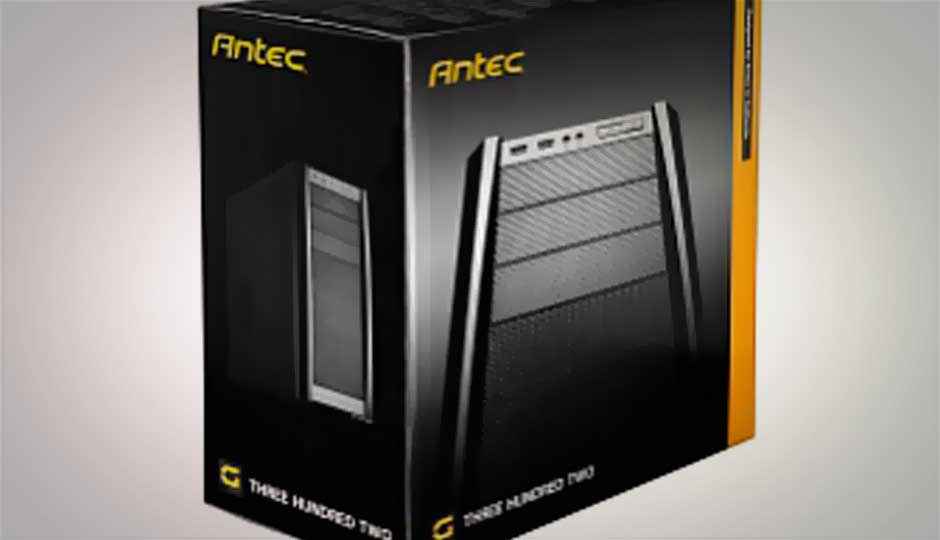 Antec Inc. has launched the Three Hundred Two enclosure, the latest addition to the Gaming Series, in the India market. According to Antex, the sleek chassis is designed to handle today's and tomorrow's high-performance systems that are custom built for gamers from the inside-out.
The Antec Three Hundred Two is supposedly perfect for gamers, system integrators and casual builders alike because of its extensive cooling advantages and expandability. Antec says the Three Hundred Two is built for maximum cooling thanks to its perforated front bezel, included top & rear TwoCool fans, and four optional fans, including a 120 mm CPU exhaust fan behind the motherboard.
The Three Hundred Two utilizes eight expansion slots for up to three 12.5-inch (318 mm) graphics cards, demonstrating compatibility with most of the longest GPUs available. The enclosure also features a removable, washable PSU and front intake air filters, along with a cable management system that features four strategically placed holes and 3 cm of space behind the motherboard tray.
Antec adds that it's even easier for builders to start using their new PC right away thanks to the Three Hundred Two's three 5.25-inch and six 3.5-inch tool-less drive bays.
Kevan Li, Sales and Operations Head-Antec India said, "The Antec Three Hundred Two enclosure is designed for higher performance and is yet an affordable gaming case. The extremely efficient cooling design along with the expandability options especially for the high end graphic cards up to 12.5-inch will provide a great option for high performance users to build a high end PC. With the growth of the Gaming segment in India, this award winning strong built Case will be a perfect choice for a budget Gaming PC, yet with options of being able to support a high end configuration." He further added, "This product is aimed to fulfill the computing needs of high end gamers, tech enthusiasts, corporate users and regular home users."
Availability
The Three Hundred Two is now available in India though select local channel partners an approximate street price of Rs. 4,200 (plus taxes).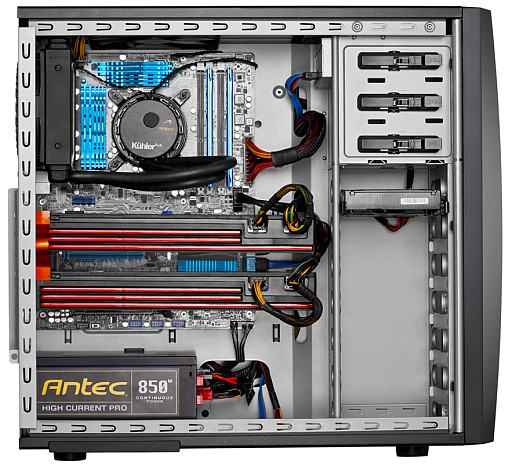 Detailed Specifications
11 drive bays:

3 x 5.25" tool-less drive bays
2 x 2.5" drive bays (dedicated)
6 x 3.5" tool-less drive bays

Motherboards: Standard ATX, microATX, Mini-ITX

8 expansion slots
Maximum graphics card size: 12.5" (318 mm)
Maximum CPU cooler height: 6.7" (170 mm)

Cooling System:

1 x 120 mm rear TwoCool™ fan
1 x 140 mm top TwoCool™ fan
2 x 120 mm front intake fans (optional)
1 x 120 mm side intake fan (optional)
1 x 120 mm side exhaust fan behind motherboard (optional)
Perforated front bezel for maximum air intake
Water cooling support: top water cooling grommets
Enlarged CPU cutout

Front I/O ports:

2 x USB 3.0 with internal motherboard connector
Audio In/Out
No power supply included

Unit Dimensions:

20.2" (H) x 9.0" (W) x 18.5" (D)
[513 mm (H) x 229 mm (W) x 471 mm (D)]

Package Dimensions:

22.2" (H) x 11.4" (W) x 20.7" (D)
[565 mm (H) x 290 mm (W) x 525 mm (D)]
Net Weight: 15.3 lbs (6.9 kg)