AMD introduces its first 8-Series Integrated Chipset, the 890GX (Socket AM3), which will come with DX 10.1 graphics support with the integrated ATI Radeon HD 4290. According to Adam Kozak, an AMD spokesperson, the combination is "versatile" and energy-efficient, and will "redefine the way people play with versatile graphics configurations."

With ATI CrossFireX technology, the chipset offers support "for up to two high-performance ATI Radeon Premium Graphics cards", and is perfect both for those looking for a low-cost HTPC solution, or those looking for high-end graphics solutions with a little augmentation.
Other features that are supported include: SATA 3.0/6Gbps, Gigabit Ethernet, PCIe 2.0, Flash acceleration, IQ enhancement and Web Browsing optimization. Many motherboard manufacturers, including MSI, Gigabyte, and Asus, will also provide SuperSpeed USB 3.0 on their 890GX based boards.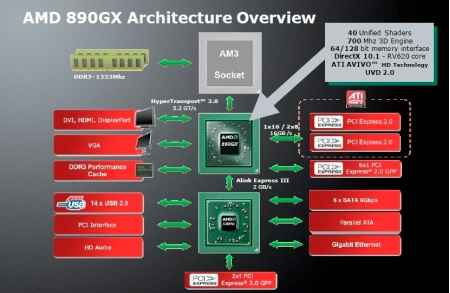 Some cool features of the ATI Radeon HD 4290 include 1080p Blu-ray playback, HDMI 1.3, as well as dual-stream PiP (Hardware Picture in Picture). Kozak also said that the combination of the chipset and integrated 4290 graphics facilitated "accelerated and enhanced" high definition with its ATI PowerPlay and High-Quality Video Scaling feature, allowing you to "watch 1.1. 1 Standard DVD movies in near high-definition quality with DVD upscaling with post-processing to enhance standard and low resolution videos and movies on HD displays". Click here from more information.