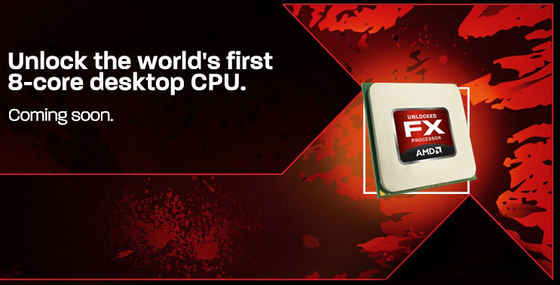 AMD has revealed the approximate retail pricing of its first eight-core Bulldozer processors on a promotional webpage - $300. Part of its upcoming FX-Series, which also includes four and six core processors, the eight-core Bulldozers are codenamed Zambezi, with the first two to be released the FX-8100 and FX-8150 models. [RELATED_ARTICLE]
The AMD Bulldozer FX-8150 is the top-end offerin - based on the 32nm process, it has a 3.6GHz core clock that can turbo up to 4.2GHz, all whilst maintaining a TDP of 125W. At the $300 pricing, AMD puts it roughly at the same price as Intel's current Sandy Bridge Core i7-2600 offering, a quad-core processor. However, AMD expects it to compete directly against Intel's upcoming Sandy Bridge Extreme processors, expected in Q4 2011, and Ivy Bridge processors, expected in Q1 2012.
The first Bulldozer processors are expected to be the Zambezi offerings, and are to be launched on September 19. Also expected with them are the four-core and six-core FX-4100 and FX-6100.