Graphic designers, animators, architects and other professionals in graphics-related industries will be happy to note that AMD has unveiled a new professional graphics card on the top-end of its entry-level FirePro series, the AMD FirePro V4900. Suggested retail pricing is at $189, or roughly Rs. 9,300.
According to AMD, the new graphics card will give users an "unequalled digital content creation capability," and has been optimized for common programs such as CAD. It also supports enhanced AMD Eyefinity, for improved multi-monitor capabilities up to six displays.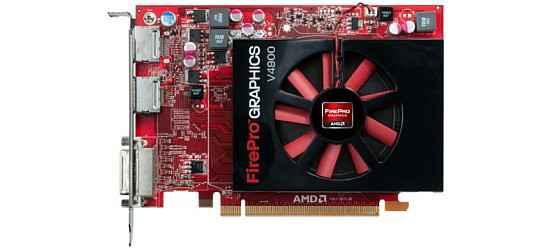 [RELATED_ARTICLE]
The AMD V4900 FirePro has 1GB of 128-bit GDDR5 RAM, with a memory bandwidth of 64GB/s, and a total of 480 stream processors. It supports DirectX 11, OpenGL 4.2 and OpenCL. The V4900 comes DisplayPort 1.2 technology, along with dual DisplayPorts and a single DVI-D port.
The FirePro V4900 card, not over massive, can be used in both full height and half-height machines. The TDP for the card is under 75W, useful for those looking for power-sipping options. The V4900 runs on a PCIe x16 slot. According to AMD, the minimum memory requirement to run the card is 512MB of RAM, and operating systems supported are Windows 7, XP and Vista, as well as Linux. The V4900 will be offered on Dell, Fujitsu and HP workstations.