AMD has officially announced the launch of R7 series graphic cards with AMD Radeon R7 240, AMD Radeon R7 250, and AMD Radeon R7 260X GPU's.
According to AMD, the Radeon R7 series is based on AMD's 'Graphics Core Next' (GCN) architecture and an all support 'mantle technology' developed by AMD. Games enabled with Mantle will be able to speak the native language of the GCN architecture, for that superior level of hardware optimization that gives revolutionary performance and image quality.
"Built on GCN architecture, AMD Radeon R7 Series GPUs are designed to deliver optimal performance and quality for users looking to enhance the graphics performance of their PCs,"said Matt Skynner, corporate vice president and general manager, Graphics Business Unit, AMD. "We have winning products at every price point and AMD is proud to be able to deliver affordable hardware designed for performance to suit the needs of every gamer."
AMD Radeon R7 240 and AMD Radeon R7 250 graphics cards feature the AMD 'App Acceleration', that boosts application performance. Combined with the GCN architecture it eventually allows running multiple applications smoothly at maximum speed. It also fully supports Direct X 11.2 offering users soild graphics performance and new features in Windows 8.1.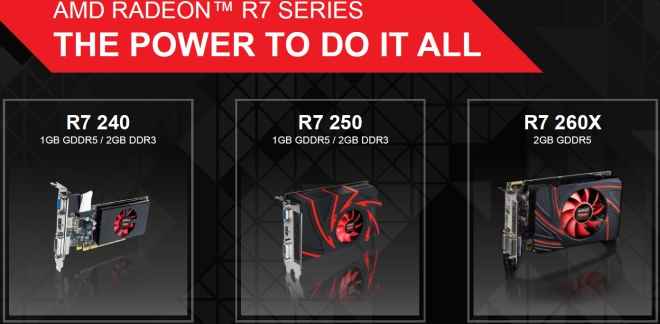 AMD Radeon R7 260X graphic cards packs pro performance and features at a pretty resonable price. A notable feature of the R7 260 graphics card is the new AMD 'True technology', which provides blazing sharp sound quality via stereo headsets and speakers. It is equppied with a dedicated audio processor right on the GPU resulting in richer and deeper sound quality, including true to life echoes. AMD claims the R7 260X to be the epitome of performance, efficieny and value in the mid-range segment of graphics cards.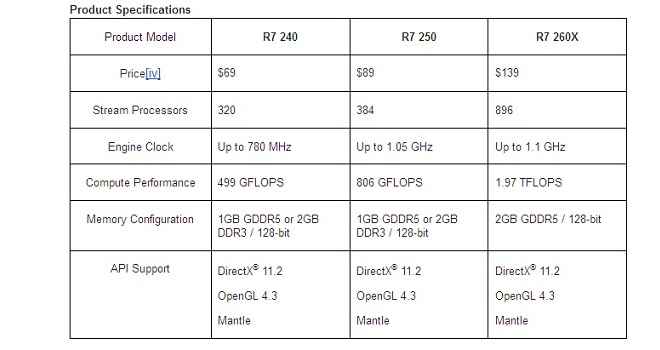 For more information and support, latch on to the links below: