Working from home?
Don't forget about the most important equipment in your arsenal
Click here to know more
Lenovo has announced its new Mirage Solo standalone VR headset with Daydream at CES 2018. As the name suggests, the Mirage Solo doesn't need a PC or a smartphone to function. The company has also announced its Mirage Camera with Daydream, which allows a user to capture 180 degrees VR videos and photos.
Starting with the new Mirage Solo VR headset, Lenovo is touting it to be a truly wireless VR headset as it comes with a display and doesn't require a connections to a smartphone or PC. It comes integrated with Google's Worldsense technology, which is capable of tracking the headset's position in 3D space without making use of any external sensors or cameras, similar to Microsoft's Hololens mixed reality headset. The device is powered by Qualcomm's Snapdragon 835 SoC with 4GB RAM and 64GB of onboard storage, and Lenovo claims that it can last for up to seven hours on a single charge.
The Lenovo Mirage Solo also comes with a wireless Daydream controller, which sports app and home buttons, a clickable trackpad and a volume rocker. The controller can also change its function depending upon current app in use, similar to the controller Google's Daydream View VR headset uses.
Lenovo and Google also announced the Mirage Camera with Daydream. As mentioned earlier, it allows users to capture VR videos and photos, which can be wirelessly uploaded to Google Photos and YouTube account. It comes with dual 13MP cameras with fisheye lens which capture images with varying depth of field for the 3D effect and supports YouTube's VR180 video format. The device can switch between photo, video and live broadcasting mode and sports three buttons - power, shutter and function. It features 16GB ROM, expandable up to 128GB, and can also be paired with a smartphone via Wi-Fi direct for transferring data.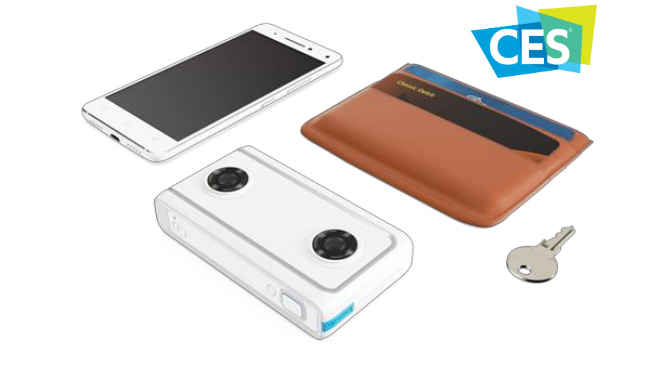 The Lenovo Mirage Camera is powered by a Qualcomm Snapdragon 626 platform and comes with built-in Wi-Fi. It also comes with an integrated X9 LTE cellular modem in the LTE version, which the company says will be available only in select markets. It sports 2GB of RAM, USB Type-C for charging and a slot for a removable battery as well. The camera boasts of up to two hours of usage while recording high-resolution videos.
Both, the Lenovo Mirage Solo VR headset and the Mirage Camera are expected to be available beginning in the second quarter this year. Apart from Lenovo, Xiaomi has also announced its Oculus Go and Mi VR standalone headset, which also don't need a PC or a smartphone to run. You can read more about them here.