At the stroke of 10:30 pm, when the world presumably sleeps, India will awaken to a new OS - the iOS 15. Apple has confirmed the availability of the iOS starting today, and has also revealed pertinent information regarding the devices that are compatible with the latest OS.
What are the new updates that come with the iOS 15?
The iOS 15 update will bring changes to a couple of features, like:
Facetime:
With video calling becoming a norm, Apple has decided to follow in Zoom's footsteps. The brand has revealed that with the iOS 15 update, Facetime will now display call participants in a grid format, just like zoom. Additionally, you can share Facetime call links with people who do not use Apple products too - they'll be able to join in the calls just by using the link. This feature should help the brand regain a piece of the video calling market that's largely dominated by the likes of Zoom. Facetime will let you blur your background during calls, and the spatial audio feature is claimed to offer a better audio quality.
Shareplay:
If you've missed watching movies with your friends during the pandemic, you can now expect your social life to pick up with Apple's latest offering, Shareplay. This lets you share content while on Facetime with your friends so that you can watch your favourite shows or movies together. On paper, this sounds similar to Chrome's Teleparty extension and should work the same way.
Notification bar:
The new iOS 15 update will also change the way your iPhone's notification bar works. By using a new feature called Notification Summary, the smartphone will give you access to different notifications at different times of the day based on your usage patterns (it uses machine learning to give you efficient performance). Missed calls or messages will not be withheld from users.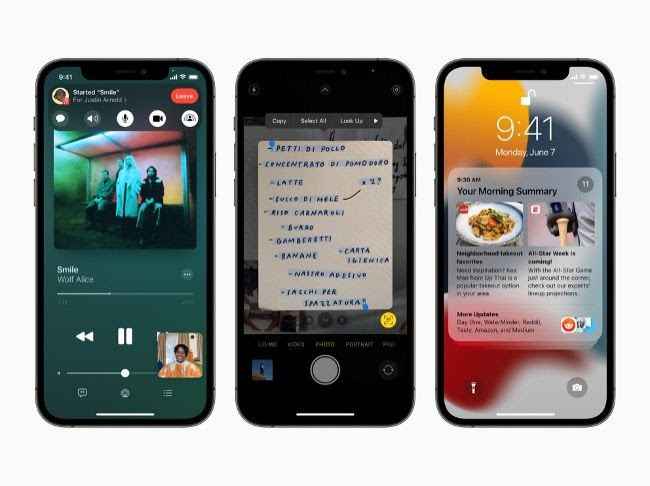 Apple Maps:
Apple Maps' most notable upgrade seems to be the augmented reality feature that will let you scan buildings near you via your iPhone camera while you're using the app. The app will also offer periodic notifications to your smartwatch or iPhone when you're approaching your desired destination. Other updates include elevation data, 3D images, road colours, and driving directions.
LiveText
A new feature, LiveText will let you copy text seen on images. You can copy numbers and text while accessing images in Photos, Safari, screenshots, and the camera.
IMessage
With the iOS 15 update, all news articles, pictures, or playlists that are shared with you will be stored in a separate "Shared with You" folder.
How can you download iOS 15?
At 10:30pm, you can go into your Settings > General > Software update to upgrade to iOS 15. This new OS is compatible with iPhone 6s and all iPhones released after that. This means it is compatible with iPhone SE (Gen 1), iPhone SE (2020), iPhone 6s, iPhone 6s Plus, iPhone 7, iPhone 7 Plus, iPhone 8, iPhone 8 Plus, iPhone X, iPhone Xs, iPhone Xs Max, iPhone 11, iPhone 11 Pro, iPhone 11 Pro Max, iPhone 12, iPhone 12 Mini, iPhone 12 Pro, iPhone 12 Pro Max, iPhone 13, iPhone 13 Mini, iPhone 13 Pro, and the iPhone 13 Pro Max.
Will these features work as well as the brand claims they will? Stay tuned for our official reviews to know!
Also Read: Apple iPhone 13 series, iPad 2021, iPad mini 2021 India pricing and availability detailed
For more technology news, product reviews, sci-tech features and updates, keep reading Digit.in or head to our Google News page.