Motion capture, commonly referred to as mo-cap or mocap, has finally set its roots into Indian soil with the launch of India's first-ever international standard Motion Capture Studio in Mahalaxmi, Mumbai. Centroid, located in Pinewood Studios in the UK, is an established motion capture firm that has delivered several blockbusters and AAA games. They joined hands with Famous Studios in Mumbai to build a capable mocap studio, spanning over 1500 square feet, that houses technologies capable of producing live on set capture, virtual production, cinema layout, crowd simulation and facial as well as body animation services.
The crowd at the launch event were greeted by Mr Phil Stilgoe, CEO of Centroid UK who conducted a thorough walkthrough highlighting the capabilities, benefits and future avenues motion capture could provide in a country like India, with the largest film industry. Stilgoe presented the motion capture suits with markers made out of reflective tape that allows the array of cameras present all over the studio to capture the 3D movement of a person or object. "If something moves, we can capture it", said Stilgoe enthusiastically while demonstrating a maneuverable motion camera that can track movement in real time.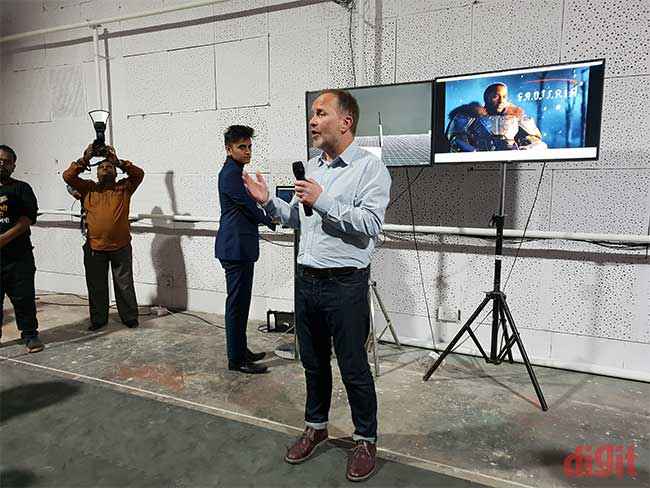 Phil Stilgoe, CEO of Centroid UK, addresses the crowd at Famous Studios.
Centroid has blockbuster films and games like Guardians of the Galaxy, Ant-Man, Godzilla, Mad Max and Assassin's Creed under its belt. However, they also collaborated in creating the first-ever Indian film using mocap, Kochadaiiyaan, which was considered to be a rather weak display of the technology's capabilities. Stilgoe mentioned, "It (Kochadaiiyaan) was not perfect. But you need to start somewhere and the start may not always be pretty."
Centroid along with Famous Studios are extremely exhilarated by the possibilities of motion capture in India in varied areas such as film, gaming, VR and more. They have indicated that they are attempting to build a capable educational infrastructure that will allow individuals to learn the process of mocap post-production clean-up, with their self-built technology.