Windows 8 powered devices may be the highlight of Computex 2012 but there was one underdog unveiled at the event that caught everyone's eye.
Christened the Acer Iconia A110, the Android 4.0 ICS-based tablet boasts of some impressive specifications under the hood. The A110 has a 7-inch capacitive touchscreen display with a resolution of 1024x600, boasts of an Nvidia Tegra 3 quad-core processor under the hood, 1GB RAM, 8GB internal storage and HDMI out. The device also has a front facing camera but no rear facing snapper.
The best feature of the Acer Iconia A110 is that it is priced at $200, which directly translated is roughly Rs. 11,000.
We have seen some pretty impressive tablets launch in India in the sub Rs. 15,000 category, but the Acer Iconia A110 blows them all out of the water, on grounds of sheer specifications. The device could truly become a game changer and may just become the go-to-device for people looking for an entry-level tablet with good specifications. This however will be a reality only if the device is a good performer in real world conditions.
The Verge had some hands-on time with the device at Computex 2012 and ran a few benchmarks on them. The device performed better than the currently available Samsung Galaxy Tab 10.1 but was out performed by the Asus Transformer Prime and the HTC One X. The A110 may not be the slimmest budget tablet in the market but its form factor is acceptable nonetheless.
"Our strategy on Android is simply to enable quad-core tablets running Android Ice Cream Sandwich to be developed and brought out to market at the $199 price point, and the way we do that is a platform we've developed called Kai." Said Mr. Csonger at a May Acer shareholder's meeting.
He continues to say, "So this uses a lot of the secret sauce that's inside Tegra 3 to allow you to develop a tablet at a much lower cost, by using a lot of innovation that we've developed to reduce the power that's used by the display and use lower cost components within the tablet."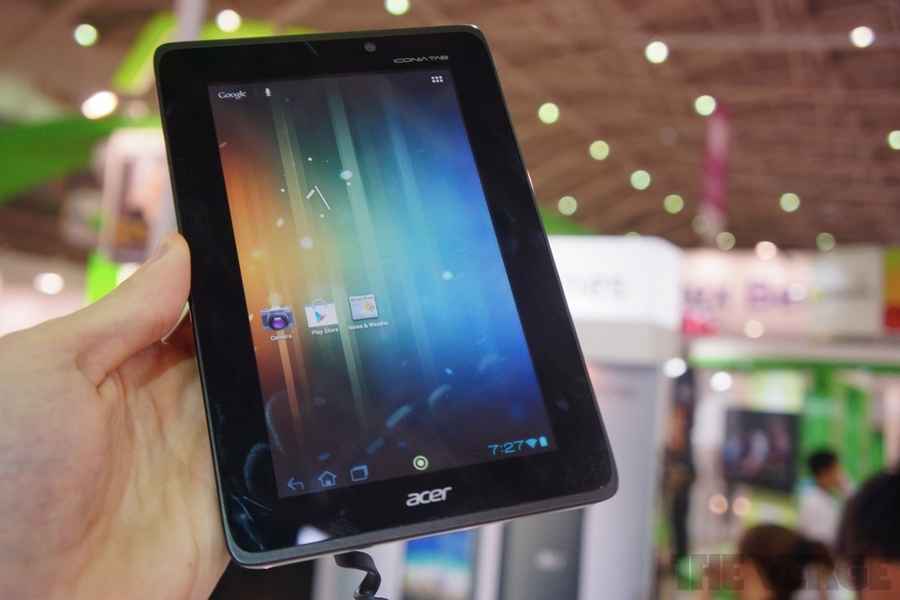 Image courtesy, source: The Verge