Sundar Pichai, Google's head of Android and Chrome stated at the recent breakfast event that the company is planning to unveil some new Android and Chrome products soon. Pichai also talked about the latest report by research firm, IDC, which states that tablet sales will increase this year to outnumber PCs.
Pichai stated that by December 2013, more than 225 million tablets will be sold which will be much more than PC sales globally. Pichai showed a graph on stage that depicts a relatively slow-moving upward trend for both consumer and corporate PCs. However it highlights that tablet sales will have an exceptional growth this year and will outperform PC sales in a few months.
2012 saw 40 million Android tablet activations, but the total number is actually more than 70 million. Pichai stated that one out of two tablets is Android based while the rest are iPads.
Sundar Pichai stated, "Smartphones have exploded in growth and tablets are following the same trend. We at Google are incredible excited by this trend and we are embracing it."
He added: "By the end of 2013, consumers are going to buy more tablets every year than personal computers. This is a pretty amazing trend in computing."
According to research firm IDC, worldwide shipments of personal computers fell by 11 percent in April-June 2013 period which is possibly the longest decline in PC sales in history. Reports state that people are shifting to tablets and other mobile devices from PCs. Lenovo has emerged as the No 1 PC maker beating out HP from the top spot with a small margin.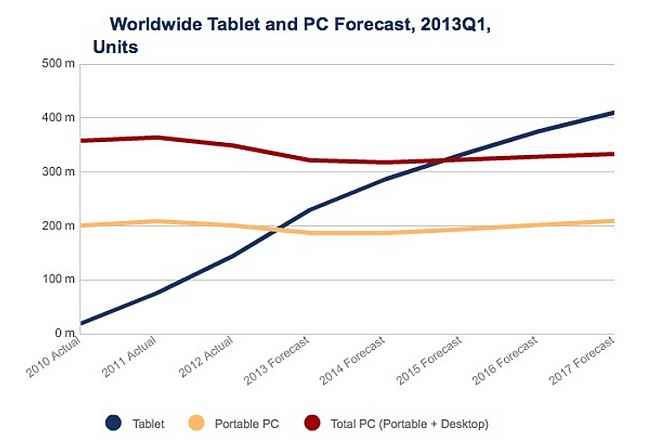 Source: Slashgear