IDC says that tablet shipments declined due to poor consumer demand and will decline further due to GST rollout
Tablet shipments in India registered a sharp decline of 18.6 per cent year-on-year due to poor demand from consumers. According to IDC, the tablet shipments during Q1 2017 came in at 7,01,000 units, a marginal decline of 2.2 per cent from 7,16,000 units shipped in the previous quarter. The research says consumer segment alone saw a decline of 28 per cent in Q1 compared to same period last year. Tablet sales have been declining globally for the past few quarters and IDC had noted in the past that consumers are opting for large-screen smartphones over tablets. For the first quarter, the commercial segment contributed one-third of the total tablet shipments in India.
"The commercial segment is the key driver for offsetting the declining consumer shipments in India. Due to growing digital proliferation across industries, commercial segment especially large enterprise, government and education sectors, are expected to increase their demand for tablets. This will drive vendors to focus more aggressively in gaining market share in the commercial market to sustain the India tablet market," said Celso Gomes, Associate Market Analyst, Client Devices, IDC India.
The IDC report also highlights that consumers preferred tablets with a larger display and 4G connectivity over regular 7-inch tablets. In Q1 2017, tablets with 4G connectivity accounted for 39.2 per cent shipments while the market share of tablets with a screen size between 7 and 7.9-inch dipped to 70 per cent. However, the demand for tablets with a screen size of 8 to 8.9-inch grew to 12.3 per cent, primarily driven by consumer segment while 10-inch tablets saw shipment growth of 43 per cent year-over-year to account for 11.6 per cent market share.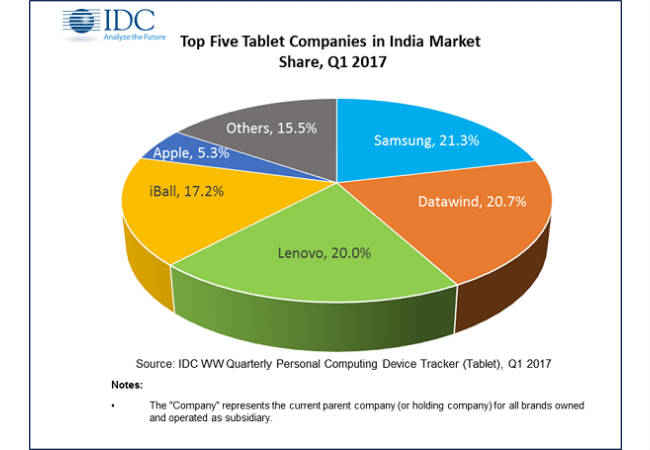 Samsung maintains the overall lead in the tablet segment with a share of 21.3 per cent and the Korean company saw shipments increase 4 per cent quarter-on-quarter during Q1 2017. The Galaxy J Max continues to be the top-selling model followed by Galaxy Tab A and the both the products are well received in the consumer segment.
The low-cost tablet maker Datawind secured the second position with a market share of 20.7 per cent. Its shipments grew by 16.7 per cent from the previous quarter but it was down 38.9 per cent over same period last year. IDC says Datawind's sales were down due to demonetisation in the fourth quarter of 2016. With a market share of 20 per cent, Lenovo secured third place and its shipments remained stable. Nearly two-third of its shipments in the first quarter went to commercial segment. iBall and Apple rounded up the top five list with Apple's shipments declining 38.2 percent.
IDC expects the tablet sales to decline further in the second quarter of 2017 and will be impacted by the rollout of GST expected to begin from July 1, 2017. However, the effect of GST rollout is not expected to last more than a quarter.