Samsung is reportedly working a gigantic, 18.4-inch tablet as per the latest leak. The size of the tablet was spotted in a logistics report. From the image, you can see that the tablet was sent from South Korea to New Delhi, India for testing and evaluation purposes. It looks like the Korean manufacturer is thinking something really big and wants to make tablets something more than just a tablet.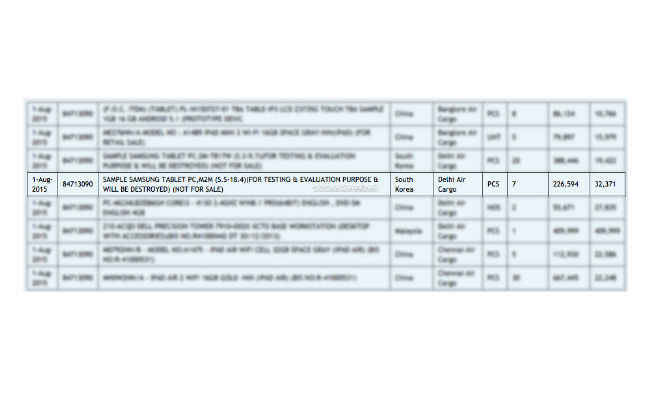 The listing further states that it is a sample tablet that is meant to be destroyed after the completion of testing and evaluation. It also shows the pricing as Rs. 32,371, which seems to be quite unrealistic for a tablet with an 18.4-inch screen. The mention of the word 'destruction', also hints that it can be an internal project on which Samsung is working. It means it's not really confirmed whether the tablet will see the light of the day or not. However, if it does become a reality, then it will be Samsung's biggest tablet ever. As of now, the title belongs to Samsung Galaxy Note Pro 12.2 and Galaxy Tab Pro 12.2, both sporting a 12.2-inch screen. Apart from them, Samsung has various other models that have screen size as big as 10.5-inch.
While, we don't know whether this new tablet will become reality or not, we do know that Samsung is expected to release the Samsung Galaxy Note 5 and the Samsung Galaxy S6 Edge Plus, along with one more 'mysterious' device next week during their Galaxy Unpacked Event. As for the 'mysterious' device, we don't know is to be expected other than the fact that it is a tablet. Continuing with the Samsung launches and announcements, Samsung has also launched the Samsung Galaxy A8 for Rs.32,500 recently, which Samsung believes, will offers flagship specs at an affordable price. You can check the first impressions of Samsung Galaxy A8 here.
Image source: NowHereElse.fr