Samsung has imported a 12-inch tablet, SM-W700, into India for testing purposes. The tablet was spotted listed on Zauba.com, a website that keeps record of products imported into and exported from India. The device is rumoured to run on Windows 10.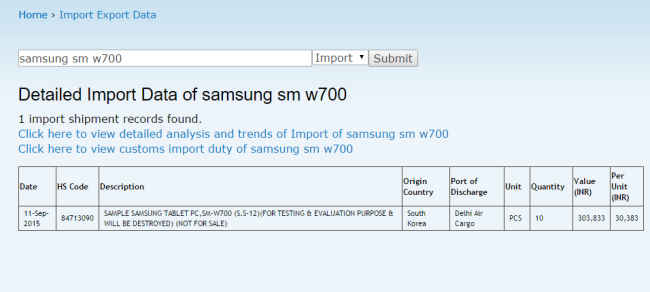 As per the listing, the tablet was imported from South Korea to India on September 11. 10 such tablets were imported with a per unit price of Rs. 30,383. The listing further mentions that the product is "for testing and evaluation propose and will be destroyed." From this we can derive the obvious which is that the tablet is meant only for internal testing. Whether the device will be available to consumers is something we can only specualte. The listing doesn't reveal anything about the specs of the tablet, but earlier rumours suggest that it runs on an Intel Core M processor, 4K resolution display with support for Samsung's infamous S-Pen. The device also houses 4GB of RAM.
Last month, we heard rumours that the South Korean manufacturer was working on a gigantic 18.4-inch tablet. The information about this tablet was spotted in a logistics report. It was listed with a price tag of Rs. 32,731. The tablet was meant for internal testing. The other rumored specs of the 18.4-inch tablet include a 1080p display along with a 1.6GHz Exynos 7580 processor coupled with 2GB RAM. The tablet also has 32GB built-in storage along with 5,700mAh battery. it also housed an 8MP rear camera and a 2.1MP front camera. Incidentally, Samsung teased a tablet at IFA 2015. The teaser didn't reveal anything except for the name, Galaxy View, and the tag line "think bigger." There is a high probability that the teased tablet might be one of the two rumored tablets.
The tablet industry has continued to see a decline in shipments with even industry leaders like Apple and Samsung feeling the heat. As per IDC Q2 2015 report, both the companies saw a decline of 17.9% and 12% respectively on a year-over-year basis. With the delcine in tablet sales it looks like Apple and Samsung are trying different innovative things to recapture the market. Apple recently unvieled the iPad Pro. the device has a 12.9-inch display and boasts of some interesting specifications including 4GB RAM which is a first for the company. It looks like Samsung doesnt want to feel left out and is experimenting with different types of tablets. What do you think? Is the tablet market dying? do we need bigger tablets or better small screen laptops?