Samsung has announced a new variant of its Galaxy Tab 3 10.1 tablet that the company says will be "exclusively developed for education". According to Samsung, the tablet – dubbed Galaxy Tab for Education – will feature Google Play for Education and will be available for K-12 school deployments for the 2014-2015 academic year. Though there's no word on pricing and release date, tablet is expected to be available by April this year.
Samsung hasn't revealed the specifications of the forthcoming tablet. However, it's expected to be identical to the original Galaxy Tab 3 10.1 tablet. The tablet runs Android 4.2.2 Jelly Bean and is powered by a 1.6GHz dual core Intel Atom Processor Z2560 along with 1GB of RAM.
The tablet has a 10.1-inch display with 1280 x 800 pixel resolution. It has 3MP rear camera and 1.3MP front camera. The tablet comes with Wi-Fi and NFC connectivity options.
Samsung's Senior VP of Enterprise Business Division Ted Pike said: "Samsung and Google for Education share a commitment to delivering innovative learning experiences to improve student outcomes. The new Galaxy Tab with Google Play for Education integration was created to specifically address the needs of today's schools and support our vision for powering education by empowering educators."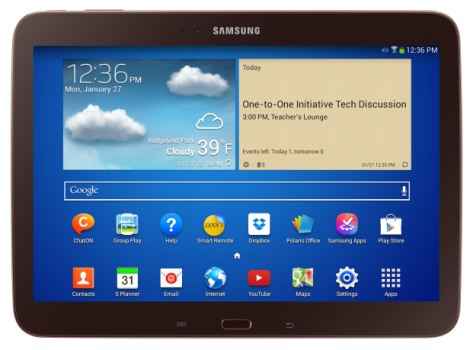 Source: Businesswire