#IBMCodePatterns, a developer's best friend.
#IBMCodePatterns provide complete solutions to problems that developers face every day. They leverage multiple technologies, products, or services to solve issues across multiple industries.
Click here to know more
Advertisements
Samsung's Galaxy Tab 3 10.1 has been spotted on the company's official e-store with a price tag of Rs. 36,340. The listing page, however, seems to have been pulled. According to reports, the Samsung e-store listed the tablet as "out of stock" along with a "notify me" option.
Announced in June last year, the Samsung Galaxy Tab 3 10.1 features a 10.- inch TFT display with WXGA (1280x800 pixel) resolution. It runs Android 4.2 Jelly Bean and is powered by a 1.6 GHz dual-core Intel Atom Z2560 processor along with 1GB of RAM.
The Galaxy Tab 3 10.1 has a 3MP rear camera and 1.3MP front camera. The tablet is available in 16GB and 32GB storage options. It is expandable up to 64GB via microSD. For connectivity, the tablet supports 3G (has a SIM slot), 2G, Wi-Fi 802.11a/b/g/n 2.4 5GHz, Wi-Fi Direct, Bluetooth 4.0 and GPS GLONASS. The Samsung Galaxy Tab 3 10.1 is powered by a 6,800 mAh battery. Check out the full specifications of Tab 3 10.1 here.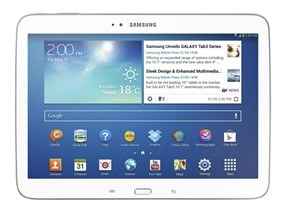 It's worth pointing out here Samsung has already released its Tab 4 series with 7, 8 and 10.1-inch tablets. The new Tab4 series tablets feature Android 4.4 KitKat, 1.5GB of RAM and quad-core processor. The Samsung Galaxy Tab4 series devices will be available in Black and White colours globally beginning in second quarter of this year.