Amazon's new Kindle Paperwhite models are now available for pre-order starting today at www.amazon.in. Shipping of the new Kindle devices will begin February 4, 2014.
The new Kindle Paperwhite is priced at Rs. 10,999, while the new Kindle Paperwhite Wi-Fi 3G version is priced at Rs 13999. The devices will be available online as well as offline 250 retail outlets across India including Croma, Reliance Digital, E-Zone, UniverCell and Vijay Sales stores located in Delhi, Mumbai, Chennai, Kolkata, Bangalore, Hyderabad, Chandigarh, Ahmedabad and Pune.
The new Kindle Paperwhite models come with a slew of new features such as improved display, built-in light, faster processor, page flip, vocabulary builder that compiles words you look up in the dictionary into an easy-to-access list, smart lookup to access information about anything on dictionary or Wikipedia, and in-line footnotes that lets you complete text of each footnote in-line without changing the page.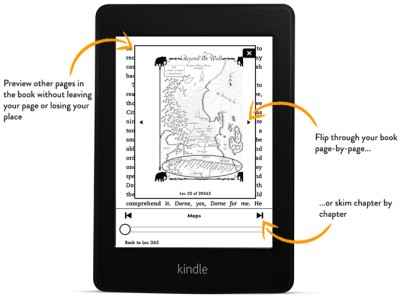 Kindle Page Flip
It also comes with Kindle Free Time, which lets you create personalized profiles for kids and give them access to titles from your collection of books. The cloud collections lets you Organize your books in customized collections, and Amazon's Whispersync technology synchronizes the collections across your Kindle devices and reading apps so they're available on all of your devices.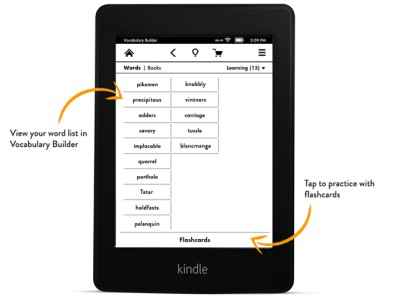 Vocabulary Builder
"Kindle is the best-selling e-reader in the world for six years running, and now it's even better," says Amit Agarwal, Vice President and Country Manager, Amazon India. "The new Kindle Paperwhite features brand-new display technology, the next generation of our built-in light, a faster processor, plus new features like Kindle Page Flip and Vocabulary Builder. We are excited to make Kindle Paperwhite available to our customers in India."