The Motorola Xoom tablet is now available for reduced prices in India, with Koovs.com selling the 32GB Wi-Fi only model for as low as Rs. 21,500 (44% discount) and the 32GB Wi-Fi 3G model at Rs. 25,000 (29% discount).
For now Motorola has not officially confirmed the price cut, and there is no word as to when such prices will be seen in retail shelves across the country. Not all online retailers have reduced prices, with Letsbuy.com not featuring any changes. Flipkart has the 32GB Wi-Fi only model retailing at Rs. 26,850. Motorola may soon officially reduce prices however, as the Motorola Xoom 2, and Xoom 2 Media Edition Honeycomb tablets were also introduced recently, and are expected to arrive in India by early this year.
The Wi-Fi only 32B model is available for nearly Rs. 10,000 less, making it quite a good deal for those interesting in a 10.1-inch Android 3.2 Honeycomb tablet, due to get an Ice Cream Sandwich update soon enough. The Xoom also features a 1GHz dual-core Tegra 2 processor, 1GB RAM, a 5MP rear camera, and a 2MP front camera.
Check out our review of the Xoom for a better idea of its features, pros and cons.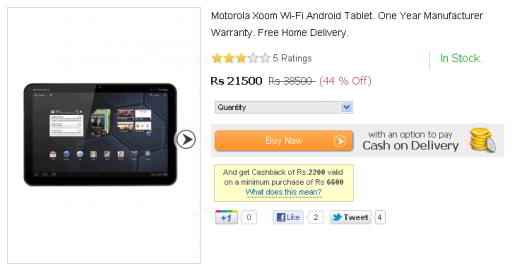 Source: Koovs.com