Want to modernise your banking loan application?
Build an application that analyses credit risk with #IBMCloud Pak for Data on #RedHat #OpenShift
Click here to know more
Advertisements
The crew up at Redmond made a slight fumble yesterday, making the pre-order page for the homegrown tablet dubbed "Surface" live. We're not sure whether it was intentional or accidental, but what we do know is that the link was pulled quite promptly and a few hours later, Microsoft officially announced that they were taking pre-orders for the new tablet through their site. Currently, the pre-orders are only being accepted for the Windows RT tablets.
The chic slab of magnesium and Corning Gorilla Glass comes essentially in two configurations; 32GB and 64GB. When Surface was originally announced, many analysts and industry experts said that the pricing on these Windows RT tablets would be around $300-400 in order to help Microsoft cut its way into the tablet market.
Well, officially, the Windows RT tablet starts at $499 for the 32GB model, without the Touch Cover. If you absolutely must have the Touch Cover, which houses a laser etched keyboard on the inside, then it will set you back by another $100 for the bundle. The 64GB Surface can be had with the Touch Cover for a whopping $700.
The Touch Cover isn't the only accessory available for the Surface. Microsoft also has a Type Cover available, which is a case along with a full-fledged keyboard that offers a traditional keybopard experience, all while maintaining relatively slim form factor.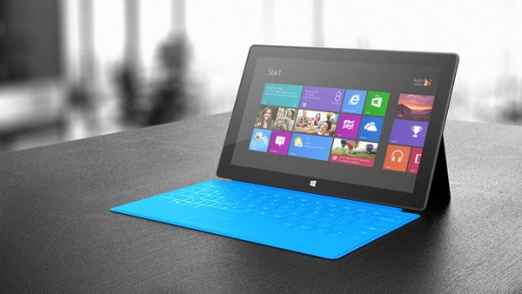 Interestingly, the pre-order page lists only 3 options for Surface - 32GB model, 32GB model with Touch Cover and 64GB model with Touch Cover. If you want to purchase the Touch Cover or Type cover separately, they will set you back by $119.99 and $129.99 respectively. Currently, there is no option to select a 64GB model and swap out the Touch Cover for a Type Cover.
Microsoft Surface is available for pre-order immediately from here. The tablet will come pre-loaded with Windows RT and a version of Office RT that would be upgraded free of cost when the final version comes out.
Unfortunately, the pre-orders for the $499 version seem to have sold out, as the ship date for the slate has moved from 26/10/2012 to "within three weeks." Then there is also the issue that the pre-orders are only being accepted from the USA, UK, Germany, France, Canada and Australia. When India will get its date with the Microsoft Surface is not yet known.
For now, no details about the Microsoft Surface for Windows 8 Pro tablet have been revealed - which will ship with Windows 8 Pro onboard - from pricing, to shipping dates.
Already familiar with Windows 8? Get yourself a chance to win guaranteed and exciting prizes.
Also read,