LG's Windows 8 powered tablet/notebook will hit store shelves in Korea this week.
LG Electronics will be showcasing its own interpretation of a tablet-notebook hybrid device at Mobile World Congress (MWC) in Barcelona. Called the Tab-Book, the device boasts of LTE connectivity. The device also has a slide out keyboard. Unlike the Sony VAIO Duo 11, the LG Tab-Book doesn't have a pointing stick in the middle of the keyboard. If you need to interact with display, your going to have to touch it.
The LG Tab-Book will run Windows 8 on Intel Core i5. It features a 5-point multi-touch IPS screen. The display has a 178 degree viewing angle. A simple press of the Auto-Sliding button reveals the keyboard, which emerges from behind the screen for instant touch typing action.
"The Tab-Book is going to appeal to consumers who want the convenience of a tablet but also the productivity of a notebook and don't want to carry two devices all the time," said Il-geun Kwon, Senior Vice President and Head of the LG Home Entertainment Company's IT Business Unit. "Many other products that claim to do both require making too many sacrifices in performance and weight. We think we've hit the perfect balance here and with super fast LTE connectivity, we're delivering true convergence of computing and mobile devices."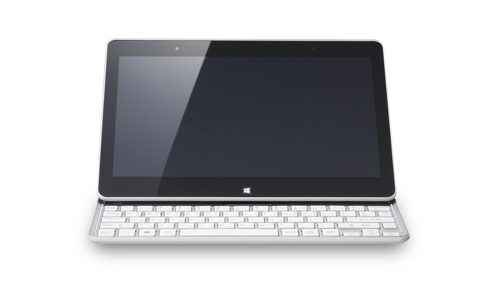 LG's new LTE-enabled Tab-Book will be available this week in Korea, with additional market availability to be announced at a future date. No price of the device has been released.
We have had some hands on time with the Sony Vaio Duo 11, which is Sony's version of the tablet/laptop hybrid. You can check out our first impressions of the device here.
Source: LG News Room