Vostro 3501
Popular tech to stay connected anywhere. Save more on exciting Dell PCs.
Click here to know more
Advertisements
Karbonn has announced a new version of its recently released budget tablet, the Karbonn Smart Tab 1, in the Indian market. If you thought this was another addition to the run of the mill budget tablets, we say think again. The tablet boasts of Google's latest OS, Android 4.1 Jelly Bean. Currently, the tablet is available for pre-order on Karbonn's website.
The Karbonn Smart Tab 1 boasts of a 7-inch capacitive touchscreen display and has a 1.2GHz processor under the hood. It also sports a 2MP front facing camera but compromises on the rear camera. the storage on the device is expandable up to 32GB via a microSD card, a feature that is absent from the flagship tablet, the Google Nexus 7. The Karbonn Smart Tab1 also shows off an HDMI-out port. The battery on the device is 3,700 mAh.
In terms of connectivity, the device supports Wi-Fi along with 3G connectivity via a USB dongle.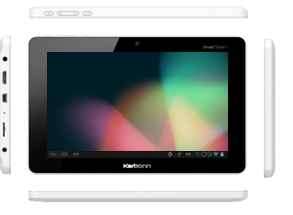 The tablet is available for Rs. 6,990. If you are one who recently purchased a Karbonn Smart Tab1, fear not. Existing users of the device will receive an update bringing Android 4.1 Jelly Bean to the device. No specific date, however, is mentioned for the availability of the update. To be noted of course, is that no release date has been confirmed for the Jelly Bean-bsaed Karbonn Smart Tab 1 tablet.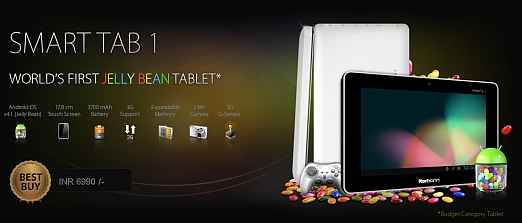 Karbonn Smart Tab 1 with Jelly Bean listed on the company website
There are a plethora of budget tablets available in the market, both budget and premium and Karbonn seems to be the first that is announcing an update to the new OS. Until now the Google Nexus 7 was the only device running Jelly Bean straight out of the box.
Recently, Asus announced the Jelly Bean update for its tablet devices. If you are wondering whether your Asus tablet will be upgradable to the new OS, you can read the complete story here.
Also read,