Vostro 3501
Popular tech to stay connected anywhere. Save more on exciting Dell PCs.
Click here to know more
Advertisements
Though you can never really separate truth from fiction until Apple makes its announcement, a series of iPad 3 leaks and rumors is starting to paint a picture. The latest rumor, from Asian supply chain sources, has Apple splitting production duties between Foxconn and Pegatron. While that doesn't shed a lot of light on the end result that will end up in consumers' hands, this last part will: supposedly the tablets will be ready to ship in early March, putting the iPad 3 in around the same release slot as last year's iPad 2 — around March.
This report says that Sharp will be supplying the Retina displays in the iPad 3. Foxconn will be driving 85% of the iPad 3′s production, with Pegatron picking up 15%. This is similar to the division that Apple went with for the iPhone 4S, so it sounds feasible.
Chinese New Year celebrations are earlier than usual this year, which throws a wrench into iPad production. 2012, the year of the Dragon, has the festivities starting on the evening of January 22, and ending on February 6. That's a prime time slot for iPad production; one which is likely being compensated for by starting production earlier.
At this point, rumors and leaks are supporting logic. Nearly everyone expects this to be the year that Apple goes "Retina" — 2048×1536 resolution at 264 pixels per inch — with the iPad, and leaks have supported that. If the next-gen iPad does have that Retina display, then it may need a bigger battery to power it. Leaks have also supported that. And most people expect the tablet to be released in March, this latest leak corroborates that too.
This latest report also supports yesterday's leak, which said that the form-factor of the iPad 3 will remain mostly unchanged from the iPad 2. One differentiation, however, is that form-fitting cases designed for the iPad 2 allegedly won't fit the new iPad without a gap. The previous leak said that the iPad 3 would get slightly thicker to compensate for the Retina display, a larger battery, or both.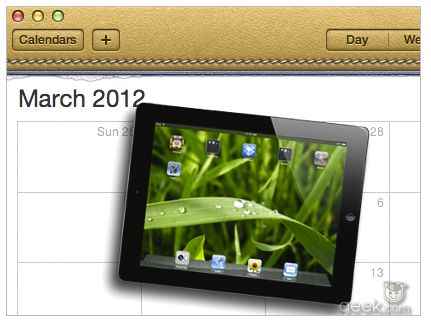 Copyright © 2010 Ziff Davis Publishing Holdings Inc.