The rumors have come true. HP was indeed working on a tablet, and this is their second stab at the market.
Only recently had certain sources within HP had pointed to the development of a tablet. On the lines of that, the company unveiled its latest challenger for the tablet market. It is called the HP Slate 7, and as the name suggests, it will have a 7-inch display, with a resolution of 1024x600 pixels. The tablet will come preloaded with Android 4.1, in line with HP's recent cozying up to Google, which included the Chromebook. It will be powered by a dual-core ARM Cortex A9 processor clocking at 1.6GHz, but the amount of RAM has not been mentioned.
This is HP's third stab at the tablet market, with a critically acclaimed enterprise-based Windows 7 tablet long back, and then the doomed flirtation and adoption of webOS.
The Slate 7 will have 8GB built-in storage, while there is the memory card slot for expansion, in case you so require. The tablet includes Beats Audio speakers, a microUSB port, a soft-touch rubber back, a 3MP rear camera and a VGA front-facing for video chatting. High-aperture-ratio Field Fringe Switching (HFFS) display panel claims to offer wide viewing angles, even in outdoor lighting conditions.
HP claims that the Slate 7 will offer 5 hours of battery life when used for continuous video playback.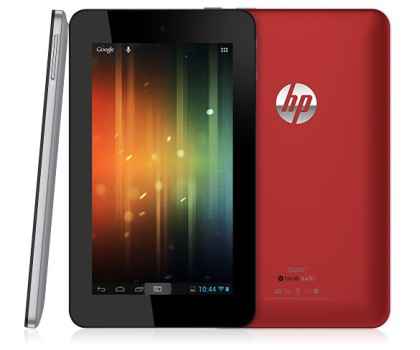 HP hopes to find its feet in the tablet market, by offering the Slate 7 at a fairly aggressive price point of $169.99 in the U.S., and by offering what HP has been eager to point out - "premium build experience", and the combination of stainless steel frame and soft touch rubber at the back could go some way towards that motive.
"To address the growing interest in tablets among consumers and businesses alike, HP will offer a range of form factors and leverage an array of operating systems," said Alberto Torres, senior vice president, Mobility Global Business Unit, HP. "Our new HP Slate 7 on Android represents a compelling entry point for consumer tablets, while our ground-breaking, business-ready HP ElitePad on Windows 8 is ideal for enterprises and governments. Both deliver the service and support people expect from HP."
The HP Slate 7 is expected to be available in the United States in April with a starting price of $169.