Want to modernise your banking loan application?
Build an application that analyses credit risk with #IBMCloud Pak for Data on #RedHat #OpenShift
Click here to know more
Advertisements
Ever since Microsoft pushed Windows 8 out of the door, OEMs have wasted no time in refreshing their product line with the new operating system or launching new products altogether. Earlier today, Fujitsu signalled the launch of a brand new product in their product portfolio – the Fujitsu Stylistic Q702 hybrid Windows 8 tablet.
The Fujitsu Q702 hybrid Windows 8 tablet is primarily meant to be sold for business customers, it's not a consumer device.
The new Fujitsu Stylistic Q702 Windows 8 hybrid tablet has a detachable keyboard dock. With the keyboard attached, the Fujitsu Stylistic Q702 appears to be a full-fledged 11.6-inch slim laptop. Take the keyboard away, and the Fujitsu Stylistic Q702 morphs into a fully functional 11-inch tablet.
And what's more, unlike the ASUS Transformer Prime which comes with Nvidia Tegra 3 chipset, the Fujitsu Stylistic Q702 hybrid tablet has an Intel x86 chipset inside. That's right, the Fujitsu device comes with the latest Intel 3rd generation Core i3 and Core i5 Ivy Bridge processors.
The Fujitsu Stylistic Q702 has a lightweight magnesium shell on its exterior. The exterior is finely polished to lend the device a degree of premiumness and class. And it weighs around 850g without the keyboard dock attached.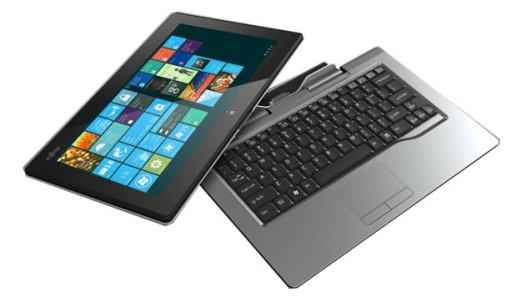 Some of the salient features of the Fujitsu Stylistic Q702 hybrid Windows 8 tablet are:
Keyboard docking station featuring a 4-cell battery and expansion ports including LAN (RJ-45) and external display support (VGA)
LED backlit IPS anti-glare 11.6-inch HD dual digitizer multi-touch display optimized for both pen and touch input
USB 2.0 and 3.0, HDMI, SD/SDHC expansion ports on the tablet
Optional 3G/UMTS or 4G/LTE mobile broadband support (support may vary by region)
Accelerometer, gyrometer, magnetometer, and ambient light sensors all contributing to a fluid computing experience
Front-facing and rear-facing webcams with complementing dual microphones for video conferencing
Up to 256GB (non-FDE) and 128GB (Full Disk Encryption)
Intel HD Graphics 4000
Onboard 4GB DDR3
The Fujitsu hybrid tablet also comes with some enterprise features which inclue an iron-clad security including a biometric fingerprint sensor, Computrace support, HDD and BIOS password protection, embedded Trusted Platform Module (TPM), Intel Anti-Theft Technology, and optional Intel vPro Technology.
Pricing Details: The Fujitsu Stylistic Q702 hybrid Windows 8 is available at a price point of Rs. 69,000 plus taxes.
Redesigned Lifebook T Series convertible tablet PC
Apart from the Stylistic Q702 hybrid Windows 8 tablet, Fujitsu also introduced a redesigned version of the Lifebook T902 convertible tablet PC targeting users who need more performance than a tablet. The new LIFEBOOK is lighter and thinner than previous models and offers a display which can rotate in both directions.