It seems that the rumour mills were right. At CES 2013, Acer has announced the Iconia B1-A71. The tablet boasts of a 7-inch display with a 1024x600 pixel resolution. Other specifications of the device include, the MediaTek processor (MTK 8317T) clocked at 1.2GHz dual-core, 512MB of RAM, 8GB built-in storage expandable via a microSD card. The tablet will also run the Android Jelly Bean OS but Acer hasn't specified whether it will be 4.1 or 4.2.
The Iconia B1-A71 also has a 2,710 mAh battery along with Wi-Fi 802.11 b/g/n, Bluetooth 4.0, and GPS. Acer hasn't announced a launch period or a price for the device but expect it to cost under $150 (Rs. 8,300 approx.).
Acer plans to take on the Nexus 7 with the launch of this tablet and has two things going for it. The sweet price point (hope it can maintain the same in India) and expandable storage, which is kryptonite for the Nexus 7. But the Nexus 7 is an overall better package. It has a 7-inch display with a 1280x800 pixel resolution, is a flagship Android device that means that it will receive Android updates before the others and also has some better hardware under the hood. You can read our review of the device here.
Another budget tablet that has caught our attention lately is the iberry Auxus CoreX2 3G tablet. The Auxus CoreX2 3G has a 7-inch HD IPS display with a resolution of 1280x800 pixels. It is powered by a dual-core 1.6GHz Cortex A9 processor, 1GB of RAM and the Mali 400 GPU. The device supports a 3G SIM card not only for data but for voice calls as well. The rear of the device houses a 2MP camera and the front has a 0.3MP camera for video calls. Straight out of the box, the Auxus CoreX2 3G runs on Android 4.1 Jelly Bean.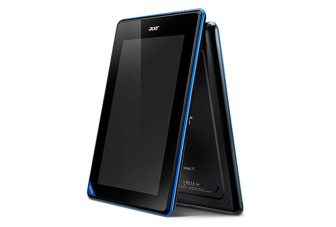 Auxus CoreX2 3G has 8GB built-in storage expandable up to 64GB via a microSD card. This is the first time we have seen 64GB expandable memory on a budget device. It also supports Bluetooth v4.0 and a 4,100mAh battery. It is priced at Rs. 10,990. You can read our review of the device here.
Which of the three tablets seems to the best proposition for you? Let us know in the comments section below!