WishTel and BSNL will launch a tablet PC IRA ICON featuring 3G, Wi-Fi and bluetooth connectivity on October 1. . The IRA ICON is capable of delivering voice, video and data services using 3G and Voice Over Internet Protocol (VoIP) services.
Bharat Sanchar Nigam Limited (BSNL) and WishTel have teamed up to launch a new Android-based tablet called 'IRA ICON'. Scheduled to be officially released on October 1, the IRA ICON is priced at Rs. 10,500.
The IRA ICON runs on Android 4.0 Ice Cream Sandwich operating system and is powered by 1.2 GHz processor. The device, also dubbed as the Triple Play tablet, has a 1GB of RAM. It has a 7-inch capacitive multi-touch screen with 800X400 pixel resolution, 0.3MP front camera, 2MP rear camera, 4GB internal storage and microSD card slot that supports storage up to 32GB. The IRA ICON comes with a massive 4,000 mAh battery, which is rated to deliver browsing time of about 4-5 hours. The device comes with built-in stereo speakers and a microphone as well.
For connectivity, the IRA ICON supports voice calls (SIM slot), Voice Over Internet Protocol (VoIP), 3G, GPS, WI-Fi, Bluetooth, mini HDMI, 3.5mm jack and USB. The IRA ICON comes preloaded with a wide range of applications such as Wish Learning, Wish Studio, Wish TV, Wish News, Wish video calling, Skype, Photo Viewer, Games , Gtalk, Google play.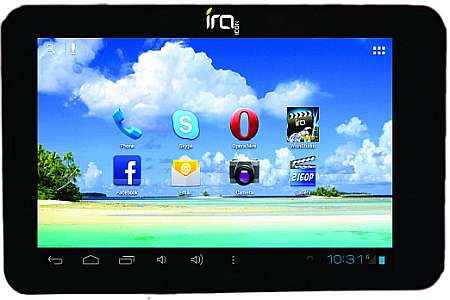 BSNL is offering a 3G SIM and free 3G data of 2GB for two months for the IRA ICON customers. The state-run telecom operator also provides a wide range of BSNL 3G plans or customised plans for the tablet.
The IRA ICON is available in two colours - black and white.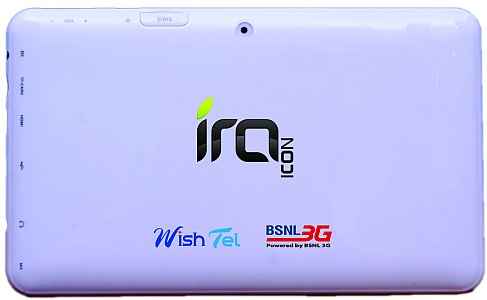 "The 7-inch Triple play tablet PC has been designed to best suit the needs of avid tech – savy youngsters, business environments, multi-tasking homemakers and the student fraternity alike. The BSNL Value added services like Video streaming, Mobile TV and various other applications under BSNL LIVE shall be extended to our valued customers in an increased screen at a very affordable price," says R K Upadhyay, Chief Managing Director of BSNL while speaking of the partnership with WishTel.
Milind Shah, WishTel's CEO, says, "With our partnership with India's largest PSU telco operator, BSNL for the launch of IRA ICON Triple Play Tablet, WishTel continues to offer enhanced technologies that help Android business users experience the performance and productivity offered by tablet PCs."
Prior to partnership with WishTel, BSNL in collaboration with Pantel Technologies has launched budget tablets namely T-Pad WS802C and T-Pad IS701C. WishTel has also launched quite a few budget tablets as part of its IRA-Series. The company recently launched 10.1-inch ICS-based tablet, called the IRA Comet HD at Rs. 9,999. Read more about the device here. In the meanwhile, also check out our latest coverage on the budget tablets here.
Also read,