Asus has officially launched the new-gen Nexus 7 tablet in India. The Nexus 7 2013 will be available at Croma, Reliance Digital, Vijay Sales and all other major retail outlets. The 32GB variant of the Nexus 7 2013 has been priced at Rs. 27,999, while the 16B variant is available for Rs. 20,999. Earlier, the tablet was available in the country via Google's Play store.
The Nexus 7 2013 has a 7-inch display with a resolution of 1920x1200 pixels and 323ppi density. The tablet has a 5MP rear camera and 1.2MP front facing camera. The tablet is powered by a Qualcomm Snapdragon S4 Pro quad-core 1.5GHz Krait processor, coupled with Adreno 320 GPU and 2GB of RAM. A 3950mAh battery powers the tablet.
In terms of connectivity, the Nexus 7 2013 (both the variants) supports Bluetooth, GPS & NFC.
"We are extremely elated to bring the all new Nexus 7 which is sleeker yet comprises the same sized screen and significantly increasing performance. The quality of the pixels has been improved with a 30% wider color gamut than the previous generation model; ensuring colors are both accurate and vibrant to further enhance the user experience. Our constant quest for the incredible has led us to further innovate and deliver a device which is the ultimate blend of power and portability," says Peter Chang, Regional Head - South Asia & Country Manager – System Business Group - ASUS India.
Take a look at the specifications of the new Nexus 7 in the table below: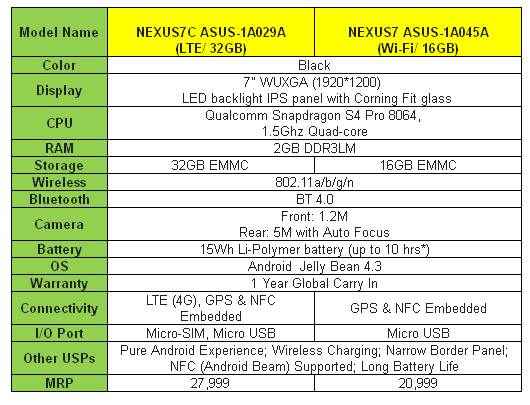 If you are in the market to pick up a tablet and are confused between the new Nexus 7 and iPad mini, check out our in-depth comparison. Also read, 5 reasons why the Nexus 7 2013 should be your next tablet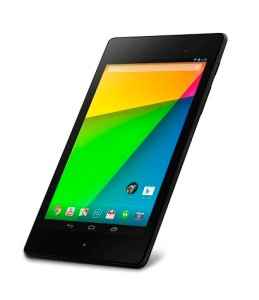 Nexus 7 2013