#IBMCodePatterns, a developer's best friend.
#IBMCodePatterns provide complete solutions to problems that developers face every day. They leverage multiple technologies, products, or services to solve issues across multiple industries.
Click here to know more
Advertisements
An image purported to a dimensional drawing of the Apple iPad Air 3 has been leaked by Engadget. As per the leak, the upcoming tablet may come with a quad speaker setup, similar to the one found on the Apple iPad Pro. The image also suggests that the device may come with a Smart Connector that may allow the use of its own range of 'Smart' accessories, like the Smart Keyboard for the iPad Pro. There is a small hole located below the camera, which may hint at an LED flash. In addition, the leaked image suggests that the tablet may be 0.05mm thicker and 0.1mm wider than its predecessor. However, these differences should not be too noticeable during everyday use.
As per Engadget's report, the Apple iPad Air 3 may be launched at an event in March, during which the company may also announce a 4-inch iPhone now expected to be called the iPhone 5se. The new phone is tipped to be powered by an A8 chipset with M8 motion coprocessor. It may come with an 8MP rear camera along with a 1.2MP front-facing camera. The device might come with NFC for Apple Pay, but not with 3D Touch, as the display will reportedly be the same as the one used on the iPhone 5s. The upcoming phone may support Live Photos, larger panoramas, and autofocus for videos.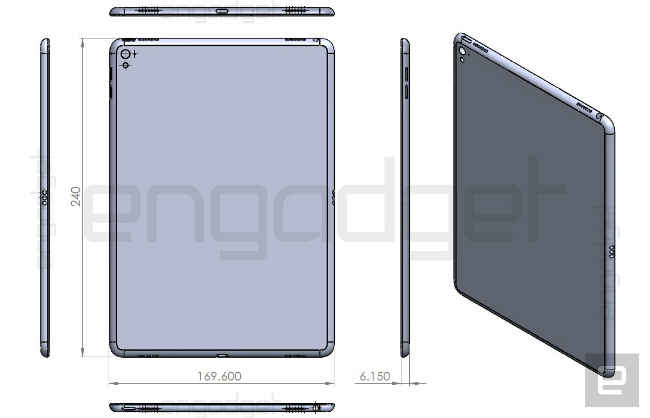 Earlier reports suggested that Apple was planning to launch the next generation of the Apple Watch during the event in March. However, newer reports say that this might not be the case. A report by TechCrunch suggested that the company might launch an upgraded version of the Apple Watch, instead of a whole new variant. This version may only come with a FaceTime camera, and not much else. Last month, it was reported that the company was granted a patent for a magnetic wristband, which would not only secure the watch when worn, but also turn into a protective case. Additionally, the magnets may be used to attach the watch to a MacBook or iMac.