Go Tech has launched an Android 4.0 Ice Cream Sandwich-based Funtab Fit tablet PC in India at Rs. 5,999. The tablet comes with various education and health related applications. Go Tech is offering its Funtab Fit users free Wi-Fi access at all Ozone hotsp
Another day, another budget tablet launched! Go Tech, a Delhi-based company, has launched Android 4.0 Ice Cream Sandwich-based tablet PC called Funtab Fit. Priced at Rs. 5,999, the Funtab Fit is being touted as a health-oriented device, as it comes pre-loaded with various health-related applications.
Speaking about specifications, the Funtab Fit features a 7-inch display with 800x480 pixels resolution. The Funtab Fit is powered by a 1GHz processor. It has 512MB of RAM and comes with 4GB internal storage capacity, which is expandable up to 32GB via microSD card. It has a 0.3MP camera for video chats.
The device comes with a 3,600 mAh battery, which is rated to deliver 4 hours of movie playback and 8 hours of music playback. For connectivity, the Funtab Fit supports Wi-Fi, 3G, and USB 2.0.
The device features a health application called Guide My Treatment, which the company says will help you to get timely attention to your health problems in a simple and hassle free manner.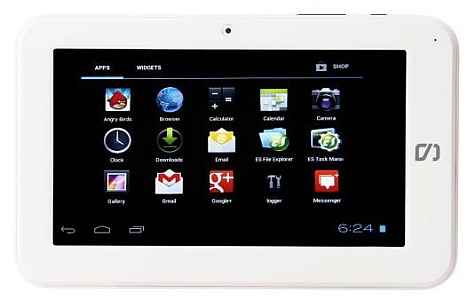 The Funtab Fit is also pre-loaded with educational content. It has Attano Ebook reader, which features more than 1,500 books and 7,500 educational videos for the students and preparatory material for entrance exams like IIT Jee and AIEEE etc.
For entertainment, the device has more than 20 games and applications such as Angry Bird, Tic Tac Toe, Solitaire, Minesweeper etc. Also, users have access to Hungama Playstore, which offers more than 3,000 videos and 6,000 songs. Moreover, users of Funtab Fit tablet can access free Wi-Fi at all the Ozone hotspots. More details of the device are available here.
The Funtab Fit is yet another budget tablet in the Indian market, already flooded with such devices. Zen Mobile, Karbonn and Micromax, the Indian mobile manufacturers, have also forayed into the tablet business. If you are spoiled for choice, check out our Top 10 Budget Tablets list.
Also read,