The leaked images of Lenovo's new 5-inch tablet have surfaced online. According to the tech site Engadget, the new tablet is likely to feature Android operating system and dual-core processor.
Lenovo is reportedly prepping a 5-inch tablet, which is likely to run Android operating system and feature a dual-core processor. The new tablet is likely to go on sale under Lenovo's new IdeaTab brand or as the LePad in China, says the tech site Engadget. Though the full details of the new Lenovo 5-inch tablet are not available, it's confirmed that it will feature a Micro-USB port, front-facing camera and HDMI output.
Lenovo's new 5-inch tablet is being pitted against the Dell Streak 5 and the Acer Iconia Smart. It is also believed that the new tablet will increase competition for the Samsung's newly launched Galaxy Note tablet. Lenovo recently forayed into the India tablet market with the launch of ThinkPad, IdeaPad K1 and IdeaPad A1. Lenovo's IdeaPad A1 has a 7-inch display and features Android 2.3 operating system.
Check out some of the images of the new Lenovo tablet published by Engadget:
click to enlarge
Also read,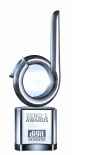 "Don't miss the Zero1 Awards in the December 2011 Collector's Edition of Digit. Book your copy now!"